Fortsetzung - Final report of the FP7 CSA project EuTRACE
4.2.2 EU Secondary Law
To date, no act of EU secondary law has sought to explicitly regulate climate engineering research and/or deployment. That said, examples of EU secondary law, both procedural and substantive, can be identified that could potentially be triggered, subject to more detailed assessment, in the context of climate engineering research or deployment of climate engineering techniques. 
Regarding the regulation of activities as one of the three approaches to a potential regulatory strategy for climate engineering, EU secondary law on environmental procedures is of central importance as it gives insights into the potential legitimisation of climate engineering activities and corresponding liability mechanisms. Regulation can perform specific legitimising functions, for instance by articulating procedural mechanisms by which the public can be included in decision-making processes on whether or not to pursue climate engineering, and by which liability for potential environmental damages ensuing from such techniques can be at least partially attributed. Procedural approaches to the legal questions surrounding climate engineering provide safeguards at the operational level, which are applicable to all potential forms of climate engineering and to both state and non-state actors at regional, national, and sub-national levels. The EIA Directive (Directive, 2011/92/EU) and the Environmental Liability Directive (ELD) (Directive, 2004/35/CE) are central examples of this category of EU secondary law.
Regarding potential regulatory strategies to address the potential environmental effects of climate engineering, there are several relevant EU substantive directives in the form of legislative acts, including the Air Quality Directive (Directive, 2008/50/EC), the Water Framework Directive (Directive, 2000/60/EC), the Habitats Directive (Council, Directive 92/43/EEC), the Birds Directive (EU-Directive, 2009/147/EC), and the Environmental Noise Directive (Directive, 2002/49/EC). Particularly relevant for the special case of CCS is the CCS Directive (EU-Directive, 2009/31/ EC). This family of directives uses similar types of measures for avoiding, preventing, or reducing harmful effects on specific environmental components, as well as on human health and the environment as a whole, in line with the objectives and relevant provisions of EU primary law. At the same time, they also include provisions allowing exceptions from envisaged levels of protection under certain conditions (e.g., when compliance costs are judged excessive, or when overriding public interest or wider sustainable development concerns require exceptions from the protection standards established by these instruments). Directives are binding upon member states in their objectives but not in the manner in which they are transposed and implemented in national law by member states. As such, the transposition and implementation of EU secondary law, binding for EU member states, also provides an important demonstration of commitment to international treaty obligations as well as a source of state practice contributing to the formation of customary international law, as member states are parties to the treaties and at the same time independent actors in the broader practice of international relations. Thus, the standard of protection and care mandated by EU primary law and further developed through EU secondary law, sometimes implemented to an even higher standard by member states, contributes to international understanding and consensus- building as to how international law on a given topic is to be interpreted and implemented by other parties.
4.2.3 Taking a regional perspective on climate engineering
Notwithstanding some scepticism concerning EU unilateralism in fields such as shipping and emissions trading (Proelss, 2013), it has often been noted that legal developments at the EU level have clear and often very constructive feedbacks into international processes — particularly in relationship to environmental concerns. By approaching these existing tools as regional contributions to the completion of the international legal regime applicable to climate engineering, the international community may be able to harness a dynamic model for future regime-building beyond classic "top-down" multilateral treaty
approaches. It is widely recognised that a joint course of regulatory action is often easier at the regional level than at the international level, and it may thus be appropriate to transpose the analytical approach currently being taken toward the dilemmas posed by climate engineering to a different scale. The adoption of a new perspective might highlight considerable opportunities and insights available for climate engineering regulation, by better grasping the interrelationships between legal regimes, both laterally at the international level and subsidiarily through the perspectives of multi-level governance.
As presented here, EU law contains a wide variety of provisions potentially applicable to both climate engineering research and deployment. Although these provisions do not, in themselves, provide an allencompassing regulatory regime for climate engineering, their structure and relationship to emerging dynamics at the international level suggest pathways forward on different elements of climate engineering regulation and may help in the substantiation of a legal regime at the international level. What they do contribute is a notably high level of environmental protection and, most prominently, the central objective of improving the quality of the environment rather than merely maintaining it. Given this basic foundation, it can safely be said that EU law provides a further and, compared to the requirements of public international law, more stringent scrutiny of potential climate engineering activities. Moreover, it does so at a level closer to the sources of those activities, with well-established mechanisms to ensure public participation, access to justice, and legitimisation of decision making. Having these provisions at the EU level rather than merely at the level of the individual member states, where further implementing legislation exists, also provides an important coordinative function that might serve to effectively limit the scope for national decision makers to unilaterally undertake any form of climate engineering. Ultimately, however, EU law demonstrates the same types of deficits that are becoming apparent in international legal efforts to regulate climate engineering, suggesting that initiatives beyond formal legal approaches will be necessary to govern climate engineering.
5. Research options
5.1 Background
Over the past decades, there has been a substantial increase in the general interest in the various proposed climate engineering techniques. This growing interest has been accompanied by an increase in research on the range of climate engineering techniques, as shown in Figure 5.1. Within this context,
there are notable differences in the growth of research on planetary albedo modification and on greenhouse gas removal, as well as differences in the framing and perception of each within the research community and among associated funding bodies. 
For planetary albedo modification, high-level discussions and preliminary research date back to at least the early 1960s (Keith, 2000, Fleming, 2010). However, prior to the early 2000s, serious research on such techniques was being conducted by only a limited number of researchers worldwide. This changed in the mid-2000s, particularly following the publication of an article by Crutzen (2006), revisiting the idea of SAI, which had originally been published in the mid-1970s (Budyko, 1974). The subsequent rapid growth in peer-reviewed research articles on this subject is depicted in Figure 5.1. Five commentaries were published together with the Crutzen (2006) article, all of which cautioned about the risks of steps toward implementation of any form of albedo modification, but at the same time generally supported "breaking the taboo" and encouraged basic research on albedo modification (Cicerone, 2006, MacCracken, 2006, Bengtsson, 2006, Kiehl, 2006, Lawrence, 2006). Research and scientific publications on the topic have since proliferated, including the development of several international projects such as GeoMIP (Kravitz et al., 2011), IMPLICC (Schmidt et al., 2012b), SRMGI (SRMGI, 2012) and EuTRACE. The article by Crutzen (2006) was quickly followed by the first major assessment report, conducted by the Royal Society (Shepherd et al., 2009), as well as by several other assessments (Blackstock et al., 2009; Rickels et al., 2011; Bodle et al., 2013; Edenhofer et al., 2011, McNutt et al., 2015a; McNutt et al., 2015b; Ginzky et al., 2011; UK House of Commons Science and Technology Committee, 2010; Gordon, 2010; Caviezel and Revermann, 2014). The topic has also been addressed in the IPCC's Fifth Assessment Report, in all three Working Groups (IPCC, 2013a, IPCC, 2014a, IPCC, 2014b).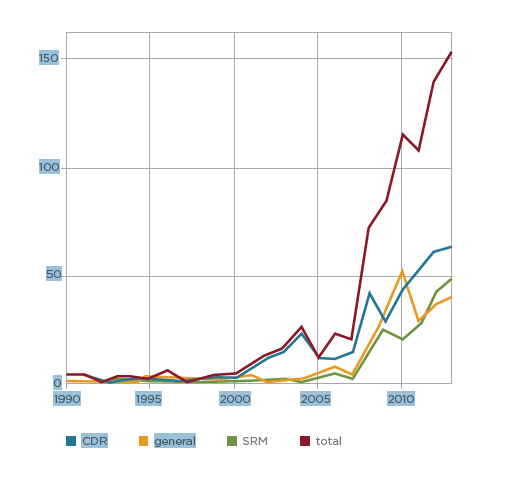 Figure 5.1: Main trends in scientific publications on climate engineering (number of publications per year, indexed in Web of Science). Source: Oldham et al. (2014).
For greenhouse gas removal, interest has grown more gradually over a longer period of time. In the case of OIF, numerous research articles were already published by the mid-1990s. Prominent publications on other techniques to remove greenhouse gases also started appearing in the mid-1990s (e.g., Lackner et al., 1995). With the key exception of OIF, attitudes within the scientific community were less resistant to investigating these approaches than to planetary albedo modification. Even though OIF was and remains heavily criticised by many within the scientific and stakeholder communities, research was not as limited by the sense of "taboo" as it was for albedo modification, as evidenced by the 13 open-ocean field experiments testing various aspects of OIF that were conducted between 1992 and 2009. This may be at least partly due to the circumstance that several of these experiments were primarily aimed at investigating the fundamental nutrient uptake and cycling processes in the oceans, with a combined interest in the potential applications for enhancing CO2 removal from the atmosphere.
This multi-purpose nature of knowledge production, described above for the case of OIF, also exists for research on albedo modification techniques. For example, perturbative field experiments examining cloud–aerosol interactions would simultaneously produce knowledge about one of the key uncertainties in contemporary climate models and about potential climate engineering strategies through cloud brightening. It remains to be seen what kind of effect the multi-purpose nature of knowledge production will have for research on climate engineering, e.g., facilitating, leading to a normalisation of albedo modification research, or alternately disruptive, leading to a contestation of fundamental atmospheric and climate research that is interpreted as being related in purpose to albedo modification research.
Currently, research on both types of climate engineering is extensive compared to 20 years ago, although it is — appropriately, from the standpoint of this consortium — far less extensive and attracts less funding support than research on mitigation and adaptation (including both technical and non-technical measures). Nevertheless, there is an extensive dialogue amongst and between researchers and key stakeholders (in particular funding agencies, policy makers, and NGOs) about whether this level of research is appropriate, whether public funding for research on intentional interventions into the climate system in general should be stopped, continued or intensified, and how research should be governed. Although decisions for or against research on different techniques are commonly made at the national level, there is a need at the international level to reflect on governance issues, a topic that has been intensified recently by the publication of proposed experimental designs for openatmosphere field experiments for albedo modification, especially stratospheric aerosol injections (Dykema et al., 2014; Keith et al., 2014).
This chapter considers the current perspectives on climate engineering research and the options for funding and governing research, which the European Commission and other governing bodies may wish to take into consideration. In the next section, numerous arguments for and against research on greenhouse gas removal and albedo modification are considered, which have been prominently raised thus far. Section 5.3 then outlines the key knowledge gaps that have become evident throughout the body of this assessment.
5.2 Arguments for and concerns with climate engineering research
5.2.1 Arguments in favour of climate engineering research
A wide variety of arguments has been made in favour of conducting research on both greenhouse gas removal and albedo modification, although often in different ways and frequently differentiated between individual techniques. The main arguments in the current discourse are: Information requirements: This argument suggests that climate change negotiations and policy making require a breadth of information, and since the IPCC has now taken up discussions of both greenhouse gas removal and albedo modification in its Fifth Assessment Report, the requirements are becoming more significant for information on related issues, for both types of climate engineering techniques, as a basis for supporting international policy development. The need for direct advice of policy-making organisations has driven, directly or indirectly, several of the assessments carried out to date, including those of the UK Royal Society (Shepherd et al., 2009), the US House of Representatives (Gordon, 2010), the UK House of Commons (UK House of Commons Science and Technology Committee, 2010), the German Ministry for Education and Research (Rickels et al., 2011), the German Federal Environment Agency (Ginzky et al., 2011), the report of the German Office of Technology Assessment (Caviezel and Revermann, 2014), the Working Group I, II and III contributions to the IPCC Fifth Assessment Report (IPCC, 2013a, IPCC, 2014a, IPCC, 2014b), the reports of the US National Research Council (McNutt et al., 2015a; McNutt et al., 2015b), and of course the EuTRACE project commissioned by the European Commission.
Knowledge provision: In addition to the formalised discussions in the context of the IPCC and climate change negotiations, there is also already a broader discussion about greenhouse gas removal and albedo modification among the international scientific, policy, and civil society communities and in parts of the broader public. Many researchers have indicated feeling a responsibility to provide knowledge that is scientifically sound as a basis for further discussion and decision making.
Deployment readiness: The argument has been made that the readiness with which different techniques
can be deployed should be increased in order to allow for "buying time" for the implementation of mitigation measures, or to "be prepared" for the implementation of various forms of climate engineering if future environmental conditions worsen dramatically as a result of climate change (MacMartin et al., 2014; Blackstock et al., 2009; Swart and Marinova, 2010).
Slippery slope: The concern is often raised that research into climate engineering may render its ultimate deployment inevitable, sitting at the top of a "slippery slope" toward deployment (Hulme, 2014; Morrow et al., 2009, Bracmort and Lattanzio, 2013). These arguments refer to path dependency and potential scientific or financial lock-in effects in the area of technological developments, emphasising that the step from research to deployment cannot always be easily controlled (Collingridge, 1980, Arthur, 2007), and that research cannot be easily separated from its potential application as technology (Jamieson, 1996; Morrow et al., 2009; Gardiner, 2010; Ott, 2012). These assumptions also play a role in the so-called "on the shelf" argument, which posits that technologies, once developed, tend to be used. Even though these arguments are primarily directed against albedo modification techniques, similar concerns can be raised for greenhouse gas removal techniques, which could hinder long-term major societal transformations toward more sustainable societies, for example by extending the lifetime of fossil-fuel-based production and consumption.
Concerns about large-scale field tests: Large-scale field tests could have direct and widespread impacts
on both human populations and the biosphere. It is not clear how large a field test of albedo modification
would need to be in order to establish confidence in the effectiveness of a proposed technique. It has been argued that only testing on a large (perhaps even planetary) scale and over longer periods of time could establish confidence in effects and side effects (Robock et al., 2010; Seidel et al., 2014), although proposals for more limited testing have also been made (Dykema et al., 2014; Keith et al., 2014; MacMynowski et al., 2011). It has been argued that albedo modification field tests of sufficient scale to produce measurable climate effects for a specific technique would be tantamount to full-fledged deployment (Robock et al., 2010), since small- and medium-scale field tests would be insufficient to characterise the climate response (Tuana et al., 2012; Blackstock et al., 2009). Backlash against research: Concerns have been voiced that a strong civil society and public backlash against perturbative climate engineering field tests might generally hinder future research on greenhouse gas removal and albedo modification techniques, and furthermore that such a backlash might also affect the ability of investigators to carry out fundamental scientific research that increases the level of understanding of the Earth system, which can support climate policy development (Schäfer et al., 2013a).
5.3 Knowledge gaps and key research questions
There are very many open research questions on climate engineering, ranging from natural science and technological aspects to social sciences, humanities, and legal issues. Here the results of the previous chapters of this assessment are used to identify important knowledge-gaps and to draw up a list of pertinent research questions. This list is intended to give an overview of a range of issues that would benefit from further investigation for various purposes, e.g., in order to provide a better basis for stakeholder groups, including policy makers, to develop positions on various issues associated with climate engineering. However, no attempt is made to prioritise the questions, e.g., for direct use in guiding research funding program developments. Such prioritisations are necessarily heavily context-dependent, and are thus likely to differ for different stakeholder groups (e.g., researchers of various disciplines, national policy makers, international policy makers, representatives of civil society, etc.). This is the first known compilation of this breadth of research questions on climate engineering, and can serve as a basis for follow-up developments of prioritised sets of research questions based on the individual needs and values of various stakeholder groups.
The questions are grouped into the following areas:
natural sciences and engineering;

public awareness and perception;

ethical, political, and societal aspects;

governance and regulation.
Here, the umbrella term "climate engineering" is employed; however, the issues relevant to individual techniques or to broader categories are carefully differentiated, and the umbrella term is only applied where appropriate.
1) Natural sciences and engineering
Questions regarding potential consequences, risks, and technological feasibility differ between techniques, although some questions concern many or all techniques simultaneously. Hence, general questions are considered first, followed by those specific to greenhouse gas removal and albedo modification.
General: In recognition of the finite nature of research funding, one option for posing questions is to start by identifying the most promising techniques and to focus funding upon those, and to then proceed by asking about the potential combination of remaining techniques:
Which proposed techniques currently appear to be the most promising, and according to which criteria can this be assessed?
Are there any proposed techniques for which it can be confidently said that further research is, at this point in time, not a prudent investment, due to physical limitations or significant side effects of the technique uncovered by initial research?
If a set of climate engineering techniques were to be deployed, is there an "optimal" configuration of one technique or combination of techniques for achieving specific climate goals, noting that goals are stakeholder-dependent?
To help in evaluating different climate engineering techniques, it is useful to ask a range of questions that apply to the full portfolio of techniques under consideration: 
Is the technique technically and economically feasible and scalable to have a significant effect on the climate?
As many climate engineering techniques are little more than hypothetical proposals, what scientific uncertainties or technical challenges would need to be resolved before a given technique could be regarded as practicable?
Many of the proposed techniques, if deployed at large scale, would have substantial resource requirements in terms of land area, raw materials, etc., and could also have significant side effects; what might be the associated broader environmental and economic consequences of fulfilling these input requirements?
To support the development of effective climate policy, an understanding of the timescales required to develop the various climate engineering techniques may be important:
If the decision were made to implement a given climate engineering technique, how long would it take to develop the technology and necessary infrastructure? How would various factors, for example the desired scale of deployment, affect this development?
Is it possible to postpone specific kinds of research on a given technique (for example, field experiments and the development of prototypes) while retaining the possibility of timely future deployment if broadly desired; if so, for how long could that research be delayed?
Greenhouse gas removal: Greenhouse gas removal raises a number of specific research questions regarding its capacity and potential benefits, measurements, and monitoring, relationships to socioeconomic scenarios and potential drawbacks:
What are the physical, technological, and economic potentials of various techniques to remove greenhouse gases, taken individually or in combination, and how do these compare to available mitigation technologies?
What monitoring, reporting, and verification programmes would be needed?
For each technique, how does it relate to various socioeconomic scenarios (e.g., the mitigation pathways that underlie the RCP scenarios)?
What would be the implications of deploying land-based, biological techniques at a large scale, given the existing demands on land and natural resources?
What limits and trade-offs would such techniques face?
What would be the long-term fate of carbon captured by these techniques? How can this be accounted for?
What would be the long-term implications of employing techniques like OIF, which are expected to eventually release the carbon back to the atmosphere?
Broadening the scope to the removal of greenhouse gases besides carbon dioxide:
Are there practical techniques that would make it possible to remove non-CO2 greenhouse gases from the atmosphere, or to increase their rate of destruction in the atmosphere?
Albedo modification: Evaluating proposals to modify planetary albedo would require research into the fundamental capacity of the techniques, their various impacts, and potential side effects.
How would the climate that results from a specific implementation of an albedo modification technique differ from that predicted without such intervention, as well as from the previously known (e.g.,present-day and pre-industrial) states of the climate?
Cloud and aerosol processes are critical in shaping the way many albedo modification techniques would affect the climate, but many aspects of these processes are poorly represented in global climate models. What are the implications of these shortcomings for our confidence in the climate response to these techniques?
Given that many albedo modification techniques would allow some control over the spatial pattern of their climate forcing, would it be possible to "optimise" the climate response, and what would be the limitations and implications of such an endeavour?
How well can research into the climate impacts of albedo modification techniques provide the information necessary to judge whether the benefits of a given deployment strategy would outweigh the risks?
The climate is highly variable on a timescale of years to decades, and as such it will prove challenging to detect and attribute, and hence perhaps to control, the climatic response to albedo modification. What monitoring and control strategies would be needed to verify and manage a large-scale deployment of albedo modification?
Given the rapid and potentially disastrous warming that would follow from an abrupt termination of large-scale albedo modification, what "exit strategies" exist and what would their implications be for long-term climate policy? 
SAI and marine cloud brightening seem to be the most feasible albedo modification techniques, based on current knowledge, but there are many unanswered questions relating to their feasibility, including:
Could technologically-robust and cost-effective spraying methods be developed for the purpose of SAI and marine cloud brightening?
Could millions of tonnes of material annually be affordably and safely lofted and released at altitudes of 20 – 25 km in the tropics, where research indicates that injections would be most effective?
More general questions to inform governance developments include:
What scales of field experiments would be required in order to develop a sufficient understanding of the relevant processes and responses to the various albedo modification techniques?
Attributing the consequences of albedo modification to the implemented techniques would pose many challenges, and would require long timescales before the control of these schemes could be verified; what are the implications of this?
2) Public awareness and perception
Public awareness of climate engineering techniques remains low at present, yet the public is likely to play a key role in determining whether deployment of such techniques ever occurs, and prior to that, how much is invested into research on the technological and natural science aspects of the technique. Hence research is warranted into the questions:
To what extent is the public aware of different greenhouse gas removal and albedo modification techniques, and how do attitudes and responses to these ideas vary?
Can the different scales and types of climate engineering research (modelling, study of analogues, field experiments, test bed demonstrations, prototypes, development, and deployment) be unambiguously defined and agreed between stakeholders; what purposes would such a definition serve; and what might be the implications of choosing specific definitions and distinctions between activities?
What are the differences in awareness, attitude, and acceptance of theoretical and laboratory research, field tests, and potential deployment at different scales for different forms of greenhouse gas removal and albedo modification?
What factors shape public awareness, and which are most influential for the development of public attitudes toward different techniques?
How do stakeholders respond to information about climate engineering techniques? How does this depend on the context and style in which the information is presented?
3) Ethical, political, and societal aspects
The possibilities of albedo modification and greenhouse gas removal raise many ethical, political, and legal issues, as discussed in Chapters 3 and 4. At a fundamental level, research needs to address:
What is the relationship between individual climate engineering techniques and human rights?
Furthermore, the severe uncertainties about the consequences, side effects, and future development of different techniques present challenges that can be examined in various ways, for example through the development of risk ethics and by putting forward challenging normative questions such as:
How can the risks of certain techniques be weighed against those of severe climate change or climate tipping points?
How can the difference between unintentional and intentional interventions in the climate and the moral properties associated with such interventions be better understood, and what do these differences mean for the development of standpoints on the various proposed techniques in different stakeholder contexts?
Could certain techniques transfer risks and costs to future generations, and how are they to be evaluated based on different assumptions about our duties towards them?
Historical research could add to this by addressing:
What can be learned from other multi-generational projects (for example, radioactive waste treatment and storage) that can be applied to analysing the risks and potential success (or lack thereof) of greenhouse gas removal and albedo modification techniques?
Climate engineering also brings forward interesting economic, societal, and political research questions, such as:
How would the application of different techniques affect financial systems, particularly with respect to fossil-fuel and resource markets, and the carbon markets?
How would the implications differ if specific techniques were to be applied in a centralised or decentralised way?
How does the perception of different techniques by different stakeholders influence the further development of these techniques?
How does the emergence of the proposition of climate engineering, and the possible emergence of specific climate engineering techniques, change societies and social behaviour?
How might climate engineering techniques themselves be shaped by the societal context from which they emerge?
Finally, climate engineering raises questions at the very foundation of our understanding of the role of humanity in the world, particularly in light of the recent development of the concept of the Anthropocene:
How does our understanding of the degree to which humanity has the "right" to intentionally intervene in the global Earth system vary across cultures, political backgrounds, and beliefs held by the various religious traditions around the world?
How does the prospect of climate engineering impact our understanding of what it means to be human in the Anthropocene?
Similar to considerations of the deeper meanings surrounding the possibilities presented by control over the human genome, what is the deeper meaning of contemplating the coordinated control of the Earth system on a global scale?
4) Governance and regulation
Some of the research questions on governance and regulation relate directly to the policy options that are presented in Chapter 6, highlighting that these should be seen as evolving options, whose prioritisation will vary over time and as a function of stakeholder perspectives. Questions on governance and regulation of the variety of proposed techniques for climate engineering have mostly only recently started to emerge, and it is unclear what the advantages and disadvantages are in distinguishing between governance for research and governance for deployment. Thus, future research must articulate questions like:
What (if any) are the differing requirements for political processes considering research and deployment of different greenhouse gas removal and albedo modification techniques?
Is it more sensible for the governance of various types and scales of research to be distinct, or to be a component of the overall governance of climate engineering implementation?
With regard to governance of research, several questions arise:
Which actors should be responsible for monitoring, authorising, and/or prohibiting research of various types into the different climate engineering techniques?
Should the public be engaged in developing governance for research, and if so, in what ways?
How differentiated should governance be for different albedo modification and greenhouse gas removal techniques?
Also important is the issue of who owns such techniques: 
What could an intellectual property rights regime look like, specifically for climate engineering techniques?
Should private investment in techniques for planetaryscale interventions be allowed, or should some or all techniques be government-owned?
Further questions in the domain of legal research are: How might a future liability regime for damages arising out of experiments and potential future deployment be structured?
Would the deployment of some techniques require new compensation schemes? How would those relate to existing liability schemes?
How are the precautionary principle and the preventive principle, and the different interpretations of each, relevant for regulating research on, and potential deployment of, individual climate engineering techniques?
At the international level, research needs to clarify:
How do different climate engineering techniques relate to the three existing Rio Conventions (UNFCCC, CBD, and the United Nations Convention to Combat Desertification, UNCCD) and other existing legal regimes?
How are the goals of each convention affected by the prospect of climate engineering, and how would they be affected by an actual large-scale implementation of various forms of climate engineering?
Are there greenhouse gas removal activities that fit within the flexible mechanisms of a potential post-Kyoto Protocol?
How do greenhouse gas removal and albedo modification techniques and their potential effects relate to the current Millennium Development Goals and the anticipated Sustainable Development Goals?
6. Policy development for climate engineering
The complex socio-technical context within which discussions of climate engineering are emerging necessitates careful engagement with scientific, legal, political, economic, and ethical aspects of climate engineering as a basis for sound decision making. As outlined in the previous chapters of this report, questions arise about technological feasibility, global fairness, international cooperation, distribution of costs and benefits, and social acceptability. Decision makers will thus face complex choices and trade-offs. While many general principles that can guide policy development are likely to apply to most or all climate engineering techniques, the differing stages of development and discourse about the various techniques subsumed under the umbrella term "climate engineering" need to be taken into account when assessing policy options and pathways. In this sense, cases in which policy development is comparatively advanced (for example, OIF) may inform the policy development for emerging techniques such as SAI.
This chapter first outlines the policy context within which discussions of climate engineering are emerging (Section 6.1), with a special focus on the EU. Section 6.2 proceeds to examine general policy considerations, first at an abstract level and then more specifically for climate engineering research governance and the international governance of climate engineering. Section 6.3 discusses technique-specific policy considerations for BECCS, OIF, and SAI. Section 6.4 concludes by summarising the discussion of policy options, discusses the difficulties of policy making in this area, and reflects on some of the broader questions that result for science and society.
6.1 Policy context
The discussion of climate engineering techniques is emerging within the broader context of responses to climate change, and thus alongside existing and potential strategies for mitigation and adaptation.
These mitigation and adaptation strategies cannot be expected to remain unaffected should discussions of climate engineering emerge significantly onto national and international political agendas. There is much concern in the climate engineering research community and among other stakeholder groups engaging with the topic, that the emergence of the climate engineering discourse might reduce overall willingness to invest in mitigation efforts, including diverting attention or reducing incentives for international emission reduction commitments (see also section 3.1).
For the past two decades, the EU has championed the internationally agreed target of limiting global warming to a 2°C increase in global mean surface temperature compared to pre-industrial levels. The EU has committed to reducing its emissions by 80 – 95 % compared to 1990 levels by 2050 as its declared contribution under the Durban Platform process. It has also committed to reducing emissions by 20 %, deriving 20 % of its power from renewable sources, and to improving energy efficiency by 20 % by 2020, also relative to 1990 (the so-called 20–20–20 targets, whereby it should be noted that only the first two are binding). However, even if the EU successfully reduces its own emissions, it represents only a comparatively small and declining (currently around 11 %) proportion of global emissions. All other major emitters would need to achieve similar reductions in order to actually limit global warming to less than 2°C. Model simulations indicate that even the most optimistic IPCC scenario, RCP 2.6, is "likely" — but far from certain — to limit average warming to less than 2°C by the end of the 21st century. Moreover, Fuss et al. (2014) found that the majority of the scenarios that would limit global
warming to below 2°C require global net negative emissions, i.e., implementation of some form of climate engineering by greenhouse gas removal, and generally already by the second half of this century. Despite widespread recognition of this situation, emissions have nevertheless increased more rapidly in the past few years than envisioned even in the most pessimistic IPCC scenario, RCP 8.5. It remains an open question whether fixed temperature thresholds like the 2°C target might increase political pressure to actively deploy climate engineering techniques on a scale that would affect the global climate — either greenhouse gas removal techniques, as envisioned in the "vast majority" (IPCC, 2014d, p. 83) of scenarios that underlie RCP 2.6, or albedo modification and related techniques.
Of course, there are still opportunities to develop meaningful international agreements on emission reduction targets, for example at the international climate negotiations in Paris in late 2015. However, even though recent negotiations in Lima showed less pronounced differences between developed and developing countries than previous negotiations, no breakthroughs have been achieved yet. Nevertheless, individual actions by states and bilateral agreements, as well as new initiatives such as the Climate and Clean Air Coalition (CCAC), have raised hopes that meaningful reductions in greenhouse gas emissions (including non-CO2 greenhouse gases) are still achievable. It is from this context that discussions around climate engineering techniques have been emerging onto scientific and (albeit less so) political agendas, although overall research funding and political interest in pursuing climate engineering currently remain low. It will be important for the EU and its member states to develop a common understanding of — and shared perspective on — climate engineering techniques in order to respond to and, if desired, shape potential future developments in this area. In this process, the vast differences between the various climate engineering techniques need to be carefully accounted for and situated within the broader landscape of climate action processes and initiatives.
Sustainable development and protection and improvement of the quality of the environment (Lisbon Treaty Article 2) are key objectives of EU policy. In these policy areas, the EU has established processes for ensuring comparatively high standards of environmental and social protection that can be built upon when devising governance for climate engineering. Should the EU decide to act as a global leader on climate engineering research, it could draw on this body of policies and principles to develop farther-reaching propositions for the governance and regulation of both climate engineering research and deployment, with the goal of informing and guiding international discussions.
Discussions of climate engineering governance are not emerging in a legal void (see Chapter 4). Customary international law includes established principles such as the duty to inform and the duty to prevent transboundary harm. National laws equally apply, for example the obligation to conduct environmental impact assessments, depending on the jurisdiction in question. Furthermore, provisions established to govern scientific research, such as peer review and ethics boards, also apply to climate engineering research. The developments at the CBD and LC/LP represent the first steps specific to the international governance of climate engineering techniques. The LC/LP in particular has been instrumental in providing legally binding rules on the testing and deployment of ocean iron fertilisation and has laid the groundwork for regulating other marine geoengineering activities that fall within its scope (see Section 4.1.2). At the level of bottom-up norm generation, attempts have been made to formulate principles that might contribute to the emergence of a collective understanding of what constitutes "appropriate behaviour" (March and Olsen, 1998) in the emerging field of climate engineering. This is particularly relevant at the current early stages of research, during which positions are not yet hardened and perceptions of appropriateness remain malleable. Sets of suggestions are contained in the "Oxford Principles" (Rayner et al., 2013), which also provided the basis for principles derived at the Asilomar International Conference on Climate Intervention Technologies in 2010 (MacCracken et al., 2010), and recommendations governing the conduct of the SPICE project test bed (Stilgoe et al., 2013).
There is no directly applicable governance in place for perturbative albedo modification experiments in the open environment, beyond existing mechanisms such as: peer review; requisite conditions for receiving funding; and EIAs in cases where specified thresholds of environmental harm may be crossed. Although research principles and frameworks are being broadly discussed or implemented in specific projects (such as in the case of SPICE, see Box 3.5), there is neither coherence nor consensus on their value for all field experiments. This gap would need to be filled by further actions taken at (inter)governmental levels (this could be initiated through ministries or by international collaborations between research organisations, as well as through regional, supranational, and international organisations) and within the research community, to ensure the prevention of environmental harm and to provide sufficient legitimacy and accountability (Schäfer et al., 2013a; Schäfer and Low, 2014).
6.2 General policy considerations for climate engineering
Building upon the assessment of the legal landscape in Chapter 4 and upon the state of research in Chapter 5, this section provides some considerations on developing climate engineering policy in the EU. Choosing whether or not to support research on climate engineering — and if so, at what level to support the research and how to fund and govern it — will involve significant value judgments. Thus, the EuTRACE project can only provide guidance on setting priorities and developing policies from the perspective of the consortium, but will avoid being specifically prescriptive for the European Commission or other bodies. This sub-section focuses on general considerations that could be applied to developing policy on climate engineering. It begins with a discussion of factors that should be considered in forming a position on climate engineering research — the urgency of such research, possible sequences in which the research might be conducted, and the multiple uses for which climate engineering may create relevant knowledge (section 6.2.1). It proceeds to discuss policy considerations in developing principles for climate engineering governance (section 6.2.2) and strategies based on these principles (section 6.2.3). Finally, section 6.2.4 discusses considerations specific to the international governance of climate engineering.
6.2.1 Urgency, sequencing, and multiple uses of climateengineering research
There are several considerations that need to be applied to the formation of a position on research on greenhouse gas removal and albedo modification. This section will discuss three key considerations:
urgency/timeliness sequential versus parallel research approaches connection to other research.
6.2.1.1 Urgency and timeliness of climate engineering research
Various arguments can be made about the urgency of conducting research on albedo modification. On the one hand, one could argue that research should only be initiated or scaled up when it is demonstrated that there is insufficient time left to achieve climate targets via mitigation alone. Conversely, one could also argue that research on climate engineering should be initiated or scaled up as long as it is not demonstrated that there is sufficient time left to achieve climate targets via mitigation alone. Independent of whether longterm climate targets can be achieved, it can be argued that albedo modification represents the only potential method for reducing the near-term impacts of climate change and should therefore be researched independent of successes or failures in mitigation efforts. Various other intermediate perspectives could be considered, for instance a scenario in which it would only be possible to achieve climate targets through mitigation combined with the removal of greenhouse gases. Another possible argument is that research should mainly focus on key issues that will likely require the most time to resolve. A broad range of similar arguments is being applied to research on climate engineering in general, and a particularly critical debate in the literature presently concerns field experiments for albedo modification techniques. Example applications of these and other arguments for and against field testing of albedo modification are outlined in Box 6.1.
Summary of arguments in support of or against field tests of albedo modification
In favour
There is a widely accepted urgency to halt or slow climate change before it reaches levels associated with largescale dangerous consequences (which current knowledge suggests increases significantly in probability when global warming exceeds 2°C).
Specific knowledge gaps (for example, on environmental impacts of various techniques) can only be closed by conducting field tests. Some smallscale field experiments would have a negligible impact and could proceed without concern for environmental harm (applying a low threshold, for example, global average radiative forcing equivalent to less than 10 – 6 W/m2 as suggested by Parson and Keith (2013).
Beyond climate impacts, robust examination of which would need very large-scale tests, many aspects of albedo modification techniques can be tested at small scales, such as aerosol particle and cloud microphysics, impacts on stratospheric ozone chemistry, etc. These may give early insights into whether it is sensible to pursue specific techniques. Box 6.1
Against
There is currently insufficient justification for small-scale field tests of albedo modification techniques until further modelling and laboratory work have sufficiently developed our basic understanding of the techniques and their impacts.
Regulatory backlash and/or public contestation due to a real or perceived lack of legitimacy might endanger other important research efforts, particularly for related basic climate science (for example, understanding basic aerosol–cloud–climate interactions).
Limited detectability of effects against the background of large natural variability means that field tests intended to examine climate impacts of albedo modification techniques would have to be conducted on a very large scale.
While concerns regarding field tests apply especially to albedo modification, some of these concerns also apply to higher-risk or higher-impact techniques for the removal of greenhouse gases, such as OIF.
6.2.1.2 Sequencing: Advantages and disadvantages of a parallel research approach
Some arguments call for a sequential approach to climate engineering research, in which it is usually suggested that one specific form of research should be conducted before any other. This may be natural scientific research, based on the assumption that if climate engineering is found to be technically infeasible, then investments in social science research and governance development specific to climate engineering techniques will have been wasted. It may also be social scientific research and governance development, based on the assumption that if climate engineering is socially inacceptable, opposed by the public and/or ungovernable, then investments in natural science research and engineering development specific to climate engineering techniques will have been wasted.
Conversely, it can be argued that governance is required to ensure that research, especially on albedo
modification techniques, is equipped with an adequate degree of legitimacy, and that social scientific research can contribute to better understanding this. If a decision to invest in climate engineering research and to pursue the development of climate engineering options is to be based on a societal discussion on the desirability of such a course, then this discussion and related research would need to take place before such a decision is made. Once technologies have been developed to full scale, a discourse on their political and social desirability might then be too late to effectively contribute to guiding socio-political decisions. Lessons learned from other technologies, such as nanotechnologies and genetic modification, show that politics and decision making do not simply "follow the science". In particular, field tests in the absence of what is perceived as appropriate governance would lack legitimacy (Schäfer et al., 2013a), which could result in extensive public opposition, in turn rendering investments in natural science wasted. Natural science experiments take place in a societal context and can have spill-over effects and create conflicts.
Social science research can help the community involved in the discourse around climate engineering to better understand the concerns associated with individual techniques and their development. It is therefore emphasised that this consortium has followed the approach of parallel research, which is thus viewed favourably here, since the results allow consideration of how normative, social, and political factors would influence the potential development of climate engineering techniques; how these factors influence each other; and how the potential development of climate engineering techniques may impact the socio-political world. Future parallel research could involve studies on the public acceptance of climate engineering in more EU countries; for example, participatory governance programmes to elicit public values on climate engineering via a coordinated approach (e.g., deliberative focus groups, social media, etc.). The findings could systematically inform policy making and the investigation of governance structures intended to prevent moral hazard and "slippery slope" dynamics; simultaneously, natural science and engineering research could provide these studies with improved information on the potential physical characteristics of various designs for climate engineering techniques and their potential environmental impacts.
6.2.1.3 Multiple uses of knowledge: Connection to other research
It has been noted that climate engineering research and its broader discourse will be most valuable if it does not occur in isolation from other fields and topics, and particularly that it is valuable to place climate engineering research in the broader context of mitigation and adaptation (Bellamy et al., 2013).
Furthermore, a more specific connection can be made between climate engineering research and other research topics. It is not always easy or even possible to distinguish climate engineering research from basic research on the climate system and its components, which is not aimed at generating knowledge for climate engineering. Findings in atmospheric physics and chemistry, the ocean system, and other research topics may also yield insights into climate engineering, and vice versa. Climate engineering builds on a large body of research, for example on climate change mitigation (for greenhouse gas removal techniques, especially BECCS), climate and climate change modelling (especially for albedo modification techniques), and biogeochemistry (especially for ocean fertilisation). Analogues for climate engineering (such as volcanic eruptions and natural ocean fertilisation events) have been studied extensively, independent of any specific interest in climate engineering applications. Research on greenhouse gas removal and albedo modification not only depends on the knowledge base established through research in related fields, but also provides benefits by feeding back into the broader topics of climatic and Earth system research. The same holds for technological research, which may find applications outside the field of climate engineering (for example, gas separation techniques and spraying techniques). Climate engineering research could therefore create synergies with other scientific issues, and may create valuable knowledge wholly independent of whether or not any climate engineering techniques are ultimately deployed. Similarly, social science research can develop insights from investigating the debate and dynamics around climate engineering that will remain valuable even if climate engineering itself were never to be pursued any further. Thus, if a decision is made that climate engineering research is justified, then from the perspective of efficient use of resources it is sensible to look for opportunities to maximise synergies such as those described here, but without masking the intention of creating knowledge for climate engineering.
6.2.1.4 Outlook: a challenge and opportunity
Various arguments for and against climate engineering research, based on different assumptions, have
been applied to inform the international debate (see Section 5.2). Against the background of increasing
research funding, also in several EU member states, a detailed analysis of the range of arguments, including those about how and under which conditions to pursue research on greenhouse gas removal and albedo modification techniques, could help to inform societal debate and political decision making. The previous chapter (see Section 5.3) provided guidance on the questions that such an analysis might address, summarised in the form of important research questions for different fields of interest such as the natural sciences, public awareness, ethical, political, and social aspects, as well as governance and regulation. As one conclusion of the interdisciplinary EuTRACE project, the consortium advocates a parallel research approach that simultaneously addresses questions of natural scientific and social scientific interest, without prioritising one to be carried out before the other.
A great challenge remains for funding agencies and governing bodies, and also for research institutes and individual researchers, to weigh the arguments that speak in favour of and against research into climate engineering (Section 5.2). It is not possible to provide blanket answers and judgments about the relative weighting of these arguments for all the individual techniques discussed in this report, since such weightings are strongly dependent on values and stakeholder perspectives. Below, in Section 6.3, guiding principles are distilled and provided, with an interest in providing support to the European Commission and the broader policy and research community. A conscientious application of these principles in accordance with the continuously developing knowledge base on climate engineering may facilitate the development of European policies on research and on the potential implementation of climate engineering techniques that are coherent and consistent with the basic principles upon which broader European research and environmental policy are built.
6.2.2 Policy considerations in developing principles for climate engineering governance
Given the strong arguments outlined above (Section 5.2) both for and against research, there is a considerable debate about whether research into greenhouse gas removal and albedo modification should take place in the first place; if so, what forms it should take; and on the need for, and possible forms of, governance for the differing techniques during the various stages of their research and development trajectories. In order to guide the scientific community and policy makers in this debate, several principles have been derived for this report, and are presented in this section. These principles have been distilled from existing provisions in EU primary law, supplemented by international law and the development of climate engineering governance through the CBD and LC/LP, as well as principles from the academic literature (Rayner et al., 2013; Morrow, 2009)
The set of principles below may guide policy development for a very broad range of techniques throughout their respective technological development trajectories. Intentionally remaining at an abstract level, they lay down basic normative parameters that can guide decision making in the area of climate engineering. Decision making will necessarily require the balancing of different values; specific policy options will therefore embody the values of one or more of the principles to various extents, and in their application may conflict with each other.
The principles and their implications for climate engineering techniques are as follows:
The minimisation of harm: The risk of individuals being exposed to harm from climate engineering, the number of people exposed to risks, and the magnitude of the potential harm should all be kept as low as possible, and serious and irreversible harm should be avoided. A stricter reading of this principle may conclude that there is an obligation to not cause environmental harm, as well as a duty of prevention as a matter of due diligence.
The precautionary principle (see also Sections 4.1.1 – 4.1.3, 4.2.1): The precautionary principle is to be
applied in situations of scientific uncertainty. It demands preventive measures against plausible environmental and human health threats that are serious or irreversible. Necessary and appropriate precautionary measures may be permitted or even required, depending on the formulation of the principle, when the best available scientific and technical data indicate the existence of risks. In order to decide on appropriate precautionary measures, policy makers need to define the appropriate level of protection to be applied, and the severity, persistence, and reversibility of the potential impact, were a threat to transpire. It is important to note, however, that some have drawn a different interpretation from the application of the precautionary principle: an obligation to conduct research, as it represents a possible measure for preventing damage and harm associated with climate change (Bodansky, 1996, Bodansky, 2012, Reichwein, 2012, Ralston, 2009).
Origin: TFEU Article 191 (2) – "Union policy on the environment shall aim at a high level of protection taking into account the diversity of situations in the various regions of the Union. It shall be based on the precautionary principle and on the principles that preventive action should be taken, that environmental damage should as a priority be rectified at source and that the polluter should pay".
The principle of transparency: The principle of transparency calls for the open distribution of relevant information about research activities. The background for this is that, in order to adequately judge whether such activities should be supported, tolerated (allowed), or opposed (banned), the scientific, civil society, and policy communities have a need for information on research activities related to climate engineering. Transparency can also be considered to be of instrumental value, as it can foster future scientific research by reassuring the public of the integrity of the research process (Rayner et al., 2013). Transparency thus serves both substantive and procedural ends, and mechanisms that establish transparency will need to take this dual purpose into account (Craik and Moore, 2014).
Origin: TEU Article 11 (2) provides that "the institutions shall maintain an open, transparent and regular dialogue with representative associations and civil society" while Article 11 (3) provides that the Commission "shall carry out broad consultations with parties concerned in order to ensure that the Union's actions are coherent and transparent".
The principle of international cooperation requires action to be undertaken involving the international community as far as possible, in order to build global legitimacy and peaceful resolution of possible conflicts of interest and legal disputes. It does not follow from this whether climate engineering constitutes a task flowing from the treaties, and it would first need to be determined whether climate engineering reflects the values of the Union. In international law, it is derived from the principle of "good neighbourliness", which is normally extended given the concepts applied in states' agreements. Thus the content and scope of cooperation are derived from the text of the agreements themselves and may normally include a commitment to further develop a legal interregime. Also, as a principle, it encompasses many other stand-alone legal obligations, both procedural and substantive, including information sharing, participation in decision making, EIA, information exchange, consultation and notification, provision of emergency information, and transboundary enforcement of environmental standards.
Origin: TEU Article 4 (4) provides that "the Union and the Member States shall, in full mutual respect, assist each other in carrying out tasks which flow from the Treaties". TEU Article 8 (1) provides for cooperation with neighbouring countries "founded on the values of the Union".
Greenhouse gas removal and albedo modification — or at least some of the techniques — may be understood as public goods, allowing for the regulation of such techniques in the public interest (Rayner et al., 2013). The view of both forms of techniques as a public good is based on concerns about the future orientation of research and the role of private enterprises and commercial interests. These concerns are often based on the profit orientation of the private sector, the possible limitation of accessibility if such techniques would be commercialised, and the potential bypassing or neglect of the socio-economic, environmental, regulatory, and humanitarian dimensions of certain climate engineering techniques by private enterprises (Robock, 2008; Blackstock and Long, 2010; Shepherd et al., 2009).
6.2.3 Strategies based on principles
Based on these principles, different strategies have been proposed that could be applied across all climate engineering approaches, including:
Early public engagement: The demand for early public engagement in research and development of albedo modification and greenhouse gas removal techniques can be grounded in reflections upon procedural justice (see Section 3.1.3). It is also instrumental in building trust in scientific activities (Bodansky, 2012) and in improving the quality of socially robust scientific and technological solutions, especially in situations of uncertainty (Stirling, 2008; Carr et al., 2013; Corner and Pidgeon, 2010; Stilgoe et al., 2013). 
Independent assessment: An important instrument for achieving transparency as well as for the minimisation of harm is the independent assessment of possible environmental impacts and other impacts of research activities involving greenhouse gas removal and albedo modification field tests. Particularly in the case of expected transboundary impacts, such assessments will be most respected if they are carried out through independent regional bodies, international bodies, or both (Rayner et al., 2013; Morrow, 2009).
Disclosure mechanisms and transparency: Craik and Moore (2014) explore the multiple functions that transparency may have as a mode of governance for climate engineering research. They identify two overarching purposes in this regard: 1) minimisation of risks associated with research through disclosure of information, which allows regulators, proponents, opponents, and other actors to understand the risk profile of research and thereby take action toward reduction of risks, and 2) trust-building through acknowledgement and operationalisation of the normative right to know about activities that may be of interest. Together, these dual roles should help to situate climate engineering research as a global public good in which all interested parties have a stake, are able to assess their interests, and to understand where opportunities occur for their engagement in decision making. Furthermore, Craik and Moore (2014) identify three procedural mechanisms which might be applied to serve these functions: environmental impact assessment (see also the previous point), research registries, and information clearinghouses. Particularly for the governance of field experiments into albedo modification techniques, they encourage regulatory bodies at the national and international levels to undertake actions toward the implementation of these procedural mechanisms.
International codes of conduct: Hubert and Reichwein (2015) explore a model of an informal, harmonising draft code of conduct to govern and regulate climate engineering, focusing on the near-term prospect of scientific research and development of these proposed techniques, and set against the background of advancing scientific, political, social, and economic discussions on this subject. Their analysis of a wide range of existing legal sources suggests that this topic is situated within a large body of evolving international norms established in other contexts, which even if they are not directly applicable can make an important contribution to the elaboration of guidance on the responsible conduct of climate engineering research at all levels. They also explore issues related to legal form, taking into account issues related to the high degree of regime interaction and normative overlap implied by the subject matter of climate engineering, and the need to develop and harmonise measures at various levels and involve different actors. This approach could serve as a possible flexible and adaptive governance approach to advance and coordinate the efforts of governments, existing or new international organisations and treaty bodies, and non-state actors such as NGOs, business, scientific academies, research institutes, and individual scientists in addressing this topic.
Responsible innovation and anticipatory governance: Stilgoe et al. (2013) develop a "framework for responsible innovation" in which an interactive process allows scientists to convene with stakeholders to exchange views on the (ethical) acceptability, sustainability, and societal desirability of their work (Stilgoe et al., 2013; citing Schomberg 2011). This can be situated alongside wider efforts toward anticipatory governance: a strategic approach to enabling early investigative and regulatory actions in emerging (technological) debates. A key tenet here is that precautionary or predictive approaches base action on reducing uncertainty and reacting as much as possible to a "known" future. Anticipatory practices seek to navigate uncertainty and to forestall technocratic management (prediction) or an indeterminate state of inaction (precaution) by integrating diverse bodies of knowledge from scientific and societal constituencies, and by pointing out key nodes and modes of interaction as context to decision making (Barben et al., 2008; Guston, 2014; Karinen and Guston, 2010; Foley et al., 2015 forthcoming).
This could enable early warnings, public scrutiny of science, public legitimacy and inclusiveness, and provide the flexibility and responsiveness necessary to respond to emerging knowledge and public contestation. In the context of climate engineering, with specific insights drawn from the SPICE project (see Section 3.1.4), the responsible innovation framework envisions an institutional review process (a "stagegate" process), set up by funding agencies, in which an expert panel assesses research along specific criteria. In Stilgoe et al. (2013), these are:
risks identified, managed, and deemed acceptable; compliant with relevant regulations; clear communication of the nature and purpose of the project; applications and impacts described and mechanisms put in place to review these; mechanisms identified to understand public and stakeholder views.
The principles of transparency and participation may suggest establishing a platform for disclosure of relevant information regarding climate engineeringrelated research and/or deployment activities. Information could be provided on risks and opportunities associated with individual activities, as well as on the rationales for policy decisions. Transparency can also be aided through independent environmental and social impact assessments to generate relevant information for the public. Binding standards for reporting can assist comparability between individual activities. 
The realisation of some of these principles, demands, and instruments, especially in the governance of small-scale field tests of albedo modification techniques, but also similarly for perturbative experiments such as open-ocean OIF experiments, requires adequate governance mechanisms and institutions at national and international levels that currently do not exist (Schäfer et al., 2013a); furthermore, it can be anticipated that new governance gaps may emerge, requiring the creation of new rules and institutions. On the other hand, some have expressed scepticism over whether international governance of research is necessary or even possible, given the present stage of development of many techniques (Victor et al., 2013; Morgan and Ricke, 2010; Parson and Keith, 2013).
6.2.4 Policy considerations for international governance of climate engineering
Taking into account the possible side effects and risks associated with different climate engineering techniques, the question arises: who can legitimately decide on climate engineering deployment or even research (especially field tests), and through what processes? Answers to this question can be derived from, or related to, principles of procedural justice, which deals with the idea of fairness in the processes that resolve disputes and allocate resources, benefits and costs. Claims of procedural justice are often based on the assumption that to be morally acceptable, all those affected by a decision must be notified and consulted and must have the ability to contribute to the process of decision making, or have their interests represented (Jamieson, 1996; Morrow et al., 2009; Rayner et al., 2009; Svoboda et al., 2011; Carr et al., 2013; Rayner et al., 2013). As climate engineering is designed to address a global problem and therefore may, as a result, noticeably affect the global population, it has been argued that the scope of public engagement should therefore be global (Preston, 2012, Preston, 2013).
Democratic processes at the national level alone appear insufficient for decisions on deploying techniques that could have transboundary effects. Decisions affecting a shared natural resource and common heritage are often seen to require a cooperative legal framework in which the sovereignty and interests of all states are taken into account (Abelkop and Carlson, 2012). However, agreements involving the global commons that are acceptable to all parties may be impossible to reach due to significantly different interests that are grounded in geopolitical, economic, and related issues (Athanasiou and Baer, 2002, SRMGI, 2012). Furthermore, international decision-making structures often exclude or marginalise those who are especially vulnerable (Jamieson, 1996; Pogge, 2002; Corner and Pidgeon, 2010,; Gardiner, 2011; Joronen et al., 2011). Procedural norms (see Box 6.2) provide guidance on how these difficulties and shortcomings can be overcome.
Procedural norms
There are several procedural norms that could help facilitate and improve the quality and legitimacy of climate engineering decision making: 
notification and consultation of those affected as well as the wider public and other nations (Morrow et al., 2009; Svoboda et al., 2011; Carr et al., 2013; Rayner et al., 2013); 
fostering public engagement early in the research phase (Poumadère et al., 2011);
open preparation and execution of environmental as well as societal impact assessments prior to conducting activities that can have significant environmental or other impacts (Abelkop and Carlson, 2012); 
transparency and public disclosure of the rationales for policy decisions on climate engineering techniques (Craik and Moore, 2014); 
providing a mechanism for appeal and revision to ensure fairness (Daniels and Sabin, 1997, Tuana, 2013).
Many possible variants for an institutionalisation of climate engineering governance have been set forth in the literature (Cicerone, 2006; Victor, 2008; Davies, 2009; Morrow et al., 2009; Virgoe, 2009; Benedick, 2011; Bodansky, 2011; Bodansky, 2012; Lloyd and Oppenheimer, 2011; Galaz, 2012; Dilling and Hauser, 2013; Morgan et al., 2013; Zürn and Schäfer, 2013; Barrett, 2008b). Currently, three institutional loci are at the centre of attention: the UNFCCC, the CBD, and the LC/LP. The following subsections will briefly review the state of discussions on climate engineering within these frameworks, highlight possible ways forward for international governance of SAI, OIF, and BECCS, and examine possible actions the EU could take.
6.2.4.1 The United Nations Framework Convention on Climate Change (UNFCCC)
To date, the UNFCCC Conferences of the Parties (COPs) have remained silent on climate engineering, which is of little surprise given that alternatives to conventional mitigation are frequently considered a source of moral hazard, threatening the premise of the current climate regime that is based on reducing emissions. Although the UNFCCC, with its explicit focus on climate change, could provide a viable framework for the climate engineering debate to unfold, the present provisions of the treaty only allow for consideration of techniques for greenhouse gas removal. No straightforward avenue is currently available for incorporating albedo modification techniques into the discussions. Principally this could be done by posing climate engineering as an additional response strategy to anthropogenic climate change; however, as noted, a widespread concern is that this could be detrimental to the negotiations around CO2 reductions.
Beyond the treaty bodies, the only specific activity related to climate engineering within the broader UNFCCC regime is the inclusion of a brief discussion of climate engineering methods in the Fifth Assessment
Report of the IPCC (IPCC, 2014c). However,
since the IPCC has a purely scientific advisory function
(to analyse existing science and identify priority
needs for further research activities), this cannot be
interpreted as having legal relevance, although it
might contribute to a political dynamic that leads to an uptake of climate engineering in future discussionsat the UNFCCC. It also demonstrates the scientific and policy relevance of climate engineering to the problem of climate change. Whether the fact that climate engineering has been taken into account by the IPCC will lead to its inclusion in future UNFCCC COPs cannot be foreseen, but the visibility of the issue in general can be expected to increase.
6.2.4.2 The Convention on Biological Diversity (CBD)
Milestones in the development of climate engineering governance at the CBD were the COPs in the years 2008 (decision on ocean fertilisation), 2010 (decision on climate engineering more broadly), and 2012 (where several decisions were adopted that relate to climate engineering). This is of considerable relevance given the almost universal validity of the CBD, with the key exception of the USA, which is not a member state. While these decisions are not legally binding (as described by Proelss (2009) for the 2008 decision) and therefore far from providing a legally binding moratorium, the call for science-based, global, transparent, and effective control and regulatory mechanisms, adopted with consent by all parties, conveys a strong political will to engage in further discussion on and regulation of climate engineering at the international level. Notwithstanding its non-binding nature, the CBD Decision could provide guidance for future regulatory activities.
6.2.4.3 The London Convention and Protocol (LC/LP)
Parties to the LC/LP have developed governance for marine climate engineering activities at a comparatively rapid pace over recent years (as outlined in Section 4.1.2). As a well-developed legal instrument for the protection of the marine environment, the LC/LP provide a suitable institutional setting for comprehensively addressing marine climate engineering activities, with the major consideration that their scope remains specifically limited to the protection of the marine environment. It has also been pointed out that regulation of climate engineering within the LC/LP may impact not only research on climate engineering, but also basic research on the marine environment more generally (Hubert, 2011).
6.2.4.4 Possible future development of the emerging regime complex on climate engineering
This section provides an outlook on possible developments in climate engineering governance based on
the preceding sections, and ties in the analysis of ethical, legal, and political considerations in the climate engineering discourse with that of past developments and current features of the existing climate engineering governance landscape, along with an analysis focusing on what an EU perspective on this might be.
The comparatively rapid development of international governance for climate engineering over the past couple of years at the CBD and the LC/LP suggest a willingness of states to cooperate on the issue of climate engineering. In the medium term, this might signal the emergence of a regime complex consisting of regulatory provisions that include the CBD and the LC/ LP, as well as potentially the UNFCCC (given the considerations noted above), supported by strategies designed to manage interplay between these institutions and by scientific assessments from the IPCC (Zürn and Schäfer, 2013).
The concept of a regime complex describes a situation in which there is no "fully integrated [institution] that [imposes] regulation through comprehensive, hierarchical rules" (Keohane and Victor, 2011), but rather a set of separate, fragmented institutions that partly overlap and might complement or contradict each other. From the above discussion, it is clear that there is no single body that at present is likely to claim the authority to comprehensively govern climate engineering. Instead, there is evidence for the emergence of different forms of governance in different institutional settings, most notably the CBD and the LC/LP.
The limited focus of the UNFCCC on climate protection could potentially lead to a "blending-out" of the non-climatic effects of climate engineering activities, such as effects on ecosystems and biodiversity, if it became the main institution for handling the issue. These could, however, be accounted for by the CBD; here, the inverse problem occurs, as the CBD, with its limited applicability focusing on issues related to biodiversity, does not address the effects of climate engineering techniques outside of their relationship to biodiversity. A functional linkage between the two institutions could potentially contribute to providing a more comprehensive regulatory approach, but this may be overshadowed by the potential for political and legal conflict between the individual elements of such a regulatory structure. The legal relationship between the CBD and UNFCCC is still a matter of discussion (see Wolfrum and Matz, 2003).
A possible way to prevent political and legal interinstitutional conflict could be seen in the conclusion of memoranda of understanding negotiated by the institutions' secretariats and then submitted to the respective COPs. Specifically for the CBD and the LC/ LP, given the apparent similarities between the two conventions' views on climate engineering as evidenced by their consistent approaches as well as mutual references contained in their statements on the objectives and the future of climate engineering regulation, this seems to be an achievable near-term goal. That said, while the CBD can claim a large degree of input legitimacy for its decisions arising from its quasi-universal membership, it suffers from the general nature of its provisions, the legally nonbinding character of its COP Decisions on climate engineering, and its limited focus on biodiversity. Similarly, the LC/LP is characterised by its limited focus on protection of the marine environment from the dumping of waste and other matter, and its impact is further reduced by the limited number of parties that have ratified or acceded to it. Finally, the normative strength of the UNFCCC must also be considered as being limited in light of its exclusive focus on the climate and its often cumbersome negotiation process.
These weaknesses of the emerging global regime raise the question of the potential role of regional supranational entities such as the EU in the future governance of climate engineering. While climate engineering governance at the EU level would not provide a solution to the deficiencies of governance at the global level, it has the potential to initiate a process of harmonisation across instruments and to substantiate and complement governance emerging at the international
level.
6.3 Technique-specific policy considerations
The following discussion on the development of policy options examines the three individual techniques (BECCS, OIF, and SAI) that are focused on in this report. Each technique-specific section begins by summarising the state of the art of scientific knowledge (see Chapter 2 for more extensive discussion) and then goes on to consider the state of technological maturity.
This is followed by a brief discussion of the particular concerns associated with a given technique. However, it is also valuable to note a number of common concerns applicable to all three example techniques, including:
siphoning resources away from research in other areas; decreasing overall willingness to invest in mitigation of greenhouse gas emissions; creating forms of socio-technical lock-in due to vested interests and institutional inertia; having resource demands that significantly exceed initial estimates; causing resistance to and contestation of scientific activities in the open environment that are technically related to climate engineering technologies but do not share its intents, especially if field research is conducted under conditions of insufficient accountability and legitimacy.
An example of the latter could be perturbative tests of cloud microphysics, where understanding would be advanced for both albedo modification approaches as well as for basic climate science (see Section 5.1). 
Finally, each section examines the current state of legal and norm development before discussing the policy context and range of policy considerations. A number of cross-cutting options were discussed in Section 6.2 on pursuing research, deriving principles for governance and for enacting policy at the EU and international levels. Here the focus is placed on options that are more uniquely suited to individual technologies.
6.3.1 Policy development for BECCS
Scientific state of the art and technological maturity: As described in section 2.1.2, the technologies involved in BECCS are not yet fully developed and it is currently unclear how effectively they might be scaled up to the sectoral-scale deployment required to have an impact on the global carbon cycle at the level classified as climate engineering. However, a substantial role for BECCS is envisaged in many of the scenarios that succeed in limiting temperature rise to 2°C in the 21st century. The "vast majority" (101 out of 116) of scenarios that underlie the IPCC's RCP 2.6, the only scenario in which meeting the 2°C goal is considered "likely" (IPCC, 2014d), include some form of greenhouse gas removal, especially BECCs and afforestation. BECCS is also included in "many" (235 out of 653) of the scenarios that underlie RCP 4.5 (Fuss et al., 2014).
Early commercial-scale CCS projects are operational and CO2 capture, transport, and storage technologies are proven (Scott et al., 2013) and are directly applicable to BECCS. CO2 capture from pure biomass burning (or from fossil fuel and biomass co-firing in proportions capable of delivering a net CO2 removal) can initially adapt CCS CO2 capture technologies, but further research and development on capture technologies specific to biomass will be required to maximise efficiency (IEAGHG, 2011, Bracmort and Lattanzio, 2013).
Nevertheless, the possible scales and rates of deployment for BECCS are primarily technically limited by the availability of sustainably produced biomass and the availability of pre-existing CCS infrastructures for CO2 transport and storage (IEA, 2011, see also Section 2.1.2 in this report).
Concerns associated with BECCS: Provided the required resources (biomass growth and processing facilities, CO2 storage) are available, small-scale initial deployment of BECCS could take place largely within national jurisdictions, so that local and national authorities would be primarily responsible for managing any resulting local environmental effects and societal responses. However, BECCS on the scale considered in the IPCC RCP 2.6 scenario would very likely have noticeable transboundary environmental, economic, and societal impacts. These could be both positive (for example, CO2 removal; biomass production creating long-term economic activity in rural regions) and negative (for example, biomass production displacing food crops and thereby reducing food security; reducing biodiversity; depleting water supplies). While these impacts could be further explored in theoretical and small-scale studies, practical experience at full operational scale would likely be necessary to generate an adequate level of understanding to make an informed decision about its large-scale implementation, as well as to inform the technical development of BECCS processes in terms of sustainability, CO2 removal efficiency, and the characterisation and reduction of associated impacts.
Legal and norm development: From an EU perspective, at present there are several regulatory and policy regimes that set the contemporary context for BECCS, including:
EU greenhouse gas emission reduction targets (the 20–20–20 targets, see Section 6.1);
the EU emission trading scheme (EU ETS);
the EU CCS Directive (Directive 2009/31/EC)
and associated policies;
the EU Renewable Energy Directive (Directive 2009/28/EC) and renewable policies;
the Fuel Quality Directive (Directive 2009/30/EC);
the CDM under the UNFCCC, particularly in the context of a broader international setting.
The recent European Council 2030 climate and energy conclusions agree to a binding target of a 40 % reduction in greenhouse gas emissions, further aiming for an 80 % reduction by 2050. The primary EU mechanism to drive this decarbonisation is the EU ETS. Under the ETS, accounting for and incentivising greenhouse gas removal is currently ineligible — a tonne of CO2 (or equivalent) removed does not "create" a saleable equivalent emissions permit. The 2009 CCS Directive (under review in 2015) provides the legal framework for the geological storage of CO2 captured from large anthropogenic sources, and associated revision to the EU ETS recognises CCS as mitigation.
The 2009 Renewable Energy Directive (2009/28/EC) and Fuel Quality Directive (2009/30/EC) provide the background to current EU efforts to develop biomass as an energy resource. The Renewable Energy Directive requires that by 2020, 20 % of all energy used in the EU must come from "renewable sources", including biomass, bioliquids and biogas (translating into different targets for individual member states). The 2030 Council conclusions agree to an EU-level 27 % target for 2030, but without binding contributions from individual member states. This growing incentive for biomass-derived energy has raised concerns over the risk of indirect land use change (ILUC), land conversions resulting from displacement of food crops that might counter the direct carbon saving.
At the international level, the 2011 UNFCCC COP adopted modalities and procedures for including CCS
within the CDM (Dixon et al., 2013). The Decision does not explicitly distinguish between the storage of carbon from conventional uses in, for example, coalfired power plants and the storage of carbon from bioenergy generation or biofuel production, but the eligibility of any specific proposed project is subject to agreement between the individual parties. After the 2011 Durban COP, the May 2012 meeting of the executive board of the CDM in Bonn released procedures for the submission and consideration of a new baseline and monitoring methodology for CCS CDM project activities, along with guidelines for project design.
BECCS policy context and considerations:
EU policy attention to BECCS may be warranted for three reasons:
the suggested importance of BECCS to achieving decarbonisation (IPCC 2013a, 2014a, 2014b);
the experience that establishing deployment of technologies reliant on large resources and infrastructures requires many decades;
the opposition that is becoming evident in some European countries against proposals for developing BECCS. 
Should the EU envisage a substantial role for BECCS in its domestic emissions reduction strategy, steps toward this would include research and technology development, infrastructure provision, market development and societal engagement. Research and development, would need to focus both on specific technologies and on analysis and development of assessment criteria to account for removed CO2 across the full BECCS system (this could build on the current development of sustainability criteria for bioenergy).
As stated above, the rate and scale at which BECCS could be undertaken depends primarily on biomass supply, and on the provision of CCS infrastructures. The identification, assessment, and approval of large capacities of geological storage for CO2 and the construction of CO2 transportation networks have long (decadal) lead- and build times. Should substantial BECCS deployment be desired in the EU, the prior acceptance and deployment of CCS is likely to be a precondition.
With respect to market development, some proponents of BECCS suggest creating economic incentives
for net carbon reductions through the inclusion of BECCS in carbon markets. It is argued that this would
also accelerate technological development (IEAGHG, 2011, EASAC, 2013). Others argue the opposite: that BECCS should be excluded from carbon markets to avoid, among other effects, the displacement of other, perhaps more sustainable, mitigation options (McLaren, 2012). A possible approach to limiting this risk could be to set initial contribution quotas (analogous to those suggested for the contribution of firstgeneration bioenergy towards renewable energy targets, cf. EU COM (2012) 595 final) with specified
review and assessment periods.
In relation to CCS, it has been argued that far-reaching policy interventions at an early stage of development can lead to overregulation that is arguably detrimental to research and development. However, given the concerns noted above, the following points emerge as potential policy interventions.
Given the public opposition to CCS in some European countries, it seems important to enhance the democratic legitimacy of decision making by allowing publics to voice their hopes and concerns about BECCS and to contribute to decision-making processes. This should particularly include decisions about the further development of BECCS and about potential sites for BECCS power plants and CO2 storage sites.
Comprehensive lifecycle assessments appraise projects independently according to criteria for environmental effectiveness (this would need to incorporate all emissions generated by a BECCS project over its lifecycle), as well as their social and environmental sustainability (see Section 2.1.2 for details). Activity boundaries are critical when assessing the costs and benefits of individual projects (see Section 4.1.1), as are other aspects of how the lifecycle assessment is carried out, including the standards that are applied (and how they are set, monitored and enforced). Crucially, accounting for emission reductions through BECCS in the UNFCCC may not be comprehensive, as parties are presently able to opt in or out of accounting for certain activities under Land Use, Land-Use Change and Forestry (LULUCF; see section 4.1.2 and IEA, 2011). It would also be challenging to account for net emission reductions in Annex I countries, as the resources (such as biofuels) are often produced in other countries (among them non-Annex I Parties) that employ different accounting and reporting requirements (IEA, 2011).
Finally, based on these considerations, one option for policy development at the EU level would be to build on the European Commission's proposal for the introduction of EU-wide binding sustainability criteria for solid and gaseous biomass, thereby coordinating and establishing linkages between the existing frameworks for regulating biomass and CCS, e.g., the CCS Directive and the Renewable Energy Directive discussed above. This could, for example, take the form of an inter-agency panel consisting of members from different relevant EU agencies.
6.3.2 Policy development for OIF
Scientific state of the art and technological maturity: As described in section 2.1.7, thirteen field experiments have examined OIF. The findings demonstrate potential for inducing significant plankton blooms that persist over several weeks in some regions of the oceans, but also that the actual increases in CO2 uptake and drawdown are very uncertain (Boyd et al., 2007; Buesseler et al., 2008; Williamson et al., 2012b). Studies suggest a maximum potential uptake of about 3 Gt CO2 per year for fertilisation of the entire Southern Ocean (Oschlies et al., 2010a), noting that storage of CO2 would not be permanent, since it would mostly resurface after several centuries due to the thermohaline ocean circulation. The technique's effectiveness and feasibility as a carbon sequestration method remain highly uncertain. Due to this uncertainty, as well as controversies associated with its ecological and societal impacts, there has been relatively little work on issues of technical feasibility (e.g., sustained provision of sufficient amounts of soluble iron, effective delivery techniques, technical requirements for ships and the numbers of ships that would be needed, frequency and distribution of fertilisation, forecasting of particularly susceptible gyres, etc.).
Concerns associated with OIF: This technique would be highly environmentally disruptive if implemented at a scale sufficiently large to impact the global CO2 budget. If deployed at large scale, OIF could have severe or irreversible side effects on marine ecosystems; for example, by disrupting the food web and affecting biodiversity (Chisholm et al., 2001; Strong et al., 2009a), as well as by influencing the atmosphere through the production of gases such as dimethylsulphide (DMS) and N2O (Lawrence, 2002, Jin and Gruber, 2003; Liss et al., 2005). The complexity of the ocean system and the lack of scientific knowledge of its structure and functioning increase the uncertainties surrounding the effects of OIF.
Legal and norm development: The legislative history of marine climate engineering governance at the LC/LP dates back to 2008 with the adoption of a nonbinding resolution that no ocean fertilisation activities other than "legitimate scientific research" should be allowed, given the present state of knowledge (London Convention and Protocol, 2008), and stating that scientific research proposals should be assessed on a case-by-case basis using an assessment framework to be developed by the Scientific Groups responsible for providing scientific and technical advice. In 2010, an Ocean Fertilisation Assessment Framework (OFAF) was adopted by the LC/LP for determining whether proposed ocean fertilisation research represents "legitimate scientific research", as well as a component on environmental assessment (London Convention and Protocol, 2010).
In October 2013, the Contracting Parties to the London Protocol adopted an amendment to the agreement, which provides a legally binding mechanism to regulate the placement of matter in the oceans for the purpose of OIF, and allows for the possible regulation of other "marine geoengineering" activities that fall within the scope of the Protocol in the future. The London Protocol has thus become the first international treaty that expressly addresses a particular climate engineering technique in a legally binding manner and, moreover, has worded its amendment to allow for expansion to a considerable number of climate engineering techniques. Ratification of these amendments by the Contracting Parties is still pending at the time of writing.
Membership of the LC and LP is not universal, and not all states that are parties to the LC are also parties to the LP. Although most member states of the EU are party to the LP, the EU itself cannot become a party because it is not a "State" as required under Article 24 (1) of the London Protocol. While the amendment thus only binds the States Parties to the LP, the notion of "global rules and standards" in terms of UNCLOS Article 210 (6) may be interpreted as referring to the rules and procedures codified in and adopted under the LC/LP, which would result in their incorporation into the UNCLOS regime (which is binding upon significantly more states, as well as the EU).
UNCLOS also applies to ocean fertilisation activities and includes the general obligation, set out in Article 192, to protect and preserve the marine environment, as well as a more specific obligation, in Article 194, to take all measures necessary to ensure that activities under a state's jurisdiction or control are conducted so as not to cause damage by pollution to other states and their environment.
OIF policy context and considerations: In October 2013, the Contracting Parties to the London Protocol adopted by consensus an amendment to provide a legally binding mechanism to regulate the placement of matter for ocean fertilisation. The amendment will enter into force 60 days after it is ratified by twothirds of the Contracting Parties.
The EU has very successfully taken the role of an "enforcement organ" of the International Maritime Organization (IMO) in the shipping context. This is due to the fact that the EU has the power to enforce its legal measures by way of the "treaty infringement procedure". This would require the EU to enact measures that correspond with the LP amendment or substantiate its provisions if, and to the extent to which, these establish minimum standards.
A central policy option for the EU would be for the European Commission to urge all LP member states to ratify the amendment and for all LC members to become parties to the LP. Recent developments in the governance of OIF arguably place this technique at the most advanced stage of legal and norm development among climate engineering techniques. As such, it might provide insights into overall developments in climate engineering governance and accordingly guidance for developing governance for other techniques. There are other instructive aspects of this case relating to precipitous commercial development and rogue private actors, protection of global commons areas, and the societal acceptability and public controversy associated with climate engineering.
In principle, EU member states could also be bound via incorporation of the standards to the LP by reference into UNCLOS (Art. 210(6) UNCLOS). Furthermore, the EU could enact binding measures consistent with the requirements set out in the amendment. Future measures could potentially aim to provide for the effective implementation of the LP.
6.3.3 Policy development for SAI
Scientific state of the art and technological maturity: The artificial injection of large amounts of aerosol particles or their precursor gases into the stratosphere (SAI) could produce a global cooling effect of up to several degrees Celsius, according to model simulations (see section 2.2.1 for further details). Given the substantial risks known to be associated with continued global warming (IPCC 2013a, 2014a, 2014b), reducing the rate at which global mean temperatures are increasing would be expected to reduce some of the impacts of climate change, including sea level rise, heat waves, and the rate of sea ice decline. Modelling also indicates that the increase in the intensity of the hydrological cycle expected from global warming could be reduced by reducing global average temperatures; lessening the magnitude of changes to precipitation patterns, the intensity of floods and droughts, and changes to local weather (Kravitz et al., 2014b). However, modelling studies have shown that SAI cannot simultaneously restore both global mean temperature and global mean precipitation changes to an earlier state (Schmidt et al., 2012a; Tilmes et al., 2013), thereby necessitating some form of trade-off between these potential benefits.
Research has shown that there would also be numerous inequities, uncertainties, and risks associated with an implementation of SAI, including a non-homogeneous cooling (especially as a function of latitude) associated with various risks that include modifying largescale weather patterns, the distribution of precipitation, and impacts on ozone (Kravitz et al.; 2014b, Ferraro et al., 2014; Tilmes et al., 2009; Heckendorn et al., 2009). The inability to simultaneously restore global mean temperature and precipitation patterns would mean that if global mean temperature were restored to some earlier state there would be substantial, novel hydrological changes that may prove detrimental to some regions.
Knowledge about the effectiveness and impacts of SAI originates primarily from a range of modelling studies. Early experimental designs for field tests have recently been set forth in the peer-reviewed literature (Dykema et al., 2014; Keith et al., 2014) but have not yet been conducted.
SAI is therefore at an early stage of development. Large uncertainties regarding the technical feasibility of this technique remain: for example, whether it would be possible to produce aerosol particles at the appropriate size and injection rate to avoid coagulation (larger particles may be less efficient at reflecting sunlight and fall out of the atmosphere more quickly), or what the cost-effectiveness and technical capacity would be for various delivery methods (aircraft, tethered balloons, etc.) to inject particles at altitudes of 20 km or higher. Beyond theoretical and laboratory work, field experimentation may eventually be needed to adequately understand the technical requirements and limitations involved.
Concerns associated with SAI: Numerous technical and environmental uncertainties surround the deployment of SAI, including the appropriate system of delivery, as well as impacts on and feedbacks with ozone (Tilmes et al., 2008) and cirrus clouds (Kuebbeler et al., 2012) that complicate projections of the distribution of aerosols and wider climatic consequences. Concerns also focus on the intertwined consequences of deployment for human societies and the natural world. For example, depletion of the ozone layer would also create health concerns, and although SAI may reduce the overall risks of climate change, regional impacts on temperature, precipitation, and weather patterns would be unevenly distributed, shifting the impacts and burdens of climate change (Kravitz et al., 2013a; Tilmes et al., 2013), potentially to those regions with the least capacity to accommodate them (Olson, 2011; SRMGI, 2012; Carr et al., 2013; Preston, 2012). An escalation in conflict potential could result from various factors, including: impacts on natural resources (e.g., water, agriculture or forestry); development of military applications for SAI; power plays; or inadequate compensation for those regions suffering from perceived negative side effects (Maas and Scheffran, 2012; Scheffran and Cannaday, 2013; Brzoska et al., 2012; Link et al., 2013). Moreover, there would be a "termination effect" if SAI were to be used to mask large amounts of warming and then abruptly stopped, which would subject ecosystems and the societies dependent on them to far greater rates of change than under a business-as-usual scenario (Jones et al., 2013).
Furthermore, reservations have been expressed about researching SAI or even discussing the subject with the public or policy makers, originating in various concerns, including: the risk of a "moral hazard" that would reduce the incentives and motivation to invest in mitigation (see, for example, Hale, 2012, Lin, 2013, Preston, 2013); altering humanity's relationship with, and sense of responsibility toward, the natural world (Buck, 2012, Tuana, 2013); difficulties in framing and conducting engagement with members or representatives of civil society (Corner et al., 2012); and the possibility of resistance to and contestation of related scientific activities in the open environment (Schäfer et al., 2013a; Parker, 2014).
Legal and norm development: At present, there are few international governance mechanisms that would directly apply to SAI and other planetary albedo modification research, even though international customary law and a number of existing regimes at the UN level may apply in piecemeal fashion or could conceivably incorporate SAI governance within their mandates (Bodansky, 1996; Virgoe, 2009; Lin, 2009; Reynolds, 2011; Bodle et al., 2013; Zürn and Schäfer, 2013). In addition to the lack of specific international regulation of SAI, law on the protection of the atmosphere is less developed than the law of the sea, where UNCLOS is often declared a "constitution of the oceans" that supplies a legal order for the study, use and protection of seas and oceans (UNCLOS, Preamble; for further discussion, see Hubert and Reichwein (2015)).
Expert opinions diverge regarding a suitable framework that could accommodate the governance of SAI
research. Earlier legal assessments tended to address the applicability of existing legal regimes to manage the political issues surrounding SAI deployment. However, recent literature, corresponding to the emerging question of field tests, has started to assess capacities to additionally govern near-term, smallscale actions. Some argue that the UNFCCC is a natural platform for SAI governance at its earliest stages, as a regime with universal membership that could develop a holistic governance process and appropriate mechanisms for field tests and even deployment (should this be deemed necessary), based on an expansion of its existing mandate and funding, reporting, and decision-making mechanisms. The
UNFCCC may also be able to incorporate deliberations on SAI more cohesively into wider developments in climate policy (Honegger et al., 2013; Lin, 2009; Zürn and Schäfer, 2013). Others note that the UNFCCC agenda may not be able to accommodate the entry of a debate whose objectives and management may distract from stated goals and activities surrounding mitigation and adaptation.
Other regimes may be applicable, and pursuing governance at one regime or another may present tradeoffs due to their different mandates and capacities, as well as how these might address the currently indeterminate objectives for SAI research (Bodle et al., 2013). The CBD, as noted, has already taken non-binding decisions on research relating to all climate engineering approaches, and a number of others including ENMOD (the prohibition of hostile weather modification) and the Montreal Protocol under the Vienna Convention (the regulation of ozone-depleting materials) have loosely applicable mandates (Bodle et al., 2013).
On the other hand, a number of norms embodied by sets of principles are being discussed amongst the academic community as useful guidelines for more substantive governance processes and mechanisms in research and field tests (Rayner et al., 2013; Mac- Cracken et al., 2010; Morgan et al., 2013), although these do not qualify as legal developments. A tangible example of how principles of responsible innovation can inform governance processes can be seen in the "stage-gate" for the SPICE project's test bed (Stilgoe et al., 2013). Still, this constitutes a single example, and whether such a framework will be taken up more widely in the future — or whether it would be the appropriate framework to adopt in the first place — is an open question.
SAI policy context and considerations: The CBD is the only instrument that has directly addressed the issue of SAI, but only by generally referring to the umbrella term of "climate-related geoengineering".
SAI, however, presumptively falls within the regulatory and geographic scope of numerous multilateral instruments that apply to the atmosphere, including the UNFCCC and Vienna Ozone Convention. At the same time, given the extensive uncertainties surrounding SAI as a measure for partly counteracting climate change, it is not clear whether international legal bodies — particularly the UNFCCC — would be prepared to debate SAI technological development, or to develop appropriate governance for it. It may therefore be valuable, at least in the near term, for the EU to maintain an exploratory stance on SAI, supporting research programs that investigate its physical, political, legal, and societal implications, and that help to provide options for future actions (see Section 5.3 for a list of outstanding research and policy questions arising from previous investigations) and that might be modelled on flagship projects akin to that currently conducted on the human brain, or Joint Programming Initiatives co-funded between the EC and national research budgets (see section 6.4).
SAI occupies a different policy space than BECCS and OIF: in contrast to the governance developments for BECCS and OIF, at present there are no clear international governance developments for SAI, so that one policy option for the EU would be, for now, to avoid taking concrete positions on international governance forms for SAI, especially any that may prove inflexible under changing conditions for itself and its member states. At the same time, the EU would likely benefit from closely observing the relevant developments in the CBD, LC/LP, and possibly the UNFCCC, particularly to determine whether any of these developments, e.g., for marine climate engineering activities, could serve as a template for SAI and other albedo modification techniques.
As discussed in detail in Section 6.2.1.1, one of the key challenges for SAI, and generally for albedo modification, is the governance of near-term outdoor experimentation. One option for the EU is to consider thresholds for the impacts of outdoor experiments on radiative forcing, as proposed by Morgan and Ricke (2010) and Parson and Keith (2013). However, it has also been pointed out (Schäfer et al., 2013a) that such thresholds only aim to address known environmental concerns associated with field tests of SAI, but not the wider concerns discussed earlier in this Chapter and in Chapter 3, which should be taken into account in developing effective governance. In this context, a further policy option for the EU would be to draw lessons, where possible, from prior and existing efforts to develop principles, criteria, and procedures for public engagement and risk assessment that explore and incorporate societal concerns (see for example, the stage-gate process for the SPICE test bed in Section 3.1.4, case study 4).
6.4 An EU perspective
With a focus on near-term governance and in light of the aforementioned, two perspectives need to be distinguished with regard to the EU: firstly, its positioning vis-à-vis climate engineering research; secondly, where the EU as a whole fits into the wider emerging regime complex. An explicit focus on research governance within the EU can provide an outlook on possible pathways that the EU might pursue in this area in the near term. The questions of where the EU as a whole fits into the wider emerging regime complex, and what the EU's possible courses of action are, then re-open the perspective, focusing on the governance of both research and deployment within a multilevel governance framework.
With regard to climate engineering research, the EU, through its seventh framework research programme (FP7), has already funded two projects that focus explicitly on climate engineering: Implications and Risks of Engineering Solar Radiation to Limit Climate Change (IMPLICC) and the project that produced this assessment report, the European Transdisciplinary Assessment of Climate Engineering (EuTRACE). IMPLICC was a modelling study focusing on albedo modification techniques, whereas EuTRACE was an assessment study, focusing on collecting and synergising existing information. There has been hardly any debate about climate engineering at the EU level, although of course the priorities of the framework programme, including its individual calls, are not decided upon by the European Commission alone, but are also influenced by the member states. Despite some changes, this procedure will continue in the future, i.e., for Horizon2020, the next framework programme.
The EU is currently financing two flagship projects set to run for ten years, one on new materials (graphene) and another on modelling the human brain, each receiving approximately one billion euros of funding (information available at http://cordis.europa.eu/). It is not implausible that a future flagship project, for example in the 2020s, may involve climate engineering or some aspects thereof (e.g., an individual technique such as BECCS or SAI). Such a large-scale project would naturally require substantial preparatory work. A different approach may be the new "Joint Programming Initiatives", which cover activities that are co-funded between the European Commission and national research budgets, or "Joint Technology Initiatives", which are intended as joint public/private research endeavours. In the latter case, however, some concern has been expressed by the NGO community regarding undue industry influence, to the exclusion of broader societal concerns (CEO, 2011). Greater legitimacy could potentially be provided by wider adoption of the type of stage-gate approach adopted in the UK as a means to operationalise the concept of responsible innovation (see Section 6.2.3). Nevertheless, all these forms of research give the EU a quite flexible set of programming lines to engage in research.
With regard to the emerging regime complex, the EU is arguably in a unique position: On the one hand, its member states are all parties to both the UNFCCC and the CBD. In addition, the EU itself, being a supranational organisation equipped with the competence to effectively enforce proper application of its laws vis-à-vis its member states, is a party to both conventions. Therefore, EU member states could, in principle, agree on a common position to be proposed to both the UNFCCC and the CBD. So far, however, no specific EU perspective on climate engineering has been agreed upon. Leaving aside the fact that EU politics have naturally had to focus on the challenges arising from the economic and financial situation of certain member states, the current focus of environmental policy is primarily on the difficulties in achieving consensus over the EU's low-carbon "roadmap" and on achieving a binding global emissions reduction agreement in 2015. The political will to address climate engineering questions in this context is currently likely to remain very limited. Furthermore, the logic of European mitigation politics is not likely to directly apply to the climate engineering debate, since there are notable differences in the incentives and uncertainties involved in the two issues. Thus, taking into account its considerable political influence, the EU might one day contemplate leveraging and advancing a common position on climate engineering within the different regulatory settings, thereby — following internal negotiations — perhaps also contributing to the prevention of conflicts among its member states.
With regard to its institutional design, however, the EU is not a unified body: Its executive organ, the European Commission, is divided into 28 Directorate- Generals (DGs), with DG Environment responsible for the CBD, DG Climate responsible for the UNFCCC, and DG Research responsible for research programmes. The challenges present at the CBD, UNFCCC, and LC/LP are thus mirrored at the level of the European Commission, or the EU as a whole, and are furthermore reflected in the fragmentary nature of existing EU secondary law relevant to climate engineering. Conflict avoidance and capitalisation on the EU's unifying power would thus require an inter-service consultation within the Commission and subsequently a process of developing communication and a common strategy (or an EU-wide document) galvanising a common position on the issue. Any such action would have to be regarded as a comparatively cautious approach. It is worth adding in this respect that the European Parliament, as part of a wider 2011 resolution on the Rio+20 summit, rejected the idea that climate engineering should be discussed there.
The potential consequences of EU research activities and the adoption of a joint EU position on climate engineering research are worth considering. Interested or "third" states might respond by initiating their own research programmes, in particular, if any kind of future EU conduct were considered as unilateral action. The danger of such a "race for climate engineering research" could be addressed by way of open research frameworks, i.e., frameworks aiming at the integration of third-party actors in order to foster international cooperation. For example, the EU– China Near Zero Emissions Coal (NZEC) initiative aims to build demonstration plants in China to test the feasibility of CCS technology on an industrial scale. Similarly, climate engineering research coordinated at the European level could actively involve international partners in order to build trust through transparency and information sharing. Mobilisation and Mutual Learning (MML) Action Plans, which are designed to bring together a diverse set of stakeholders and may include participation from non-EU states, could provide a framework for this at the EU level. Examples include MMLs on synthetic biology with the involvement of the US, and on biometrics with the involvement of China. Any joint European involvement in climate engineering research is likely to provoke comparable reactions from third-party actors. An alternative approach to this challenge might involve initiating negotiations on a global code of conduct for climate engineering research (Hubert and Reichwein, 2015). By incorporating criteria relating to general principles for promoting the responsible conduct of scientific research involving climate engineering, such a code could assist the responsible national authorities in the assessment of climate engineering research projects. It could also provide for transparency (e.g., by establishment of an open registry of relevant projects), and thereby not only foster cooperation between states but also contribute to the formation of trust between scientists on the one hand and trust in science on the other hand.
Politically, implementation of a European climate engineering research policy would influence the structure and content of the EU's climate change response portfolio as it stands today. The EU is a major advocate of the 2°C warming limit. Given that the IPCC indicates that in the "vast majority" of scenarios that limit warming to 2°C in the 21st century, some form of greenhouse gas removal is required (IPCC, 2014d), this commitment may have challenging implications for climate engineering policy in the EU. Seen from this perspective, research on greenhouse gas removal could become a significant component of developing and evaluating policy options for staying below the 2°C limit. Furthermore, given the currently slow progress on implementing mitigation measures, combined with the limitations of greenhouse gas removal techniques (in particular the technical uncertainties and the long timescales involved to significantly influence global atmospheric CO2 concentrations), a strict commitment to the 2°C limit could eventually lead to a very difficult decision over whether to deploy albedo modification techniques in order to stay within a given temperature threshold (e.g., the 2°C limit) or, in recognition of the risks of such deployment, to allow the threshold to be crossed.
Legally, member states have equipped the EU with appropriate legislative competences which can be applied to climate engineering research and deployment. However, EU primary law also sets comparatively strict limits to activities that include the risk of significant adverse consequences for the environment and for human life. The adoption of the CCS Directive can be regarded as a precedent in this context. While it can be argued that the link between CCS and conventional energy production is significantly closer than that between CCS and climate engineering, the CCS Directive also arguably constitutes a first step in the transformation of "traditional" climate policy approaches that aim to reduce emissions by increasing efficiency and reducing demand, into a climate policy framework that also includes reduction of emissions "at the tailpipe", and consideration of the associated environmental consequences (e.g., issues around longterm storage), within which issues of intergenerational justice and the handling of risks and uncertainties will gain increasing importance.
7. Extended Summary
7.6    Policy development for climate engineering
7.6.1 Development of research policy
7.6.2 Development of international governance
7.6.3 Development of techniquespecific policy
7.6.4 Potential development of climate engineering policy in the EU
8. References
Hier weiterlesen: Folgeseite 3