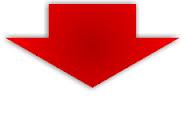 The Science of Geoengineering
Ken Caldeira,1 Govindasamy Bala,2 and Long Cao3
1Department of Global Ecology, Carnegie Institution for Science, Stanford, California;
2Center for Atmospheric and Oceanic Sciences, Indian Institute of Science, Bangalore, India
3Department of Earth Sciences, Zhejiang University, Hangzhou, Zhejiang, China
Abstract
Carbon dioxide emissions from the burning of coal, oil, and gas are increasing atmospheric carbon dioxide concentrations. These increased concentrations cause additional energy to be retained in Earth's climate system, thus increasing Earth's temperature. Various methods have been proposed to prevent this temperature increase either by reflecting to space sunlight that would otherwise warm Earth or by removing carbon dioxide from the atmosphere. Such intentional alteration of planetary-scale processes has been termed geoengineering. The first category of geoengineering method, solar geoengineering (also known as solar radiation management, or SRM), raises novel global-scale governance and environmental issues. Some SRM approaches are thought to be low in cost, so the scale of SRM deployment will likely depend primarily on considerations of risk. The second category of geoengineering method, carbon dioxide removal (CDR), raises issues related primarily to scale, cost, effectiveness, and local environmental consequences. The scale of CDR deployment will likely depend primarily on cost.
1. INTRODUCTION
The term geoengineering as applied in its current context was introduced into the scientific literature by Victor Marchetti in the title of his classic paper describing deep-sea disposal of carbon dioxide (CO2) (Marchetti 1977). This term has come to refer to large-scale efforts to diminish climate change resulting from greenhouse gases that have already been released to the atmosphere. Such efforts include both solar geoengineering (also known as solar radiation management, or SRM) and carbon dioxide removal (CDR) (R. Soc. 2009). SRM aims to diminish the amount of climate change produced by high greenhouse gas concentrations, whereasCDRinvolves removing CO2 and other greenhouse gases from the atmosphere.
These geoengineering approaches may complement other strategies to diminish risks posed by climate change (Figure 1), including conservation (reducing demand for goods and services), efficiency (producing goods and services with few energy inputs), low- or zero-carbon emission energy technologies (producing that energy with sources that emit less CO2), and adaptation (increasing resilience to effects of climate change that do occur). These various options are not mutually exclusive, although decisions must be made regarding how much effort should be put into researching, developing, and implementing each approach. Such decisions can be improved by careful scientific and technical analysis.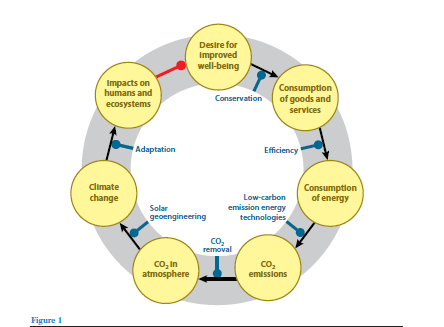 Figure 1 - Most geoengineering approaches fall into one of two categories: carbon dioxide removal or solar geoengineering. These approaches can be viewed as part of a portfolio of strategies for diminishing climate risk and damage. Carbon dioxide removal attempts to break the link between CO2 emissions and accumulation of CO2 in the atmosphere. Solar geoengineering (also known as solar radiation management) attempts to break the link between accumulation of CO2 in the atmosphere and the amount of climate change that can result.
Geoengineering approaches have been the subject of previous reviews, including chapters in 1992 and 2011 US National Academy reports (Comm. Am.Clim.Choices Natl. Res.Counc. 2011, Natl. Acad. Sci. 1992). Notably, David Keith contributed a review to a related Annual Reviews journal more than a decade ago (Keith 2000). The UK Royal Society assembled a panel in 2009 that produced a good summary, including references to issues involving international governance and ethics (R. Soc. 2009).
Proposals to consider the intentional alteration of climate have raised concerns related to politics, policy, governance, and ethics (Blackstock & Long 2010, Jamieson 1996). These discussions often cite "the importance of democratic decision-making, the prohibition against irreversible environmental changes, and the significance of learning to live with nature" ( Jamieson 1996, p. 329).Here we focus on the physical science of geoengineering, dividing our discussion into two major classes of activities: reflecting sunlight away from Earth (SRM/solar geoengineering) and removing greenhouse gases from the atmosphere (CDR).
2. SOLAR GEOENGINEERING/SOLAR RADIATION MANAGEMENT
2.1. Overview
Increases in atmospheric CO2 and other greenhouse gases exert a radiative forcing on the climate system by making it more difficult for heat to escape to space. SRM/solar geoengineering approaches aim to offset this warming influence by reducing the amount of sunlight absorbed by Earth (R. Soc. 2009) (Table 1). This can be achieved by reflecting some sunlight away from Earth (Figure 2).
On average, Earth absorbs approximately 240Wof sunlight per square meter. A doubling of atmosphericCO2 causes a radiative forcing of ∼4Wm−2.Therefore, tooffset the4Wm−2 forcing requires reflection of approximately 4/240, or ∼1.7%, of incoming solar radiation (Caldeira & Wood 2008, Govindasamy & Caldeira 2000, Govindasamy et al. 2002, Lunt et al. 2008). Precise numbers depend on uncertain climate system feedbacks and differences in climate system response to different types of radiative forcing (Hansen et al. 2005).
Some computer model studies simulated the effect of solar geoengineering approaches by reducing solar intensity in the models (Govindasamy & Caldeira 2000, Govindasamy et al. 2003) or by imposing specified aerosol distributions (Ban-Weiss & Caldeira 2010) or optical depths (Ricke et al. 2010). More complete models considered processes affecting the size and transport of stratospheric aerosols (Rasch et al. 2008a, Robock et al. 2008).
Model results indicate that measures to reflect incoming sunlight away from Earth could potentially start cooling Earth withinmonths and achieve several Kelvin of cooling within a decade (Matthews & Caldeira 2007) (Figure 3). Such approaches may be able to prevent the collapse of the Greenland ice sheet (Irvine et al. 2009) or other undesirable consequences of climate change. However, the sudden failure of a solar geoengineering scheme could subject Earth to extremely rapid warming—at a rate many times that of the current warming (Matthews & Caldeira 2007, Robock et al. 2008) (Figure 3b). Whereas the nongeoengineered world warms relatively slowly with relatively slow increases in atmospheric CO2, in the case of a catastrophic failure of a solar geoengineering system,Earth would experience a large climate forcing at the time of system failure and would warm rapidly for several decades. Furthermore, compared with a climate that has a higher temperature and a high CO2 level, much more carbon would be stored in the oceans and land in a climate with low solar irradiance, low temperature, and high CO2. In the case of a halt or failure of the solar geoengineering approaches, a sudden warming would cause the carbon stored in the land and ocean reservoir to be released into the atmosphere, triggering further warming (Matthews & Caldeira 2007).
Table 1 Summary of solar geoengineering proposals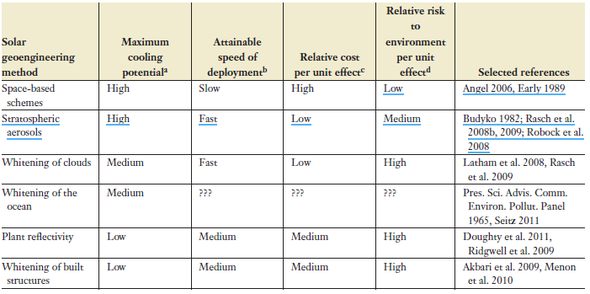 Adapted from the Royal Society Report on geoengineering (R. Soc. 2009) and citations in text as noted. aHigh means able to offset warming from all future fossil-fuel emissions; medium means able to offset at least 10% of emissions projected for this century; low means able to offset less than 10% of cumulative century-scale emissions. bFast means deployable within a decade; medium means that deployment would take decades. cHigh means costlier than conventional mitigation approaches; medium means less costly than conventional approaches but costly enough for economics to be a significant issue; low means that direct costs are unlikely to be a significant factor in the decision whether or not to deploy this option. dApproaches that produce patchy influences on the climate system are deemed riskier than approaches capable of more uniformly distributed influences.
Models indicate that reflection of additional sunlight away from Earth would cause a high-CO2 climate to become more similar to a low-CO2 climate (Ban-Weiss & Caldeira 2010). However, it may not be possible to simultaneously restore all climatic fields (e.g., temperature and precipitation) close to the natural state (Figure 4). In the absence of surface warming, increased atmospheric CO2 reduces both evaporation and precipitation by stabilizing the atmosphere (Andrews et al. 2009, Bala et al. 2008). Therefore, solar geoengineering approaches, if implemented to offset the full amount of global-mean surface warming,would cause a reduction in global-mean precipitation due to the precipitation-suppression property of CO2 forcing (Bala et al. 2008, Caldeira & Wood 2008, Lunt et al. 2008). Alternatively, if solar geoengineering were implemented to counteract changes in global-mean precipitation, there would be some residual surface warming.
Increasing atmospheric CO2 content also affects the climate system via its effect on plant stomata (Sellers et al. 1996). This effect, referred to as CO2-physiological forcing, increases the CO2-radiative warming by approximately 10% at the global scale and can account for up to 30% of the total warming at regional scales (Boucher et al. 2009, Cao et al. 2010). This CO2-physiological forcing reduces evapotranspiration and thus precipitation (Betts et al. 2007, Cao et al. 2010). Reflection of sunlight offsets the CO2-induced warming but cannot reverse effects of CO2 fertilization of plants (Govindasamy et al. 2002). Jones et al. (2011) suggested that stratospheric aerosol injection could have consequences for regional net primary productivity owing to changes in regional precipitation. One key difference between the spaced-based approach and the stratospheric aerosol–based approach is that the scattering effect of sulfate aerosols increases the amount of diffuse solar radiation that reaches the land surface in spite of the reduction in total solar radiation. It is thought that increased diffuse solar radiation tends to increase plant photosynthesis and therefore the land carbon sink (Knohl & Baldocchi 2008, Mercado et al. 2009), but this effect is not universally accepted (Angert et al. 2004) and has not been considered in global modeling studies of stratospheric aerosol geoengineering.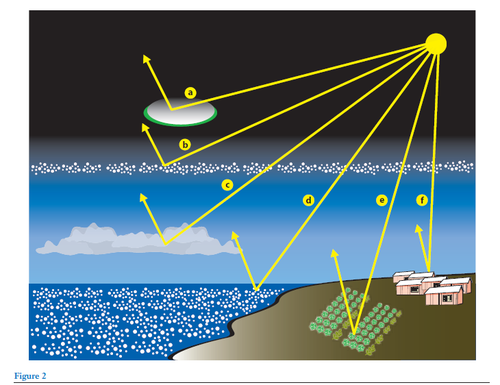 Figure 2 - Solar geoengineering/solar radiation management approaches work by reflecting to space sunlight that would otherwise have been absorbed. Illustrated methods are (a) using satellites in space, (b) injecting aerosols into the stratosphere, (c) brightening marine clouds, (d ) making the ocean surface more reflective, (e) growing more reflective plants, and ( f ) whitening roofs and other built structures.
The moderation of global-mean climate does not necessarily lead to a uniform moderation of climate in all regions (Ban-Weiss&Caldeira 2010, Jones et al. 2011, Ricke et al. 2010). Studies have shown that solar geoengineering could diminish the amount of temperature change in all regions but would increase the magnitude of precipitation changes in some regions (Hegerl & Solomon 2009). Ban-Weiss & Caldeira (2010) found that having a stratospheric aerosol loading that is weighted toward polar regions results in a temperature distribution more similar to the low-CO2 climate than that yielded by a globally uniform aerosol loading. However, this polar weighting of stratospheric sulfate tended to degrade the degree to which the hydrological cycle is restored. Robock et al. (2008) found that both tropical and Arctic SO2 injection disrupt the Asian and African summer monsoons. Lunt et al. (2008) reported that compared with the natural climate, a uniform reduction in solar radiation leads to reduced El Ni˜ no–related variability and increased North Atlantic overturning. Braesicke et al. (2011) found that a large reduction in solar radiation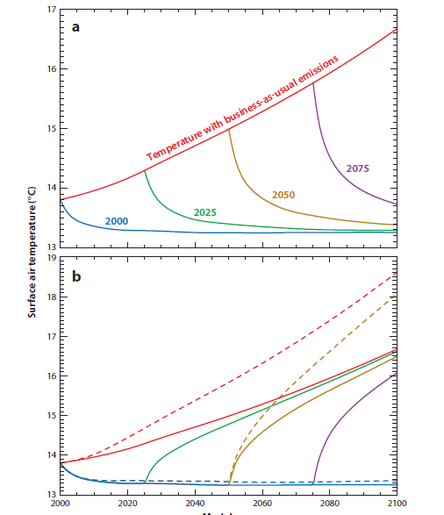 Model Year
Figure 3 - Model-simulated global and annual mean surface air temperature (red lines) for a business-as-usual CO2 emission scenario (Matthews & Caldeira 2007). (a) Cases showing cooling when solar intensity is reduced in years 2000, 2025, 2050, and 2075. (b) Cases in which solar intensity is decreased to compensate for increasing CO2 content and then returned rapidly to the full value. Simulations with doubled climate sensitivity are plotted as dashed lines. Abrupt deployment of a solar geoengineering scheme can produce a rapid cooling, and an abrupt failure of a solar geoengineering scheme could cause a rapid rebound warming. Reproduced from Matthews & Caldeira (2007) with permission.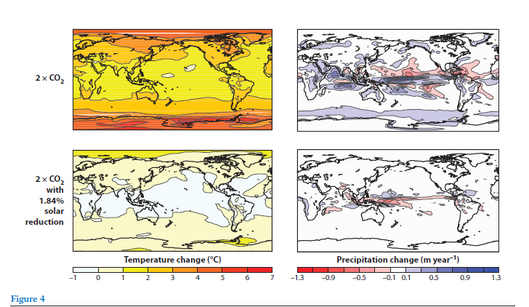 Figure 4 - Model-simulated (Caldeira &Wood 2008) annual mean changes in temperature (left panels) and precipitation (right panels) for the case of 2 × CO2 (top panels) and that of 2 × CO2 with a reduction in global-mean solar insolation of 1.84% (bottom panels). The changes are calculated as the departure from the simulation with 1 × CO2. The idealized solar geoengineering scheme largely offsets most of the CO2-induced temperature and precipitation changes but leaves some residual warming at the poles and leads to an overall decrease in precipitation. Reproduced from Caldeira &Wood (2008) with permission.
causes changes in El Ni˜ no and related climate teleconnection patterns. Moore et al. (2010) calculated that an aerosol injection delivering a constant 4 W m−2 in radiative forcing could delay sea-level rise by 40–80 years.
Solar geoengineering approaches do not directly alter atmospheric CO2 content and therefore do not mitigate CO2-induced ocean acidification (Matthews et al. 2009). In addition, solar geoengineering approaches do not prevent CO2-induced changes in terrestrial carbon cycle, including biomass and net primary production (e.g., Govindasamy et al. 2002). Furthermore, solar geoengineering approaches would cool in the stratosphere (Bala et al. 2010, Govindasamy & Caldeira 2000, Govindasamy et al. 2003) and could aggravate changes to stratospheric chemistry and ozone depletion (Tilmes et al. 2008, 2009).
2.2. Solar Geoengineering Approaches
All solar geoengineering approaches aim to influence climate by reducing the amount of sunlight absorbed by Earth. This sunlight could potentially be deflected away from the Earth either in space, in the stratosphere, in the lower atmosphere, or at Earth's surface (Figure 2).
2.2.1. Space-based approaches.
Space-based solar geoengineering approaches aim to reduce the amount of incoming solar radiation reaching Earth. Numerous techniques have been proposed to achieve this goal. Early (1989) proposed constructing a thin glass shield from lunar materials and placing it near the first Lagrange point of the Earth-Sun system. The first Lagrange point, L1, is a neutrally stable point on the axis between Earth and the Sun where the forces pulling an object toward the Sun are exactly balanced by the forces pulling an object toward Earth. Angel (2006) proposed placing a sunshade consisting of multiple "flyers" at the L1 Lagrange point. Other proposals include placing mirrors in orbit around Earth (Natl. Acad. Sci. 1992) and placing rings around Earth that are composed of particles or constellations of spacecraft (Pearson et al. 2006).
To offset just for the annual increase in radiative forcing from anthropogenic CO2 emissions, more than 10,000 km2 of reflection area would need to be deployed each year—more than one square kilometer each hour (Govindasamy & Caldeira 2000). Such rates mean that large-scale deployment is likely to be a long process and to remain infeasible formany decades (McInnes 2010).
2.2.2. Stratospheric aerosol–based approaches.
The injection of sulfate aerosols into the lower stratosphere would cool Earth by scattering the solar radiation back to space. Studies of climate geoengineering using sulfate aerosols have concluded that stratospheric aerosols could reduce global-mean temperatures, but concerns remain regarding many issues, including effects on regional climate, precipitation, and ozone loss (Rasch et al. 2008b).
Insight into the potential for injecting sulfate aerosols into the stratosphere to cool Earth has been demonstrated from the cooling observed after large volcanic eruptions such as Mount Pinatubo in 1991 (Crutzen 2006, Soden et al. 2002), although the volcanic eruption is an imperfect analog of sulfate aerosol injection. The Mount Pinatubo eruption placed enough material in the atmosphere to offset approximately 4 W m−2 of radiative forcing, i.e., approximately enough material to offset the global-mean radiative forcing from a doubling of atmospheric CO2 content. Therefore, the 1991 Mount Pinatubo eruption represents a stratospheric aerosol injection of the same order of magnitude as a full-scale solar geoengineering deployment. However, the solar geoengineering deployment would involve replenishment of these aerosols as they were removed from the atmosphere by natural processes. The aerosols injected into the stratosphere by Mount Pinatubo settled and were transported out of the stratosphere on the timescale of approximately one year. Earth's surface cooled by ∼0.5 K within the year following the eruption.Had the aerosol layer been maintained in the stratosphere, it would have cooled Earth's surface by perhaps 3 K. In addition, following the volcanic eruption ofMount Pinatubo, investigators observed a substantial decrease in precipitation over land and a record decrease in runoff (Trenberth & Dai 2007) (Figure 5).
A range of substances, including black carbon (Ban-Weiss et al. 2012, Kravitz et al. 2012) and special engineered particles (Keith 2010, Teller et al. 1997), could potentially be placed high in the atmosphere to reflect solar radiation away from Earth, but most studies have focused on sulfate particles.Various techniques have been proposed for delivering the sulfate aerosol and/or its precursor gases (H2S and SO2), including high-altitude balloons, artillery guns, high-level aircraft, tall towers, and space elevators (Crutzen 2006, Rasch et al. 2008b, Robock et al. 2009, Teller et al. 1997). The associated technical implementation, benefit, risk, and cost of each delivering system need to be fully evaluated (Robock et al. 2009). The amount of warming that would be offset by a given injection of aerosol precursors is difficult to predict precisely because it can be affected by nonlinear feedbacks involving the deliverymechanisms, particle size and distribution,microphysics of aerosol formation and growth, and climate change. Smaller particles (radius of ∼0.1 μm) are more effective at scattering incoming energy and have no impact on longwave radiation, whereas larger particles such as those following volcanic eruptions are less effective at scattering shortwave radiation and absorb and emit in the longwave spectrum (Stenchikov et al. 1998). Rasch and colleagues (Rasch et al. 2008a) found that approximately 1.5 Tg S year−1 of sulfate aerosols would balance a doubling of CO2 if the particles were small, whereas perhaps double that amount may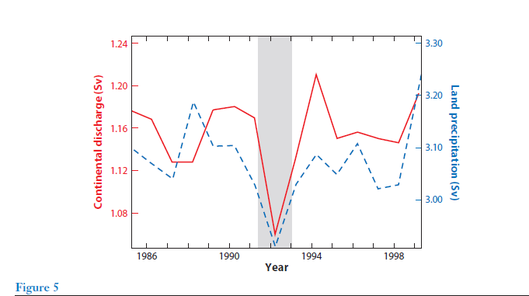 Figure 5 - Time series of estimated annual continental freshwater discharge into the oceans (1 Sv = 106 m3 s−1) (Trenberth & Dai 2007). Also shown is observed precipitation integrated over global land areas. The period clearly influenced by the Mount Pinatubo eruption is indicated by gray shading. Reproduced from Trenberth & Dai (2007) with permission.
be needed if the particles were to reach the size seen following volcanic eruptions. There is still uncertainty regarding the size distribution and lifetime of stratospheric sulfate aerosols; thus, it is possible that considerably more sulfate particles would be needed (Heckendorn et al. 2009, Niemeier et al. 2011). Induced changes in stratosphere-troposphere-exchange processes can affect the amount of aerosol precursors thatwould need to be injected to counteractCO2 warming (Rasch et al. 2008b). The altitude, location, and mode of injection into the stratosphere also influence efficacy, and this is an area of active investigation (Heckendorn et al. 2009, Niemeier et al. 2011, Robock et al. 2008).
Sulfate aerosol geoengineering can affect stratosphere chemistry, including ozone concentrations. An injection of particles into the stratosphere has the potential to provide surfaces that lead to efficient chlorine activation, which could approximately double the ozone-destroying potential of chlorofluorocarbon-derived chlorine in polar regions (Tilmes et al. 2008, 2009). Tilmes et al. (2008, 2009) showed that an injection of stratospheric sulfate aerosols large enough to offset the 2 × CO2 surface warming would cause a 30- to 70-year delay in the expected recovery of the Antarctic ozone hole. Heckendorn et al. (2009) found that sulfate aerosol geoengineering accelerates the hydroxyl-catalyzed ozone destruction cycles and would cause some ozone depletion.
2.2.3. Marine cloud brightening.
The basic principle behind the idea of marine cloud brightening is to increase the reflectivity of low-level marine stratocumulus clouds by increasing the number of cloud condensation nuclei (CCN). More CCN increase the number of cloud droplets while reducing the droplet size, thus increasing the total droplet surface area of the cloud and the cloud reflectivity (Twomey 1977). Extensive areas of marine stratocumulus clouds off the west coasts of North and South America and the west coast of Africa have been identified as regions where marine cloud brightening approaches would be effective (Latham et al. 2008). The most studied method of increasing CCN is spraying a fine seawater mist into the remote marine atmospheric boundary layer by conventional ocean-going vessels, by aircraft, or by specially designed unmanned remotely controlled sea craft (Salter et al. 2008). Calculations show that the change in cloud albedo is sensitive to the droplet number concentration and that marine cloud brightening would be most effective in clean-air regions and least effective in regions with high background aerosol concentrations (Bower et al. 2006). Although in many climate modeling studies the addition of CCN is implicitly assumed to increase cloud albedo, predicting how changes in cloud microphysical properties would affect cloud planetary albedo is difficult. Reduced droplet sizemay suppress precipitation and further increase cloud cover (Albrecht 1989). In contrast, in some situations the aerosol indirect effect could reduce cloud albedo (Ackerman et al. 2003, Wood 2007). The nonlinear dynamic response of cloud physics to increasing aerosols led Latham et al. (2008) to argue that "it is unjustifiably simplistic to assume that adding CCN to the clouds will always brighten them" (p. 3983). It may be possible to increase CCN by fertilizing the Southern Ocean with iron to stimulate phytoplankton growth and increase the phytoplankton emission of dimethyl sulfide (DMS), which oxidizes in the atmosphere to create sulfate aerosols (Wingenter et al. 2007).However, the effectiveness of such a geoengineering approach is highly uncertain; even the underlying assumption that iron fertilization increases DMS emission is questioned (Bopp et al. 2008).
Latham et al. (2008) reported that the net radiative forcing from a doubling of the natural cloud droplet concentrations in regions of low-level maritime clouds could roughly offset the radiative effect from a doubling of atmospheric CO2. Owing to the spatial inhomogeneity of cloud-albedo forcing, climate response to marine cloud brightening is expected to show large regional variations. Simulated climate effects from marine cloud brightening vary greatly among models owing to different seeding strategies and different model physics. Bala et al. (2010) simulated an idealized scenario in which the cloud droplet size of all marine clouds is reduced to offset the global-mean surface temperature change due to a doubling of atmospheric CO2. They found a decrease in global-mean precipitation and evaporation but an increase in runoff over land. By seeding largescale stratocumulus clouds in the North Pacific, South Pacific, and South Atlantic, Jones et al. (2009, 2011) found that cloud seeding could delay global warming for approximately 25 years but would cause a sharp decrease in precipitation over the Amazon basin. Rasch et al. (2009), by seeding a much larger portion of the ocean than that seeded by Jones et al. (2009, 2011), found that cloud seeding cannot result in a simultaneous return of global-mean surface temperature, precipitation, and sea ice to the present-day level and observed in these climatic fields a significant local departure from the present-day level.
2.2.4. Surface-albedo enhancement.
Numerous methods to increase the reflectivity of Earth's surface have been proposed; these include modifying the reflectivities of rural areas, urban areas, deserts, and the ocean surface. However, because land represents somewhat less than one-third of the planetary surface and approximately half of the land surface is cloud covered, ∼10% of radiation incident on the global land surface would need to be reflected to offset the radiative forcing from a doubling of atmospheric CO2 content. Thus, achieving substantial global-mean temperature reductions through altering land-surface albedo represents a daunting challenge.
Ridgwell et al. (2009) argued that a 0.08 increase in crop albedo (from 0.2) is feasible, and this increase has been estimated to yield an upper-limit radiative forcing of −0.35 W m−2 (Lenton & Vaughan 2009). However, there is no convincing evidence that this global 40% increase in crop albedo is achievable. Akbari et al. (2009) estimated that increasing the worldwide albedos of urban roofs and paved surfaces would induce a radiative forcing of −0.044 W m−2, assuming a net albedo increase of 0.1 for urban areas. Seitz (2011) proposed that ocean albedo can be increased substantially by having a fleet of ships inject an abundance of very small bubbles over vast ocean areas. If this method could increase ocean albedo globally by ∼0.05 from its present-day value of ∼0.06, it would produce a global temperature decrease that is of the same magnitude as the temperature increase caused by a doubling of atmospheric CO2 content.
Surface-based albedo modification approaches introduce large spatial heterogeneity in radiative forcing (Irvine et al. 2011). Ridgwell et al. (2009) simulated the climate effect of a 0.04 increase in crop albedo and found a summertime cooling of up to 1◦C in much of North America and Central Europe. A modeling study by Doughty et al. (2011) found that planting brighter crops might decrease the maximum daily air temperature (measured 2 m above the surface) by 0.25◦C per 0.01 increase in surface albedo at high latitudes (>30◦) but that planting brighter crops at low latitudes (<30◦) is less effective at diminishing temperatures. Oleson et al. (2010) simulated the effects of white roofs that are installed globally and found that daily maximum and minimum temperatures averaged over all urban areas decreased by 0.6◦C and 0.3◦C, respectively.
2.3. Solar Geoengineering Discussion
The studies reviewed above indicate that reflecting incoming sunlight away from Earth would offset many effects of increased greenhouse gas concentrations. However, this offsetting would be imperfect, and climatic conditions might deteriorate in some regions as a result. Whereas these approaches are aimed at reducing climate risk, deployment of such systems would introduce a range of new risks.
Some consider solar geoengineering as one element in a portfolio of responses to risks posed by climate change (Wigley 2006). In other words, solar geoengineering is considered an approach that can be implemented jointly with efforts to reduce greenhouse gas emissions and increase adaptive resilience. All these approaches might be combined in ways to produce the maximum amount of risk reduction at the lowest cost.
Some consider solar geoengineering research as an insurance policy should global warming impacts prove worse than anticipated and other measures fail or prove too costly (Hoffert et al. 2002). Interest in the potential for using sulfate aerosols as a response to climate change was stimulated by a publication by Paul Crutzen (Crutzen 2006). Computer model simulations indicated that solar geoengineering has the potential to greatly cool planetary temperatures within years (Matthews & Caldeira 2007), lending technical credence to the idea that such geoengineering might be deployable in the context of an imminent or ongoing climate emergency.
If atmospheric greenhouse gas concentrations continue to increase alongside a solar geoengineering deployment aimed at offsetting the effects of those greenhouse gases, then the amount of solar geoengineering would need to increase with time, masking ever greater amounts of greenhouse-gas-induced warming. Should the deployment fail or for some other reason be abruptly terminated, rapid warming could ensue (Matthews & Caldeira 2007). Thus, deployment of such a system could be viewed as an intergenerational transfer of the risk of abrupt termination.
Several studies have addressed the extent to which the effects of a solar geoengineering deployment might be localized. A study in which reflection of sunlight was limited to the Arctic regions found cooling that extended throughout the Northern Hemisphere (Caldeira & Wood 2008), but that simulation did not consider dispersal of the aerosols themselves. Because stratospheric aerosols cannot easily be confined to polar regions, climate effects of large polar aerosol injections would likely be detectable at the hemispheric scale (Robock et al. 2008).
3. CARBON DIOXIDE REMOVAL
3.1. Introduction
Human activities perturb the natural carbon cycle by emitting excess CO2 into the atmosphere via fossil-fuel emissions and land-use change. Currently, anthropogenic CO2 emission is ∼10 petagrams of carbon (Pg C) per year; nearly half is absorbed by the land biosphere and ocean, and the rest accumulates in the atmosphere (Peters et al. 2012). The fraction of CO2 emissions absorbed by the land biosphere and ocean is expected to decrease in the future.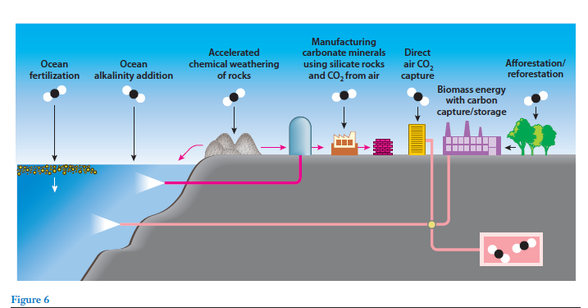 Figure 6 - Diagram illustrating carbon dioxide removal approaches: ocean fertilization, ocean alkalinity addition, accelerated chemical weathering of rocks, manufacture of products using silicate rocks and carbon from the air, direct capture of CO2 from the air, biomass energy with carbon capture and storage, and afforestation or reforestation.
Atmospheric CO2 concentrations adjust to CO2 additions or subtractions on a range of timescales. Whereas the airborne fraction remaining at any given time is sensitive to background conditions, climatically significant quantities of CO2 can persist in the atmosphere for thousands of years. Eventually, most human-caused CO2 emissions to the atmosphere will be absorbed by the oceans, but this process will take many centuries (Archer et al. 2009, Broecker et al. 1979, Solomon et al. 2009). Consequently, the impacts of continued anthropogenic CO2 emissions likely will be felt for millennia (Archer et al. 2009, Hegerl & Solomon 2009, Lowe et al. 2009, Matthews&Caldeira 2008). It has been proposed that we could slow or reverse climate change on decadal to centennial timescales by employing strategies that use natural processes to accelerate or augment the slow removal of anthropogenic CO2 from the atmosphere. Some such carbon dioxide removal (CDR)methods (e.g., reforestation) have already been considered in negotiations under the United Nations Framework Convention on Climate Change (http://unfccc.int/; see also Reyer et al. 2009, Streck & Scholz 2006).
CDRapproaches aim to tackle the climate problem by addressing the root cause of the problem: increasing atmospheric greenhouse gas concentrations. These approaches aim to remove excess CO2 from the atmosphere and store the carbon in the land biosphere, ocean, or deep geological
reservoirs (Figure 6 and Table 2).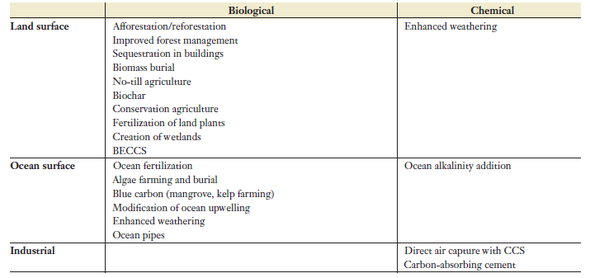 aCDR approaches can be categorized according to whether they use biological or chemical engineering methods to remove carbon dioxide from the atmosphere. They can also be categorized according to whether they require large areas of land or ocean surface or whether the process can be contained in relatively small industrial facilities. Abbreviations: BECCS, biomass energy with carbon capture and storage; CCS, carbon capture and storage; CDR, carbon dioxide removal.
Because CO2 emissions have climate consequences lasting many thousands of years (Archer et al. 2009), such emissions have been considered to cause climate change on timescales that are relevant to most human activities. The prospect of capturing CO2 from the air presents the possibility of reversing anthropogenic CO2 emissions. If in the future CO2 emissions are discovered to be damaging, we (or more likely our descendants) could pay to remove this excess CO2 from the atmosphere. However, CDR methods could be costly if implemented at scale, and their effects on the climate system are slow (R. Soc. 2009). Unlike the solar geoengineering methods that can mitigate global warming quickly by directly counteracting greenhouse radiative forcing, CDR approaches will not have an appreciable effect on global climate for decades. An idealized study that investigated the climate effect of an extreme CDR scenario (Cao & Caldeira 2010a) found that, on the centennial timescale, a one-time removal of all anthropogenic CO2 from the atmosphere would offset less than 50% of the warming experienced at the time ofCO2 removal (Figure 7). Furthermore, even if all excess atmospheric CO2 could be instantaneously removed and the atmosphere maintained with preindustrial concentrations, substantial amounts of climate change would persist for decades (Cao & Caldeira 2010a). Therefore, CDR methods do not provide an opportunity for rapid reduction of global temperatures. However, with a concerted effort over many decades of implementation, these methods could significantly reduce future atmospheric CO2 concentrations. Because of the thermal inertia of the ocean, the decrease in surface temperature would lag the decreases in CO2 forcing.
CDR methods remove atmospheric CO2 and store it in vegetation, soil, oceans, or geological reservoirs. They would need to remove several Pg C per year from the atmosphere for at least several decades to have a discernible climate effect, and their effectiveness at decreasing atmospheric CO2 will depend on storage capacity and storage lifetime. Geological reservoirs are believed to have a capacity of several thousand Pg C (Metz et al. 2005), and oceans may be able to store a few thousand Pg C in the form of dissolved inorganic carbon for several centuries (Caldeira et al. 2005). This retention could be increased greatly if the addition of carbon were to be accompanied by an addition of alkalinity (Caldeira & Rau 2000). In contrast, the terrestrial biosphere may be able to store only ∼150 Pg C because the cumulative land-use flux in the past 200 years is of
Hier weiterlesen: Folgeseite 2