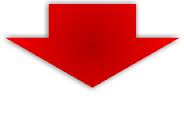 Geoengineering Under National Law: A Case Study
Of The United Kingdom
Chiara Armeni (University College London) and Catherine
Redgwell (University of Oxford)
Climate Geoengineering Governance Working Paper Series: 023.
Published online 09 March 2015
Climate Geoengineering Governance (CCG)
Climate Geoengineering Governance (http://geoengineering-governanceresearch. org) is a research project which aims to provide a timely basis for the governance of geoengineering through robust research on the ethical, legal, social and political implications of a range of geoengineering approaches. It is funded by the Economic and Social Research Council (ESRC) and the Arts and Humanities Research Council (AHRC) - grant ES/J007730/1
CGG Working Papers
The CGG Working Paper series is designed to give a first public airing to a wide range of papers broadly related to the project's themes. Papers published in this series may be, but are not necessarily, early outputs from the project team; equally they may be from other authors, and reflect different perspectives and different issues from those directly pursued by the project itself. The aim is to promote vigorous and informed debate, in a spirit of pluralism.
What the working papers have in common is that they will all be at an early stage of development, prior to full publication. Comment and response, at any level of detail, is therefore doubly welcome. Please send all responses in the first instance to the authors themselves - each paper contains a correspondence address. We will be looking for opportunities to use the website or other project activities to give a wider airing to any dialogues and debates that develop around a paper or issue.
About the Authors
Chiara Armeni is an environmental lawyer (LLM., LLB. University of Rome; LLM. University College London) and a Research Associate with University College London, Faculty of Laws. Chiara's main research interests lie in international and European environmental and energy law, with special focus on Carbon Capture and Storage (CCS) and geoengineering technologies, and the law and policy of climate change. Since 2009, she has been a Research Associate (Deputy Director since 2011) with the UCL Carbon Capture Legal Programme.
Catherine Redgwell is Chichele Professor of Public International Law at the University of Oxford. Her current work includes the international regulation of unconventional energy underground (e.g. geothermal, fracking, CCS), shared responsibility for energy activities, geoengineering (she is a co-director of the Oxford Geoengineering Programme and was a member of the Royal Society Working Group on Climate Geoengineering) and climate justice (she is a member of the International Bar Association's Climate Change Justice & Human Rights Task Force).
Introduction1
This working paper constitutes the main national case-study of WP3. It provides an analysis of the UK legal and institutional landscape and of the extent to which existing norms, laws and institutions might address governance questions associated with geoengineering research, and potential deployment, in this jurisdiction.
After an introductory section on the key concepts constituting the UK legal, judicial and administrative system (Section I), this paper asks the following questions:
- Is there a national debate on geoengineering law and regulation in the UK? If so, what is its status, what questions have been asked and by whom? What gaps can be identified in this debate in terms of
questions and key actors involved? (Section II)
- What is 'geoengineering' in a UK regulatory context? What techniques might have domestic relevance? What legal and regulatory questions would they pose? (Section III)
- Why regulate geoengineering techniques from a UK legal and policy perspective? What are the limits of the UK jurisdiction over activities related to geoengineering research and, potentially, deployment? What role could the UK play at the international and regional level inthis field? (section IV)
- Which control mechanisms are applicable, or adaptable, to address the legal questions associated with geoengineering? What are the gaps and new provisions required? (section V)
- Who would decide? How? (Section VI)
I. Key concepts
This section provides an introduction to the key concepts and sources of the UK legal system, and the characteristics of its devolved system of government. It also analyses the relationship between the UK and the EU, and international, legal system. It does so by discussing the mechanisms and processes for national implementation of international and EU obligations potentially relevant to Geoengineering.
The purpose of this section is to provide an insight to the distinctive features of the UK legal tradition and processes and their potential relevance for geoengineering governance.
United Kingdom jurisdictional boundaries
The UK is a unitary and sovereign State. Its national jurisdiction extends to the land, airspace and maritime areas of Great Britain (including Scotland, England and Wales) and Northern Ireland as well as its 14 dependent territories, which are an integral part of the UK. 2
UK offshore jurisdiction is exercised in designated maritime zones that generally correspond to the requirements set out in the 1982 United Nations Law of the Sea Convention (LOSC).3 The Territorial Sea Act 1987, and its associated Statutory Instruments, establish a territorial sea that extends 12 nautical miles seaward from the designated UK baseline, where the UK has sovereignty.4 Statutory Instruments issued under the Continental Shelf Act 1964 designate areas beyond the territorial sea within which the UK Government may exercise its sovereign rights under LOSC for the purpose of exploring the continental shelf (CS) and exploiting its natural resources.5
The Marine and Coastal Access Act 2009 (MCAA) provides for the designation of an exclusive economic zone (EEZ)6 in which the UK may exercise the rights recognised in LOSC Part V.7 The UK Government has not yet designated an EEZ, but has announced its intention to do so following final determination of the boundaries of the zone and negotiations with neighbouring States.8 At present the UK adopts a sectoral approach to enabling the exercise of the EEZ rights, through the designation of several overlaying maritime zones, each extending beyond the territorial sea up to a maximum of 200 nautical miles from baseline. These zones are: the area within British Fishery Limits;9 the Renewable Energy Zone;10 the Pollution of States, this approach has historically been grounded on the convenience of claiming jurisdiction and control over specific activities when necessary and on an incremental perspective, instead of establishing a single zone for multiple activities.
In several locations and for certain matters, the exercise of UK offshore jurisdiction has been devolved to the constituent countries of Scotland, Northern Ireland and Wales which are allocated, respectively, certain devolved functions within defined maritime zones (the 'Scottish Zone', 'Northern Ireland Zone' and 'Welsh Zone').13 As discussed in the working paper on international law, UK jurisdiction also extends to UK nationals and UK flagged aircrafts and vessels within and beyond the territory and offshore zones of the UK.14
The United Kingdom constitutional system and devolution The UK is a constitutional monarchy based on a parliamentary system. Unlike the majority of States, the UK lacks a codified constitution, but its constitutional foundations are based on the combination of norms and principles derived from: primary legislation, court decisions, conventions of the constitution and royal prerogatives.15
The UK Parliament ("Westminster") is the primary law-making body. It enjoys full sovereignty, which encompasses: the power to make constitutional changes to the legislative process; the impossibility of judicial review of Acts of Parliament;16 and the inability to bind successor
Parliaments, as a limitation on the exercise of their sovereignty. 17
Westminster is composed by two chambers: the House of Commons, which is elective, and the House of Lords, with a combination of members appointed on recommendation and - these days - a small number of inherited peerages. Subject to the Parliament Acts 1911 and 194918, a Bill becomes law (an "Act") upon approval of both Houses and further to the Royal Assent. During the legislative process detailed provisions are considered by Standing Committees before going back to the full chambers. In addition, both Chambers of the Parliament have established Select Committees which 'consider policy issues, scrutinise the work and expenditure of the government, and examine proposals for primary and secondary legislation. Select committees operate largely by an investigative process, while legislative committees operate mainly by debate.19 Select committees have an important role in stimulating the public debate outside the Parliament and therefore increased accountability of, and accessibility to the policy and rule makers in government departments. Committees in the House of Commons generally shadow existing government departments20, whilst those in the House of Lords have picked up more general themes – notably science and technology, and issues related to the European Union. In the Commons, committees often produce reports with consensus across the political parties, and Government, though not bound by their recommendations, is required at least to respond to the reports. There is evidence that many recommendations of Select Committees are implemented in government policy and legislation, although their overall influence can take many forms. 21 The House of Common Science and Technology Committee and the Energy and Climate Change Committee have done a large amount of work on various aspects of both individual technologies, such as nuclear, CCS, nanotechnologies, and GMOs as well as on scientific and engineering research, funding structures and public perception more widely.22 In 2009 the Science and Technology Select Committee ran a public inquiry into Geoengineering Regulation (see details below), while no specific consideration has so far been given to it by the Energy and Climate Change Committee. Beyond the specific findings and recommendations, these inquiries suggest that Committees are well equipped to address different aspects of new technologies, such as Geoengineering techniques, and highlight the economic, social and research challenges associated with them, in order to inform government action.23
Legislative powers on a range of matters have been devolved to the National Assembly in Wales, the Scottish Parliament in Scotland and the Northern Ireland Assembly in Northern Ireland.24 Such division of powers is, however, asymmetric. This means that while the Scottish Parliament and the Northern Ireland Executive have the power to pass primary legislation in devolved matters, including the environment, the Welsh Assembly at present can only pass secondary legislation based upon primary legislation adopted by the UK Parliament. 25 Similarly, Scotland does not have jurisdiction in energy matters, while Northern Ireland does.
There are a series of challenges when it comes to some activities, such as CCS or – potentially – Geoengineering, when they lie at the intersection between a number of generally reserved matters (energy, climate change) and areas that are devolved (planning, environment, electricity).
The table below summarises (and simplifies) the main areas of potential interest for Geoengineering regulation to which devolution applies. Resolution of these matters would eventually be a matter for the Supreme Court26, but in practice, compared to some countries such as the US, there has been minimal involvement by the courts in such issues. To date, civil servants and politicians appear to wish to resolve potential conflicts areas by agreement rather than by legal action.
Table 1: UK Devolution and geoengineering-relevant matters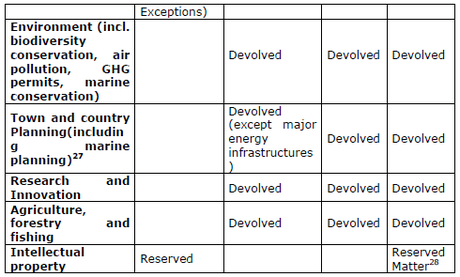 With respect to the UK dependent territories, each territory has its own constitution, government and local laws. However, as a matter of constitutional law, the UK Parliament has unlimited power to legislate for these territories and exercises certain powers, including foreign relations powers (e.g. treaty-making), on their behalf. 29
UK Legal System(s) - Sources of UK Law and the UK judicial system
The UK legal system is in effect composed of 3 systems: the English/Welsh system, the Scottish System and the Northern Irish System. 30 As opposed to civil law systems (predominant in continental Europe), the UK legal system is primarily a common law system, whereby 'law develops through the decisions of judges of the higher courts, and any other courts or tribunal, which constitute a system of binding precedents'31, and is complemented with legislation adopted by Parliament. In some areas common law principles developed by court decisions still predominate (e.g. the principle of compensation for damage); in others, such as competition law or the regulation of GHG emissions, legislation is the primary source of law, coupled with decisions of the court interpreting its provisions.
As a result of the asymmetry of the devolution, some laws are agreed and applied only in the national context and other laws have UK-wide application, depending on the matter to be regulated. The geographic scope is normally clarified in the Act itself. Overall the main sources of law in the UK are:
- Common Law: These are principles established by custom and case law, such as trespass, private nuisance or negligence, common law liability. As general principles applicable by UK courts, they will be
relevant to some Geoengineering activities (e.g. land-based geoengineering and direct air capture), in particular where affecting individual rights and interests in the UK, such as the right to enjoy one's own land and the right to property.32 As a source of law, courts' pronouncements on other technologies might constitute useful precedent for geoengineering in the UK. In two cases dealing with the 'experimental use' and 'research' defence to patent infringements for GMOs, for instance, the English court of appeal provided extended and careful analysis on the distinction between trials for experimentation purposes and trials aimed at commercial exploitation.33 Such cases might be recalled should intellectual property issues become more prominent in a geoengineering context in the UK.
- Primary legislation: Rules of primary legislation are adopted as Acts of Parliament (also referred to as "Statutes"). Examples of primary legislation potentially applicable, or adaptable, to Geoengineeringrelated activities in the UK are: the 2009 Marine and Coastal Access Act, the 2008 Climate Change Act, 1995 the Merchant Shipping Act and the 2008 Planning Act. These can only be modified or repealed by Parliament itself and cannot be declared void or unconstitutional by the courts, although the judiciary will play a key role in interpreting provisions and international law obligations, especially in inevitable cases of ambiguity.34
- Secondary Legislation: Secondary legislation is the product of the exercise of delegated power to legislate under the authority of the Parliament (with reduced Parliamentary scrutiny), and carries the full force of law. Secondary legislation is mostly used to implement EU directives and international treaties; for the setting of standards, monitoring categories or exceptions; and as a means for setting procedural requirements and establishing protocols (e.g. pre-action protocols in civil procedure). Examples of secondary legislation potentially applicable, or adaptable, to Geoengineering-relevant activities in the UK are the Habitat Regulations and the Environmental Impact Assessment regulations. Law-making procedures for secondary legislation vary (e.g. negative resolution procedure35, affirmative procedure).
- International Law: (discussed in the next section):
- European Union Law: The UK has adopted a distinctive approach to national implementation of EU law, as a result of its membership of the European Community (now European Union). The European Communities Act 1972 provides a broad reference to enable EU law and principles to become an integral part of the UK national legal system 36 (discussed in the next section).
Primary legislation has the highest value in terms of legal hierarchy and, as noted above, is normally exempted from judicial review. Secondary legislation (i.e. 'regulations' where of general application, 'orders' where more specific, limited application) are also treated as legislation, but have less weight in that a court may declare them void if there is no power in primary legislation to make them, and they will be interpreted in the light of the relevant primary legislation. 37
In the UK context, soft law is also influential even though it does not have formal legal effect. It comprises White Papers38 through which the government establishes and communicates its strategy on discrete issues and/or its intention for subsequent law-making actions. Good examples of such functions can be found in the recent Electricity Market Reform White paper, which established the government long-term plan for restructuring the national electricity sector, or the 'A Sea Change: A Marine Bill White paper' aimed at introducing a new marine legal framework to enable strategic planning, environmental conservation and improving energy supply. Soft law can also include a wide array of governmental guidelines, circulars, codes of conducts and administrative rules that are not directly enforceable through criminal or civil proceedings, but which may nevertheless produce indirect legal effects by supporting and stimulating subsequent law-making.39
In a Geoengineering context, soft law could be influential in the regulation of research activities. As it will be noted later in this report, these instruments might be able to fill the gap left by the absence of dedicated UK laws and regulations for geoengineering research as such (both in the laboratory and in the open environment), in contrast with detailed legislation on other research activities, such as medical and bio-medical research. This does not mean that no legal control would be applicable to Geoengineering-related research under UK jurisdiction and control. However, no distinctive rules seem to be readily applicable to regulate geoengineering activities undertaken for the purpose of research, as opposed to deployment. To fill this gap, soft law could represent a more flexible tool than binding legislation.
The UK judicial system is structured taking into account the powers devolved to national legislatures. Below is a simplified diagram.40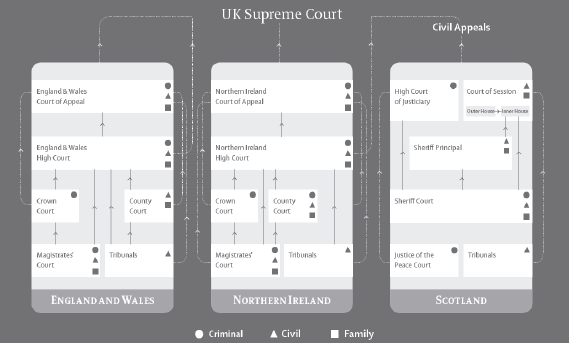 Diagram 1: UK judicial System Source: UK Supreme Court at
http://www.supremecourt.gov.uk/docs/supreme-court-and-the-uks-legalsystem.pdf
As emerges from the diagram, the UK judicial system is divided into civil, criminal and family competences, and no environmental court or tribunal exists. Steps have been undertaken to introduce environmental civil sanctions in the UK system.41 While primary and secondary environmental legislation carries more weight as sources of law, the role of court pronouncements in environmental matters is influential, mainly in interpreting statutes.42
Relation with EU law obligations and features of the transposition system
Since 1972 the UK has been a Member State of the European Union.43 As a result, EU law is binding upon the UK. This comprises: the 2010 Treaty on the Functioning of the European Union (TFEU); the Treaty on the European Union (TEU) and secondary legislation derived from them in the forms of Regulations, Directives and Decisions.44 The UK 1972 European Communities Act gave effect to all rules of EU law that have, or might in the future have, direct application or indirect effect within the Member States.45 By virtue of this Act, the UK government acquired wide lawmaking powers to fulfil the UK obligations under EU law, including the power to amend an act of Parliament.46 The UK's membership of the EU has raised issues and intensive debate about the limits, if any, of Parliamentary sovereignty vis-a-vis EU law and the role of national courts.47 By virtue of the EU law supremacy over national law, it can be argued that as long as the UK is Member State of the European Union, this rule can be superseded by a national court that must dis-apply an Act of Parliament in conflict with EU law.48 This is supplemented by the theory of 'direct effect' of EU law, which enables the supremacy of EU law to be claimed by individuals through their own national courts. 49
The TFEU also distinguishes between: exclusive competences (e.g. the conservation of marine biological resources under the common fisheries policy) for which the EU alone can legislate and adopt binding acts, while the Member States' role is limited to their application, unless the Union authorises them to adopt certain acts themselves50 ; shared competences (e.g. environment and energy) for which Member States may exercise their competence only in so far as the EU has not exercised, or has decided not to exercise, its own competence;51 and supporting competences (e.g. protection and improvement of human health and industry), where the EU can only intervene to support, coordinate or complement the action of Member States, but has no legislative power in these fields and may not interfere in the exercise of the competences reserved for Member States.52 Climate change is not expressly listed in any of those, but both the EU and its Member States have adopted legislation and policy measures to address climate change, based the EU commitments under the Kyoto Protocol and the associated Burden Sharing Agreement.53 If an EU approach to Geoengineering-related research or potential deployment were to be taken, it would be important to establish under which competence these techniques would fall, in order to identify the applicable laws and decision-making processes. However, geoengineering has not been considered yet at EU institutional level and action in this direction does not seem imminent.
While EU Regulations are directly applicable in the Member States, Directives require national implementation measures to become part of the body of national laws (i.e. 'transposition'). 54 This is because EU Directives are only binding as to the result to be achieved, but leave discretion to the Member States with regard to the 'form and means' to achieve it. 55 National transposition measures must be adopted and communicated within specific deadlines to the European Commission. They must conform to requirements of the directive and be correctly applied in the national context. Failure to fulfil these obligations is a reason for the European Commission to start an infringement procedure before the Court of Justice of the European Union (CJEU) against the Member state for noncommunication, non-conformity or inadequate application, under article 226 of the TFEU. National implementation processes and infringement procedures will come into play should bespoke Geoengineering regulation (or Geoengineering-relevant amendments to existing legislation) be adopted in any member State (e.g. UK, Germany) or at EU level. The relevance the CJEU would then become apparent both in terms of compatibility of any potential national Geoengineering law (either new or by way of amendment to existing law) with EU law, and in terms of assessment of the national implementation or application of any potential EU-wide Geoengineering directive or regulation.
EU law generally does not specify how a Member State is to implement provisions within its jurisdiction, and does not dictate how to address issues such as delegation of legislative powers to regional or local
authorities. As a result Directives can equally be transposed by means of national or regional laws, provided that they are properly implemented in the national legal system and uniformly applied in the territory of the Member State.56 The UK Government is responsible for ensuring that EU legislation is implemented and complied with in all the national territory of the UK, as the obligations to transpose and comply with EU law fall on the UK as the single EU Member State. On this point, the position is similar with respect to the implementation of international obligations. However, devolved administrations are directly responsible for observing and implementing EU obligations concerning devolved matters. UK Ministers retain the power to act in order to ensure implementation of such obligations, if the devolved administration fails to do so.57 In the event of an infringement procedure launched against the UK for failure of a devolved administration to implement or apply EU law on devolved matters, the UK Government is directly responsible, and will be accountable for any fine imposed by the CJEU for such a failure.58 The UK is also responsible for the compliance with EU law of Gibraltar, the Isle of Man and the Channel Islands.59
In the UK, there has been some tension between central and devolved administrations which has raised a series of legal and political issues, not least because the UK position at EU level is negotiated as a unitary voice, without diversification of views for the devolved administrations. This situation is at odds with the fact that in some cases it is up to the administrations to transpose and implement EU law in practice, when it relates to devolved matters.60 As happened for carbon capture and storage in some countries (e.g. Germany and the Netherlands)61 in the past and is
happening now in the UK with respect to shale gas,62 similar tensions could
come to the fore in a geoengineering context.
National Implementation of International Law obligations related
to Geoengineering
The relationship between international and national law is sometimes problematic. Two directions can be identified in the relationship between UK law and international law: the ability of existing international law to produce its effects in the UK legal system; and the UK role in contributing to the formulation and development of international law. Owing to the emerging international debate on Geoengineering, we can more easily identify some elements of the second, for the time being. This is confirmed, for instance, by a lack of national implementation action to reflect recent (although not binding) developments under the London Dumping Regime (e.g. the 2013 marine geoengineering amendments to the London Protocol including a binding Assessment Framework for Legitimate Scientific Research63).64
By virtue of the royal prerogative in foreign affairs, the UK government acting in name of the Crown may enter into treaties that bind the State under international law (including dependent territories for which it
exercises foreign relations powers). But treaties do not have a selfexecuting character in UK law, requiring it to be incorporated into UK law by way of legislation/act of approval by of Parliament, to allow greater transparency in the law-making process. 65 This is consistent with the theory of Parliamentary sovereignty, discussed above. The main issue to take into account is the question of implementation competencies. As with EU law, the Vienna Convention of the Law of Treaties is indifferent to internal constitutional arrangements when it comes to the implementation obligations of States.66 However, in the UK (as for other federal jurisdictions such as Germany and the US) there is an apparent mismatch between the negotiating competence and the competence to legislate implementation measures in some important areas. On the one hand, this is apparent in the relationship between UK government departments and devolved legislature, where treaties are negotiated by e.g. Department of Environment, Food and Rural Affairs (DEFRA), but are implemented by devolved legislatures by virtue of their devolved powers on environmental protection. On the other hand, this is also evident in the approach of different UK government departments. DEFRA, for instance, is responsible for representing the UK position under the London Dumping Convention and its Protocol ('LC/LP'), including on marine geoengineering, and is generally receptive to such developments. Conversely, the Department for Energy and Climate Change (DECC) seems to resist the qualification of Geoengineering as potential Plan B option, as emerges from its response to the HC ST committee's inquiry.67
Under the devolved legislation, the Secretary of State has the power to intervene, prevent or require action if an action or omission by the devolved administrations would be incompatible with any international obligation.68
International law can also be indirectly relevant, when establishing rights and obligations on the State that are relied upon as a source of interpretation by national courts. In the UK, human rights law is a specific example of this effect, whereby the Human Right Act 1998 allows UK courts to interpret legislation in the light of human rights granted under international law.69 This provides a useful avenue to extend procedural rights, such as public participation, access to information and access to justice (under both Human rights instruments and the Aarhus Convention70) in the Geoengineering context. 71 However, other branches of international law, such as foreign investment law, have also been influential in national courts' pronouncements.
Soft law also has resonance at the national policy level. A good example is the principle of sustainable development, as incorporated in the UK Strategy following the Rio Declaration and its Agenda 21.72 Despite such policy commitment, the UK government participation to the recent 2012 Rio+20 summit was marginal. The Prime Minister did not attend Rio+20 and did not report on the UK national policy to the House of Common Environmental Audit Committee, as requested. The Committee conducted an inquiry on the preparation and outcomes of the Summit and submitted recommendations to the government (i.e. to establish permanent mechanisms to engage with SD agenda; contribute to the formulation of the SD Goals and Post-2015 Development Goals; introduce sustainability reporting for private companies; address SD in learning and education programmes; revisit the Aid Environment Strategy and update the 2005 SD strategy). 73 However the government response has been limited to the report on the preparation to the meeting. While potentially relevant, the compatibility of geoengineering strategies with the UK sustainable development objectives is yet to be considered.
As for the second direction of the relationship between international and national law, UK involvement in international fora has sometimes been merged within a common EU position.74 This is direct consequence of the division of competences between the EU and the Member States, discussed above.75 However geoengineering is unlikely to fall exclusively within one or the other legislative competence and a case-by-case approach might need to be considered. The UK delegation to the LC-LP was proactive in chairing working groups (e.g. Working Group on the Assessment Framework for Legitimate Scientific Research) and proposed specific actions to include a procedure to evaluate new geoengineering methods to be included in the list of geoengineering research activities eligible for permit.
II. The UK Geoengineering debate: legal questions and gaps
The current UK debate on geoengineering has primarily taken place at the parliamentary and academic levels. The research councils and the Royal Society have also been interested in questions of policy and governance. There seems to have been little involvement from UK NGOs or industry yet, which might not be surprising, due to its still early stages of development. This section discusses the key policy steps undertaken in the UK with respect to Geoengineering. It highlights the key questions addressed and the main actors involved in the debate (e.g. government, academics and research councils). As a result, it illustrates which questions are yet to be explored and which actors are yet to get involved. In this section it is important to distinguish between questions related to, and actors involved in, the Geoengineering debate in general (i.e. without a UK-specific focus) and questions and actors discussing the UK-specific aspects of research and potential deployment of all -or some - Geoengineering techniques.
The UK Parliamentary inquiry
The UK has been one of the few jurisdictions to address geoengineering at Parliamentary level (other examples, include the US and Germany, considered in working papers 3 and 4)76. Between 2008 and 2010, the topic has been addressed twice by the HC Science and Technology Committee (former HC Innovation, Universities, Science and Skills Committee).
In the first 2008-2009 inquiry, geoengineering was presented as 'a new policy area' within a review of engineering opportunities in the UK.77 In its 2008-2009 report, the HC Innovation, Universities, Science and Skills Committee acknowledged the potential of geoengineering as a Plan B option, requiring more UK research efforts and public funding. The HC emphasised the role of research councils (i.e. EPSRC and NERC), the Royal Society, the Royal Academy of Engineering and other research organisations (i.e. the UK MET Office, the Carbon Trust) in coordinating and supporting research in this field.78 Against this backdrop, the Committee was rather critical of the UK government approach, described as "negligent" insofar as it was limited to conventional mitigation policies and reluctant to consider geoengineering as a potential Plan B. 79
The Committee urged the Government to:80
- evaluate geoengineering as a part of a portfolio of responses to climate change, alongside adaptation and mitigation option; 81
- provide a clear view on its approach across different departments (e.g. DECC and Department for Innovation, Universities and Skills);
- be proactive in communicating efforts to avoid any incorrect perception on geoengineering as a lack of commitment on mitigation;
- lead the debate on the ethical implications of geoengineering and run consultation on the full range of options; and
- 'support socio-economic research with regard to geoengineering technologies in order that the UK can engage informed international discussion to develop a framework for any future legislation relating
to technological deployment by national states or industry.' 82
The government response to the inquiry was presented to Parliament by the Secretary of State for Energy and Climate Change in July 2009 and published as a publicly accessible, non-binding, document. With respect to geoengineering, the government disagreed with the Committee on the
apparent divergent views of DECC and DIUS on the future potential of geoengineering. It recognised the potential role of geoengineering in climate change policy, the need for more research and independent assessment, and its interest in the Royal Society findings to inform policy developments. However, it reiterated its unwillingness to fund research at this stage and its reluctance to lead initiatives on the ethical and public engagement dimension of these techniques. As such this approach was considered too cautious by the HC STC.83
Following the first report, a more substantive inquiry was conducted by the HC Science and Technology Committee in 2009-2010, which was exclusively devoted to the geoengineering regulation. The analysis was aimed at answering the following questions:
- Is there a need for international regulation of geoengineering and geoengineering research and if so, what international regulatory mechanisms need to be developed?
- How should international regulations be developed collaboratively?
- What UK regulatory mechanisms apply to geoengineering and geoengineering research and what changes will need to be made for the purpose if regulating geoengineering?84
In fact, this inquiry was primarily directed towards the international governance of the technology and the role of the UK in pressing for international regulation in this area. No real consideration was given to the domestic legal and regulatory issues of Geoengineering research, and potential deployment, within UK jurisdiction and control.
The inquiry recommended the government to push geoengineering up the international agenda, in order to seek to develop existing international regulatory regimes (e.g. UNFCCC) to address research on, and deployment of, in particular, CDR. Acknowledging a gap to address SRM, it concluded that regulatory systems needed to be designed and implemented for those SRM techniques that currently fall outside the existing international regulatory regimes. Overall, the HC STC supported a top-down approach to geoengineering regulation to ensure, in its view, legitimacy, appropriate scientific standards, effective oversight mechanisms and the management of environmental and transboundary risks. The Oxford principles (see below) were endorsed to provide a basis to begin discussion on principles that could be applied in order to develop a sound foundation for Geoengineering regulation. Interestingly, the HC STC concluded that key principles guiding Geoengineering research should not however include the precautionary principle, as a discrete principle. According to the Committee, such inclusion 'would risk halting geoengineering research and small tests being carried out by those states playing by the rules to develop a plan B, but it could also force from international and public scrutiny any research carried out by other bodies or states not playing by the rules'.85 This approach however seems to misunderstand the role of the precautionary principle in risk regulation, as it remains a guiding principle of decision-making rather than a prescriptive norm.86
The inquiry also concluded that the development and small tests87 of SRM should not be banned, but pursued provided that a) they are in compliance with an international regulatory framework and internationally agreed set of principles, including the Oxford principles; b) have negligible or predictable environmental impact; and c) have no transboundary effects.88 Any UK SRM experiment must involve international scientists, including from more vulnerable developing countries.89
Based on these findings, the HC STC provided the following, sometimes rather vague, recommendations to the UK government:
- give greater priority to its geoengineering policy and to public participation strategies associated to it;
- together with other governments, develop proposals for the regulation of geoengineering, mainly CDR techniques, through existing international agreements, such the UNFCCC;
- ensure that any SRM research programme includes international scientists, particularly from climate vulnerable areas and that priority is given to programmes that increase 'global public welfare';
- be proactive in working with other government towards the adoption of appropriate arrangements for geoengineering through the UN, on the specific basis of principles (including the Oxford Principles) and
objectives (i.e. decisions to be based on the best scientific evidence, including social science; regulatory measures to be able to respond rapidly; a high level of flexibility to be able, for example, to encompass new technologies as they emerge; and prohibition of the use of geoengineering techniques for military purposes) 90
- press for the identification of a suitable international body from which to commission a review of international and regional mechanisms, and for the establishment of an international consortium 'to explore the safest and most effective options, while building a community of researchers and developers'; and
- take the lead at EU and commonwealth level.
The HC endorsed the recommendation made by the Royal Society that 'the governance challenges posed by geoengineering should be explored in more detail, and policy processes establish to resolve them'.91
In its response, the UK Government recognised that geoengineering might have a possible role to play in aiding mitigation efforts in the future. However, it stressed that the government priority is emission reduction measures and that 'it would be difficult at the present time to formulate effective or appropriate regulatory regimes for Geoengineering research and deployment to cover all possibilities that might receive serious attention. Any future regulatory framework would also need to include flexibility to take account of new findings and development as they arise.'92
The government approach to Geoengineering thus appears reactive, rather than proactive. It suggests that it is 'too early to be able to establish appropriate regulatory frameworks for Geoengineering research or deployment […] without a clear view on what needs to be regulated and why'.93 While acknowledging initiatives on public engagement, the government did not expressly commit to give greater priority to public engagement on geoengineering and its relationship with emission reduction policies. The government response generally endorsed the formulation of key principles to guide the regulation of geoengineering research, but more detail is said to be needed. While the general message was that efforts should be coordinated at international level, the government concluded that it is 'premature for inter-governmental action on regulatory arrangements, whether through the UN or some other body, before governance principles have been agreed'.94 The Committee endorsed the five 'Oxford Principles' submitted by a group of academics (i.e. geoengineering as a public good, public participation in geoengineering decision-making, disclosure of geoengineering research and open publication of the results, independent assessment of the impacts, governance before deployment- see discussion below) to be articulated by the government and the research community. The government welcomed this approach as a basis for future regulatory development and governance of geoengineering research. 95
Non-governmental initiatives
In 2009 the UK Royal Society published its widely-cited report, which is the pioneer in the debate on technical and governance challenges associated with geoengineering. The report concluded that geoengineering is not an alternative to mitigation, but could 'potentially be useful' and justify 'more detailed research and analysis' to address major uncertainties regarding effectiveness, cost and environmental impacts, and acceptability.96
The final report provided the following recommendations:
1. global mitigation efforts must continue, but more research on geoengineering should be undertaken;
2. the evaluation of Geoengineering methods should take account of the major differences between CDR and SRM techniques;
3. geoengineering methods should only be part of a wider package of options to address climate change, with priority to be given to CDR techniques (said to be safe, effective, sustainable and affordable) over SRM techniques (still uncertain as of their effects and sustainability);
4. ensure that geoengineering can be adequately evaluated and applied responsibly and effectively - should the need arise – through: a) internationally coordinated efforts on R&D; b) research on feasibility,
benefits, environmental impacts, risks and opportunities and c) the development and implementation of governance frameworks;
5. governance challenges should be explored in detail by an international body and processes established for the development of policy mechanisms to resolve them;
6. a code of practice for geoengineering research and specific recommendations for a voluntary research governance framework should be developed by the Royal Society, together with other partners;
7. UK government departments (e.g. DECC and DEFRA), in association with research councils (e.g. Biotechnology and Biological Research Council (BBRS), Economic and Social Research Council (ESRC), Engineering and Physical Science Research Council (EPSRC) and Natural Environment Research Council (NERC)), should fund a 10- year research programme on geoengineering worth 10m per annum; and
8. the Royal Society, with other organizations should start a public dialogue and engagement to explore public and civil society attitudes, concerns and uncertainties about geoengineering as a response to climate change.
The work of the Royal Society involved leading UK-based academics from several disciplines. Further to its findings, additional work was undertaken by a group of academics to draft a series of key principles to guide geoengineering research for submission to the HC STC inquiry. Such principles were drafted on the basis of the following considerations:
- Mitigation and adaptation remain of fundamental importance, but geoengineering techniques might prove necessary should emission reduction efforts fail;
- Geoengineering techniques must be properly investigated to avoid unacceptable environmental and socio-economic impacts;
- Owing to the diversity of techniques included in the definition of geoengineering, no one-size-fits all governance approach will be appropriate;
- No empirical evidence suggested that geoengineering methods would reduce efforts on mitigation;
- Geoengineering research must responsibly assess advantages and disadvantages of these techniques and does not automatically lead to deployment; and
- Regulation of scientific research under existing national, regional and international laws and regulations may be sufficient, but future governance gaps might require new rules and institutions.97
Subject to these caveats, it was suggested that Geoengineering research was based on the following guiding principles:
Principle 1: Geoengineering to be regulated as a public good;
Principle 2: Public participation in geoengineering decision-making;
Principle 3: Disclosure of Geoengineering research and open publication of results;
Principle 4: Independent assessment of impacts; and
Principle 5: Governance before deployment.
These principles had very high resonance in the UK and abroad (e.g. US and New Zealand) and were endorsed by both the UK HC Committee and the UK Government.98 Some concerns were specifically expressed regarding the principles' prohibiting approach to IP rights, if geoengineering was to be regulated as a public good.99 The drafting group responded arguing that, despite recognising the role of the private sector 'to ensure that deployment of a suitable technique can be effected in a timely and efficient manner', there are serious issues with granting private ownership over these techniques (e.g. vested interests leading to technological lock-in or concealment of negative results). The group concluded: 'if geoengineering research does not qualify as a public good, what on Earth does?'.100
A further programme has been launched by the Royal Society, in partnership with the Academic of Science for the Developing World (TWAS) and the US Environmental Defense Fund (EDF) to explore regulatory issues associated with SRM techniques. This initiative, called SRM-Governance Initiative (SRM-GI), published a first detailed report on governance options for SRM techniques in December 2011. 101 It received a large contribution from US scientists and academics from other disciplines to the discussion about the impact and governance options for a potential development of SRM techniques. After a phase of recommendation drafting, of which the report is the outcome, SRM-GI is now actively engaged in dissemination of such outcome, mainly to developing countries. Similarly, non-holistic geoengineering studies are being conducted by the Royal Academy of Engineering in CDR methods.
The role of the UK Research Councils
The UK Research Councils have been proactive in funding early research on different aspects of Geoengineering. In 2010 the Engineering and Physical Sciences Research Council (EPSRC) and the Natural Environment Research Council (NERC) funded two projects: the Integrated Assessment of Geoengineering Proposals (IAGP) and the Stratospheric Particle Injection for Climate Engineering (SPICE).
IAGP (October 2010 to September 2014) is a multidisciplinary project between 7 UK universities,102 aimed to evaluate the effectiveness and side effects of a broad range of Geoengineering proposals, evaluate the controllability of global climate using these proposals; and to elicit and include stakeholders and public values into the evaluation.103 IAGP included desk –work on computer modelling to assess the proposals, as well as a public dialogue on Geoengineering 'in the form of upstream public deliberative workshops'.
SPICE104 (October 2010 to September 2013) constituted a more empirical research. It aims to 'investigate the effectiveness of SRM using stratospheric particles. It addressed the three grand challenges in SRM techniques: 1. How much, of what, needs to be injected where into the atmosphere to effectively and safely manage the climate system? 2. How do we deliver it there? and 3. What are the likely impacts?'.105 This involved both laboratory research and one field experiment through the injection of stratospheric particles via a 20km pipe held up by a balloon pumping fresh water. SPICE also had a public engagement component to explore public perceptions of generic geoengineering proposals and in particular of the SPICE 1km test-bed.106 The project had been criticised at the early stages of its implementation and has been subject to substantive changes (see discussion in IPRs in the international section).
While these two projects concentrate on technical and, to some extent, engagement aspects, more detailed and wide-ranging governance questions are at the core of this Climate Geoengineering Governance (CGG) project, funded by the UK Arts and Humanities Research Council (AHRC) together with Economic and Social Research Council (July 2012 - September 2014.). This project is a collaboration between academics from University Of Oxford, University College London and University of Sussex, aimed at addressing three sets of understandings to inform decisions on governance of geoengineering. These themes are: 1) framing of geoengineering, including its understanding as a novel socio-technical construction, the idea of justice, and current legal and regulatory requirements;107 2) the dilemmas of control of geoengineering technologies, including issues of path-dependency, public engagement, geopolitical diversity and security; and 3) the design of governance and regulatory arrangements for geoengineering as a socio-technical governance challenge. The ultimate goal of the project is to establish a base of information and approaches on which to build upon as the field of geoengineering develops over the long term.
In 2010, the Natural Environment Research Council, together with the Sciencewise Expert Resource Centre (supported by the Department for Business, Innovation and Skills), the Royal Society, and the multi-agency Living With Environmental Change (LWEC) programme, published the findings of a public engagement exercise on geoengineering. The aim was to identify and understand public views on geoengineering research and deployment, including its moral, ethical and societal implications. These findings will inform public engagement and communication strategies in the future, including government initiatives.108
Interim Conclusions
Some key conclusions can be drawn from this section:
1. In terms of actors involved in the UK Geoengineering debate, there is still little participation from the UK NGO community and a more substantive gap in engagement with the public(s) and the nonscientific
civil society. Despite some (rather rhetorical) declarations of intent to engage with stakeholders, little seems to have been done thus far. While one academic project on public engagement has been concluded in this area, the absence of public dialogues is especially striking at Government level (especially when contrasted with other technologies, e.g. GMOs109). This can be explained by the still embryonic and speculative stage of deployment of the technology, but is inconsistent with wider participation at international level (e.g. UK-based NGOs participation in the LC-LP).
2. In terms of key questions addressed in the UK debate on geoengineering, there is an evident gap in evaluating the national relevance and potential of Geoengineering for UK climate change policy. The main focus of the UK policy debate on geoengineering has been the UK role in international debate on geoengineering governance and regulatory options. This gap also relates to an evaluation of the technical opportunities available for the UK research and industry community to research and potential deployment of geoengineering within the national boundaries (e.g. what techniques may be deployed in the UK territory from a technical point of view?).
3. Another gap can be identified with respect to the assessment of the national legal and regulatory framework. The current debate in the UK has not (yet) focused on the suitability, and potential adaptability, of specific national laws and regulations to govern geoengineering in the UK. One way of explaining this silence is by considering the strong international dimension of the governance challenges
identified, and the lack of commitment from the UK government to invest resources in geoengineering research, currently prevailing in the UK narrative on geoengineering. This point is reinforced by the fact that no comprehensive analysis of the institutional capacity of government departments and agencies to address geoengineering governance has yet been conducted, owing to the high degree of uncertainty regarding these techniques and their effects. However, it is important to note that there is cross-fertilization of international, regional, and national systems. This is reflected, for example, in the indirect relevance of international norms through national implementation and inclusion within the national legal system, with subsequent adaptation of conflicting national provisions or need to fill gaps.
4. When some (sporadic) reference to geoengineering is made in the UK national context, this has tended to focus on policy contexts, rather on legal and regulatory potential of the Geoengineering governance challenge.110
5. While UK-based academics are widely engaged in research initiatives (including on legal and regulatory aspects), legal scholarship on geoengineering has (almost) exclusively focused on international law and international governance challenges rather than their UK national dimension. This is in contrast with the US legal scholarship on geoengineering that has, to a modest extent, addressed the suitability and adaptability of national frameworks to govern this potential technological development. 111
III. Boundaries of Geoengineering under UK law and regulations This section delineates the definition of Geoengineering as it has emerged from the UK policy documents. Given the variety of techniques involved, this exercise is important to establish the boundaries of the UK approach to these technologies (i.e. what is and what is not geoengineering) and their consequent regulation. The debate on the definition and role of geoengineering in the UK is interesting, and possibly reflects the diversity of views at international level. The UK HC STC refers to "geoengineering" as to indicate: 'activities specifically and deliberately designed to effect a change in the global climate with the aim of minimising or reversing
anthropogenic climatic change. […][W]e consider these activities to be akin mitigation efforts, albeit at a global level. Our definition does not encompass carbon capture and storage (CCS) technologies as applied to power stations, because these technologies modify emissions control as opposed to the atmosphere."112
On the latter, the HC disagrees with the UK Academy of Engineering, which defined geoengineering as a 'fourth strand in our fight against catastrophic climate change'113. Contrasting with the US approach, the HC expressly did not consider a 'narrow definition of geo-engineering technologies to be helpful'.114 As such it supported an umbrella definition of geoengineering to encompass both CDR and SRM. It follows from the HC umbrella definition, that a one-size-fits all governance approach could not be applicable.115 However what is interesting here is that, owing to the difficulties of regulating such a wide range of techniques using a broad definition, the HC still urged for some sort of differentiation between technologies for regulatory purposes.
In this respect, it observed that:
'geoengineering techniques should be graded according to factors such as transboundary effect, the dispersal of potentially hazardous materials in the environment and the direct effect on ecosystems. The regulatory regime should then be tailor made accordingly. Those techniques scoring low against the criteria should be subject to no additional regulation to that already in place, while those scoring high would be subject to additional controls.'116
It should also be noted that the UK approach to the definition of geoengineering focuses on its purpose to minimise and reverse climate change. This means that geoengineering is only conceived (at this stage) within a climate change scenario. As we have observed in the international law working paper, this is a rather limited approach to the intentional or unintentional uses of these techniques. This confined framing was expressly reiterated by the HC STC.117
What techniques?
Little analysis has been conducted thus far into the potential for geoengineering within UK national boundaries, based on the engineering and technical characteristics of individual methods.118 However, fully encapsulated land-based techniques, such as roof painting, air scrubbers and land management, will certainly fall under national law. Ocean iron fertilization activities undertaken within the territorial sea and/or EEZ (or equivalent) would also fall under the UK jurisdiction and control. Given the characteristics of the UK coastal environment, however, these are unlikely to occur in UK waters. For SRM techniques encompassing deployment – and effects- in areas beyond national jurisdiction, the national legal and regulatory system will also be relevant with regard to the exercise of national jurisdiction over UK registered aircrafts/vessels undertaking injection activities, and the conduct of UK nationals undertaking them.
This is certainly notwithstanding the combined application of international treaty obligations to which the UK is contracting party and customary international law (e.g. no harm principle, notification and cooperation obligation, transboundary EIA) discussed in WP 1.
What legal and regulatory questions?
Overall the key regulatory questions associated with the national regulation of geoengineering are:
- Are these activities permitted under the existing domestic legal framework? Should they be? Under which conditions and standards?
- What laws and regulations would govern them? What would the threshold be for their application? Would they need to be adapted or amended?
- What public authorities will decide? How?
- What is the role of the public in the decision?
- What enforcement and liability regime would apply?
We will briefly address these questions in the next sections.
Interim Conclusions
1. The UK understanding of geoengineering is consistent with the main definition used at international level. This is an umbrella definition that includes both CDR and SRM, but expressly excludes CCS. The latter exclusion is justified from both a technical and regulatory point of view (i.e. it not only avoids emissions rather than manipulating the climate, but is also already regulated as a mitigation technology at national and EU level). The UK rejects a view of geoengineering as an alternative to mitigation measures.
2. Although adopting a wide umbrella definition, the UK HC STC has recognised that the variety of methods included in it would make the regulatory task challenging. As a result, it suggested a differentiation based on adverse impact-criteria rather than on technological specification. Such differentiation would result in some activities being regulated under existing regulation, while other will then require new mechanisms. This approach is consistent with the Oxford Principles' approach.119
3. The UK definition and regulatory implications of geoengineering do not go beyond the mere climate change scenario. This view dismisses (at least at this early stage) the wider series of dual uses that some of these techniques might provide. As indicated in the international working paper, a more comprehensive understanding and acknowledgment of these complementary scenarios would seem to be necessary.
4. Not all geoengineering techniques will be relevant to the UK legal and regulatory context. Those that will require specific national regulatory efforts are likely to be those with an unencapsulated nature and
effects within the national boundaries, complemented with the general compliance with international treaty obligations and customary international law. However some of these issues could initially, and more easily, be addressed via soft law instruments (e.g. codes of conduct, guiding principles).
5. There are some fundamental legal and regulatory questions that must be addressed if geoengineering techniques are to be deployed within national boundaries. This includes both their compliance with national laws and with international (and EU) obligations to which the UK is bound.
IV. Rationales and scenarios for Regulating Geoengineering in the UK
This section discusses the reasons and incentives to regulate geoengineering from a UK perspective, as a matter of both national and international governance. It addresses this aspect by illustrating some
scenarios in which national control mechanisms will be applicable and needed.
The 2009 inquiry conducted by the UK Parliament HC STC on geoengineering regulation was the first to address questions of the rationale for geoengineering governance. This aspect has revealed tensions between the HC STC and government views. The HC STC argued that the government's approach of focusing exclusively on mitigation as a Plan A was 'becoming increasingly untenable as geoengineering testing is already beginning and SRM techniques are within the reach of a growing number of nations'.120 The Committee also considered the government's concern for a moral hazard effect of geoengineering policies as not being 'evidencebased', urging instead 'greater priority in government policy'.121 As such it is clear that the UK discourse on geoengineering governance is mainly focused on geoengineering as a potential climate change counteracting strategy.
In this context, the Royal Society concluded that the rationale for governance and regulation has a twofold framing. On the one hand, there is a need to develop a focus on geoengineering within existing international frameworks. On the other, new systems need to be designed and implemented to address SRM techniques which fall outside any international regulatory framework. But this rationale for regulation is exclusively oriented toward the international level of governance, while is silent on its domestic legal and regulatory implications. Questions then remain as to whether the UK national system of environmental and climate legislation is fit-for-purpose to accommodate governance of geoengineering.122
As we have seen in the international WP1, the question of conflicting rationales and dual uses arises from a broader consideration of geoengineering techniques in a regulatory context. This will also be true at national level. As such, the following are some of the potentially applicable laws and policies for consideration in the national approach to geoengineering as a new area in the UK:
Climate Change and Environmental Law and Policy: Geoengineering methods have primarily been discussed as climate manipulation techniques to counteract climate change. As such it would appear logical to regulate them within the UK national climate change law and policy. Owing to the potential for environmental impact of some of these techniques, consideration of the legal and regulatory implications of research – and potential deployment- of these techniques should also be given to the wider body of environmental law and regulation, with special focus on Environmental Impact Assessment (EIA) to detect any potential harmful consequences, and environmental liability regimes to allocate responsibilities and compensate for such damages.
Planning Law and policy: Planning law is the law of land use and urban organisation, and is an area where States (at different levels of government) have primary law-making authority.123 As a result, depending on the scale of the research, planning authorisation might be required to undertake field experiments and, eventually, deployment of geoengineering in the UK territory. As mentioned above, planning law is mainly a devolved matter in the UK, and involves the requirement for environmental impact assessment and public participation, notification and consultation on the proposed onshore projects. Rules on planning are different depending on the geographic scope of the activity (i.e. onshore/ offshore) and its scale (i.e. small or large scale). If the project takes place offshore, it is mainly regulated under the Marine Policy Statement (and derived Marine Plans) pursuing the Marine and Coastal Access Act 2009, with the participation and notification requirements substantially reduced.
Research and Development and Intellectual Property Law: As discussed below, consideration of the regulation of scientific research in the UK must be borne in mind when looking at the potential legal and
regulatory framework applicable, or at least, adaptable to scientific research in the UK. Moreover, as stated in case law with respect to GMOs, the line between pure research and research with the purpose of commercial exploitation is fine. Intellectual property is therefore an area of likely legal development in this field, following lessons learned from other technologies in the UK (e.g. GMOs).124 While some elements of the technology have already been patented, a comprehensive regulatory approach to these new techniques is yet to be reached in the UK and the applicability of existing laws - and judicial precedents - should be further explored (see discussion below).
Like in the international context, all these potentially applicable laws and policies will be complementary and overlapping. Similarly, owing to the diversity of techniques, no one size will fit all techniques and some individual methods will require special attention to contingent elements, such as the ETS regime; biochar; the legal regime for the storage of CO2 in the UK, as well as marine legislation and the UK implementation of the LCLP conditions for geoengineering trials in UK waters. While, for instance, ocean iron fertilization trials are very unlikely to happen in Great Britain and Northern Ireland waters, due to its chemical composition, they might occur offshore of some dependent territory, e.g. British Antarctic Territory. Some other aspects are cross-cutting through all these thematic regimes, such as IP rights, standards, liability and enforcement.
Interim Conclusions
1. The main rationale for the UK to consider geoengineering is its climate change mitigation potential. However, there is disagreement between the HC STC and the government in terms of its possible role
within the climate change policy, with the government more reluctant to commit to research in this area.
2. Substantial analysis of the applicability, or adaptability, of national laws and regulation is yet to be carried out. However the key legal frameworks as starting points for such analysis (in the next section) are: UK climate and environmental law and policy; the planning regime and the UK regulation of research.
3. The analysis above shows that these areas of law and associated rules can be divided into two categories: those that have a direct capacity to regulate, or being adapted to regulate, geoengineering in
a UK context (e.g. climate change and environmental law); and those that clearly have an impact although indirect, as they do not contain the potential to directly regulate all major aspects, from research to deployment (e.g. trade and IP rules).
4. Some transversal issues will also need to be addressed with respect to national enforcement by UK courts, liability and applicable standards in all these areas.
IV. Legal and regulatory mechanisms applicable, or adaptable,
to Geoengineering in the UK
This section addresses existing UK laws and regulations applicable to research and, potential deployment of individual techniques. It discusses the nature and limits of the control they afford. The section also identifies areas where new provisions might be necessary. Drawing on experience from other technologies this section aims to indicate the key elements of a suitable regulatory model(s) for geoengineering in the UK.
There are practical difficulties of adopting a 'one-size-fits-all approach' to geoengineering regulation, both at international and national level (see section above). As a result, this section will take key examples of geoengineering techniques to discuss how existing UK legislation might apply, or adapt, to their research (and potential deployment). The key examples discussed are: ocean iron fertilization, direct air capture, cloud brightening and stratospheric sulphur aerosols injection. These hypothetical scenarios have been taken into consideration to evaluate which existing UK laws, if any, would be applicable, or adaptable, to regulate the conduct of individuals undertaking these activities. Gaps are also discussed in the next section with respect to these scenarios.
Ocean iron fertilization in the UK marine area
Assuming that there is a scientific interest in conducting ocean iron fertilization within the UK offshore area, the key applicable legislation would be the 2009 Marine and Coastal Act (MCAA). This implements
the London Convention and Protocol, and the OSPAR Convention obligations into UK law. This Act would therefore be the most likely instrument to be modified should the 2013 amendments to the London Protocol enter into force providing a binding international mechanism to control 'marine Geoengineering'. The Act applies to the 'UK marine area', including: territorial waters; any areas within the EEZ limits; the UK continental shelf. It regulates the designation of certain maritime zones, marine planning, marine licensing, fisheries management and environmental protection, including nature conservation and designation of marine conservation zones. The MCAA requires a licence to be obtained for activities including, inter alia:
'1[t]o deposit any substance or object within the UK marine licensing area, either in the sea or on or under the sea bed, from— (a)any vehicle, vessel, aircraft or marine structure, (b)any container floating in the sea, or (c)any structure on land constructed or adapted wholly or mainly for the purpose of depositing solids in the sea.
2.To deposit any substance or object anywhere in the sea or on or under the sea bed from— (a)a British vessel, British aircraft or British marine structure, or (b)a container floating in the sea, if the deposit is controlled from a British vessel, British aircraft or British marine structure.
3.To deposit any substance or object anywhere in the sea or on or under the sea bed from a vehicle, vessel, aircraft, marine structure or floating container which was loaded with the substance or object— (a)in any part of the United Kingdom except Scotland, or (b)in the UK marine licensing area.'125
No definition of 'substance' or 'deposit' is provided in the Act. As such an interpretation of the term 'any substance' could include ocean iron fertilization-related substances. This would allow the Act to potentially control ocean iron fertilization research- and deployment- activities within the UK marine area.
The UK Marine Management Organization (MMO) is the licensing and enforcing body for the MCAA. It is also responsible for conducting marine research activities, on its own or in collaboration with other organizations and individuals.126
Importantly for the purpose of the potential environmental and health impact of ocean iron fertilization research (and potential deployment), the Act provides that 'in determining an application for a marine licence the MMO must have regard to:
- The need to protect the environment;
- The need to protect human health;
- The need to prevent interference with legitimate uses of the sea; and
- Such other matters as the MMO considers relevant.
The MMO will make decisions in accordance with marine policy documents (the Marine Policy Statement and Marine Plans), unless relevant considerations indicate otherwise.
The following instruments and requirements would also be applicable:
- the Habitat Regulations implementing the Habitat Directive and the Birds directive in the UK offshore marine areas (outside the territorial waters) and English and Welsh territorial waters;127
- the requirement to conduct an Environmental Impact Assessment for all licensable activities, which includes inter alia public consultation requirements;128
- the provisions of the EC Water Framework Directive applicable to dredging and disposal activities in UK, the protection of inland surface waters, transitional waters, coastal waters and groundwater'; 129 and
- the provisions on prevention of pollution form ships under the Merchant Shipping Act 1995 (as amended).130
As such, while ocean iron fertilization is not expressly covered by UK laws, the MCAA framework appears flexible enough to adapt to ocean iron fertilization activities in the future. At the moment, however, there is still some uncertainty associated with the pending ratification of the 2013 LP amendments resolutions and the implementation of the Assessment Framework for Scientific Research on ocean iron fertilization in this area. More guidance would be needed before the competent authority is in the position to conduct any adequate assessment of licence applications for ocean iron fertilization experiments in the UK marine area (e.g. definition of disposal and pollution; clarification of licensable substances and licence process; Environmental impact assessment process; scale of licensable research activities).
If ocean iron fertilization activities (either research or deployment) were to be experimented for fishery purposes, the provisions of the MCAA would remain relevant as they also apply to fishery management.
Direct Air Capture
Direct capture conceptual designs are currently being studied to include the construction and operation of large scale contractors (e.g. 1MtCO2/ year capture facility requiring 13 contacting units of 20m tall per 200 m long) connected to a geological storage facility. If a field experiment were to be implemented in UK onshore areas, the following legal and regulatory aspects must be considered.
The 1990 Town and country Planning Act (TCPA) states that 'planning permission is required for the carrying out of any development on land', which is defined as 'the carrying of building, engineering, mining or other operations in, on, over or under land, or the making of any material change in the use of any building or other land'.131 As such it is clear that the construction of both the air scrubber and its associated storage facility would require planning permission.
As mentioned above, the UK planning framework is complex and highly fragmented between government and local competences. In the absence of a dedicated regulatory framework for direct air capture, the key questions is to clarify how such a development might be qualified under UK planning law.
If the development were to be qualified as a large infrastructure project, the Planning Act 2008 will apply in combination with the National Policy Statements. Based on the recommendations of the Planning Inspectorate, the final decision would be taken by the Secretary of State, taking into account the National Policy Statements and the National Planning Policy Framework.132
If the development is not qualified as a large infrastructure project, the town and country planning act system would apply and decision making would rest with local authorities, based on the local development framework and the National Planning Policy Framework. In both cases, appeal would be possible to the Planning Inspectorate, as an administrative but quasi-judicial body.
With respect to the storage component of a potential direct capture project, the UK legal and regulatory framework for geological storage of CO2 seems entirely applicable. Such framework is established by the Energy Act 2008, and its subsequent amendments, to implement the requirements of the EU CCS directive. Subject to possible adjustments to reflect the technical differences between the two technologies (i.e. direct air capture and CCS integrated chain), this framework would be applicable, although not yet fully tested due to lack of CCS demonstration projects up and running in the UK. To comply with the requirement of the EU CCS Directive, the original Act has been amended to extend its scope to onshore storage. However, current UK policy is limited to offshore CCS activities, which might also impact on the policy position on onshore CO2 storage from direct capture.
As for other projects, the requirements for an EIA and nature and biodiversity conservation will also be applicable to both the capture and the storage phase under the planning and the geological storage regimes. However the EIA requirement incorporated into the environmental and planning legislation are merely procedural. Failure to consider nature protection and biodiversity impact can be challenged by way of, inter alia, judicial review of the planning decision. Standing for this action is extended to NGOs with a qualified interest.133
Cloud Brightening in the UK marine area
It has been suggested that cloud brightening experiments could be undertaken by wind-driven vessels sailing back and forth perpendicular to the local prevailing wing, and releasing micro-sized drops of seawater into the turbulent boundary layer beneath marine stratocumulus clouds. If these activities were to be carried out (either for research or deployment purposes) in the UK marine area, laws and regulation will need to address several aspects: the activities undertaken at sea by the wind-driven vessel; the injection activity occurring in (initially) UK air space; its impact in the air space of other States as well as on areas beyond national jurisdiction. 
With respect to the first aspect, the key relevant legislation would be the one associated with the regulation of shipping in UK waters. As such the intention of the activity is not to deposit any substance or object into the sea, which excludes a direct applicability, or adaptability of the MCAA. However, the Merchant Shipping Act 1995, which regulates the conduct of British vessels at sea, including polluting activities, seems the most suitable legal basis for potential regulation.
With respect to the second aspect, the legal and regulatory gap is more evident, as there is no law or regulation directly applicable to seawater injection in the stratosphere within/through UK air space. The gap is unlikely to be filled by the existing UK air pollution legislation, which currently does not regulate micro-sized drops of seawater. As such, the UK existing controls applicable to such activities seems minimal. Nevertheless, given the unencapsulated nature of such activities, customary international law rules are at a minimum applicable, calling on the UK to exercise due diligence over actors and/or activities under its jurisdiction and control likely to cause significant damage to other states or to areas beyond national jurisdiction.
Stratospheric Sulphur Aerosol Injection
Stratospheric Aerosol Injection models entail release of sulphur aerosols from injectors mounted aboard of an aircraft platform cruising in the lower stratosphere. There are two ways in which UK law can be relevant for this activities: a) these activities occur within UK air space; and/or b) these activities are carried out by UK registered aircraft and/or by UK nationals. As indicated in the international law WP1 with respect to the injection of substances in the stratosphere, the question arises of whether this can constitute air pollution under the terms of the UK laws implementing the LRTAP convention or the Vienna Convention on the Protection of the Ozone Layer and its Montreal protocol.134 This point on the classification of sulphur aerosols is also a pre-condition for the applicability of national legislation implementing these conventions. A gap can be identified here as none of these treaties can unequivocally be applicable to these activities and their impact. 
With respect to the regulation of aviation, the application of UK aviation law appears largely residual and insufficient to address these techniques. The prime UK legislation is detailed in the Civil Aviation Act and the Air Navigation Order. They constitute the key domestic legislation used by the UK Civil Aviation Authority (CAA) in its day-to-day business.135 Some environmental requirements are also applicable to civil aviation, but they mainly relate to noise and environmental standards for emissions (e.g. smoke emissions, unburned hydrocarbons, carbon monoxide and oxides of nitrogen emission) rather than deliberate release of specific substances (e.g. sulphur aerosols.).136
Crosscutting Legal Aspects:
Climate Change Law
The UK Climate Change Act 2008 sets a legally binding target of 80% reduction in GHG emission by 2050, below 1990 levels. In particular the Act: a) introduces carbon budgets to constrain the amount of GHG emissions for 5 years periods; b) establishes a reporting system; c) appoints a Climate Change Committee to advise the government on emissions reduction strategies; d) gives the powers to the government and devolved administration to establish a domestic trading scheme to reduce emission via secondary legislation; and e) establishes policy measures to enable emissions reduction (e.g. amendment of the Renewable Transport Fuel Obligations, provision on incentives; amendments relating to the Certified Emissions Reductions Scheme; powers and duties relating to the reporting of emissions by companies and other persons; a duty to make annual reports on the efficiency and contribution to sustainability of buildings on the civil estate).
Despite their climate counteracting purpose, geoengineering methods do not expressly fall under the scope of the UK Climate Change Act. This is not surprising as the Act sets the general framework of climate change policy and targets, without prescribing specific technologies or measures. In some respect it is a flexible mechanism, which would allow, for instance, geoengineering to fall within the Secretary of State's duty to make 'proposals and policies' (s.10) to meet the carbon budgets and overall target. As a whole, though, it seems that unless and until appropriate amendments are adopted, the UK climate change legislation does not provide for transferrable and readily applicable mechanisms for geoengineering. The Act is very specific on incentives and policy mechanisms to stimulate emission reduction, and does not leave room for flexible interpretation (e.g. comparable to the reference to 'any substance' under the MCAA). SRM activities are of special concern here as, once again, the questions of the qualification of the substances involved in the activities is of key importance to assess the applicability of the legal requirements. In this context, they would need to be considered GHG emissions for the purposes of the application of the Act, which seems scarcely a viable interpretation. With respect to CDR, the amendment might require less complex interpretations as some of the CDR methods might just be included as part of the government policy to reduce emissions.
A similar analysis can be conducted with respect to the applicability of ETS legislation implementing the ETS directive in the UK. Unless the substances used for SRM experiments, such as sulphate aerosols, are expressly classified as GHG emissions covered by the ETS, the ETS regulation will not be applicable, and no associated reporting and surrendering of allowances would arise from SRM activities.
Regulation of Research
Research in the UK is not uniformly regulated across different disciplines. While there is a wide range of legislation and codes of practice with respect to research involving animal testing and medical research (e.g. use of stem cells), no comparable hard or soft laws can be found in areas such as engineering. Overall the main concern is the impact of the activities upon humans and the environment. Such concern has led to a rich body of laws regulating research and requiring researchers to obtain authorisation to conduct experiments on pesticides and on Genetically Modified Organisms. 137 However this legislation remains specific to these techniques and substances.
With respect to geoengineering research, a significant gap can therefore be identified in this area. Geoengineering research activities in the UK – both as a holistic category and as individual techniques - do not seem to expressly require a special permit at present. This does not mean that no controls could be adapted to them. The following are to be taken into account:
1. Research funding bodies could subject the issuance of funding to the fulfilment of criteria and best research practices. Academic institutions might also apply internal codes of practice for the conduct of scientific research.
2. The conduct could be considered in isolation, regardless of the purpose (e.g. scientific research) and scale (e.g. small scale research vs. large scale deployment), so as to apply the same control that would be needed for potential deployment. For example, a licence needed for the deposit of any substance at sea, under s. 66 of the MCAA, could be required for research purposes as well as for potential deployment.
3. Soft law codes of conduct and good practices could be developed which might be the starting point for specific legislation of research in this area. In this context, the role of international bodies and institutions, whether academic, non-governmental organizations, or policy-makers, might be relevant in aggregating best practices. The International Energy Agency's work towards stimulating legal and regulatory developments for carbon capture and storage and gas production provides a good example of this possible trend.138 Until and unless steps are undertaken in this sense, however, it can only be concluded that geoengineering research would not be subject to a specific legal regime in the UK.
Intellectual property law
As mentioned in the international law working paper, there are aspects of intellectual property regulation that will come into play with geoengineering methods.139 The main issues relate to the rules and procedures related to patent applications associated with some or all elements of these technologies. In a UK context, the acquisition of IP rights associated with geoengineering technologies would mainly be regulated by laws and regulations implementing international and regional requirements. Compliance and enforcement of these requirements becomes important not only at commercialisation stage, but also at the research stage, when researchers apply for patents on individual elements of their projects (e.g. SPICE). Until then, the applicability, or adaptability, of existing UK IP laws, and potential gaps, is an area where further research must be conducted.
Interim Conclusions
The following conclusions can be drawn from this section: UK sectoral environmental law (marine, habitat, conservation, EIA) is generally applicable and adaptable to geoengineering, with greater flexibility for fully encapsulated techniques, and more gaps and uncertainties for unencapsulated techniques. These conclusions are not surprising as they are mostly consistent with the gaps identified in the international legal system, and with our findings in the other two national working papers.140
1. The instinctive assumption that UK climate change legislation would be the most appropriate legal framework for geoengineering regulation is not easily confirmed by the analysis of its present legal form. The UK climate change framework is principally framework legislation to enable incentives and policies to stimulate emissions reduction. In contrast, other sectoral laws (e.g. Energy Act, the MCAA) adopt a stronger regulatory standards approach which arguably may be better adapted to deal with the regulation and associated legal issues of climate change technologies.
2. No dedicated or adaptable regulation seems to be directly applicable to geoengineering research, as opposed to geoengineering deployment. Unless and until this gap is properly addressed, geoengineering research experiments might largely fall under the relevant environmental and climate legislation discussed above. This raises the question of the appropriateness of the distinction between research and deployment, and of the way in which existing rules can meaningfully address it.
V. Institutional Framework for Geoengineering in the UK
As a result of the conclusions drawn from the previous sections, several UK bodies (e.g. government departments and regulatory agencies) could potentially have power to create, implement and enforce laws and regulations relevant to geoengineering experiments and potential deployment. As mentioned in the international working paper, no body, authority or agency is likely to have a comprehensive mandate for geoengineering activities, in consequence of both the diversity of these methods and the multiplicity of activities involved and the geographic scope of their deployment. A detailed analysis can be found in the Annex to this working paper.141
As for the conclusion to the other working papers of WP 3, there is no single UK institution, agency or government department with a wide enough responsibility to create, apply and enforce regulations applicable to geoengineering research and, potentially, deployment. As a consequence of the adaptability of national laws and regulation to address geoengineering, it is however possible that adjustment might be adopted to expand the scope of some of the existing institution, should geoengineering become a viable option in the UK.
VI. Key findings and conclusions
Our analysis in this working paper has shown the key features of the current state of the geoengineering debate in the UK and how the core regulatory and governance questions might be addressed in the future. While one of the objectives of the Parliamentary inquiry was to identify the adaptability of the national legal system to geoengineering, a detailed and comprehensive legal analysis is still lacking. Overall the government position on geoengineering technologies in a national context is reactive rather than proactive. This is shown both by the official response to the Parliamentary inquiry and by the government reluctance to take steps towards stimulating research and public engagement in this topic, for the time being. However the wide endorsement of the Oxford Principles, and of the Royal Society Report, is a positive signal towards the consideration of possible soft law models for geoengineering regulation, nationally and/or internationally. More active is certainly the role of the UK-based academia and the research councils to boost the discussion and demand more research initiatives in this area. Little involvement can still be noted from UK civil society and the private sector.
As with other highly controversial technologies (e.g. nuclear, CCS, GMOs), early public engagement and participation appears crucial for geoengineering. However, like in other cases, little has been done so far in engaging the lay public with the key legal and policy questions associated with geoengineering. Should engagement be delayed while research progresses, there is a risk that negative lessons learned might be repeated (e.g. BSE, Brant Spar, current fracking row).
In the UK policy discourse, a narrow definition of geoengineering is predominant (as opposed to the US). This choice will ultimately need to be tested against definitional boundaries emerging in other countries, in order to identify a common ground for the design, or adaption, of regulatory mechanisms at international level. In this context, our analysis in this paper has also shown the exclusive climate focus associated with these techniques, with no consideration of the potential impact and regulatory implications of their dual-use.
As opposed to other jurisdiction where freedom of scientific research receives constitutional protection (e.g. Germany and the US – discussed in Working Papers 24 & 26), a net distinction between regulation of research and regulation of deployment might be problematic in the UK. A more nuanced distinction might be needed should existing regulatory instruments apply (e.g. EIA, planning). Alternatively, bespoke guidelines, codes of conduct and self-regulation might emerge from a series of actors potentially interested in these techniques (e.g. Research Councils, promoters).
Finally, in common with the international regime and other national jurisdictions, what this paper has certainly demonstrated is the impossibility of adopting a 'one-size-fits-all' approach to geoengineering techniques. On the one hand, this is the result of the broad technical differences between methods. On the other hand, though, this is also due to the inability of one single national law or regulation, as well as of national institutions, to represent one-stop shop for the regulation and governance of all the aspects and, potential impacts, of these techniques. Despite this conclusion, the adaptability of the national legal system to technological development cannot be underestimated, and – as we have shown- there are a series of national laws, regulations and institutions which might adjust their scope and mandate to encompass geoengineering aspects, should their research and deployment be deemed politically desirable.
Annex to CGG Working Paper 23: UK (potentially) competent authorities/regulators and 
their powers  with respect to geoengineering-­‐relevant activities142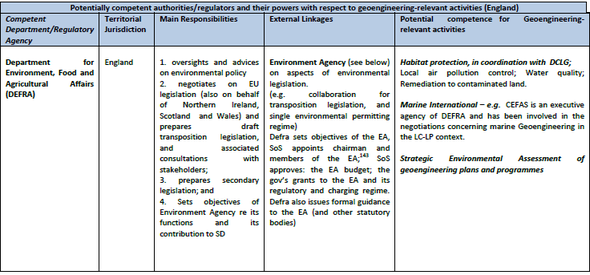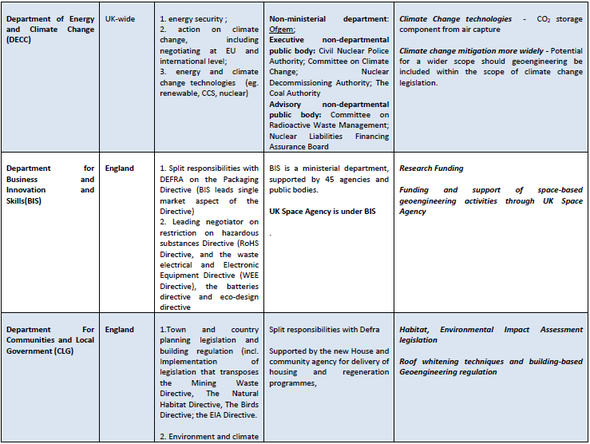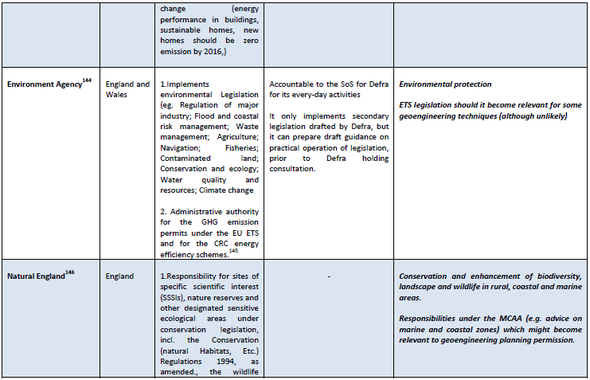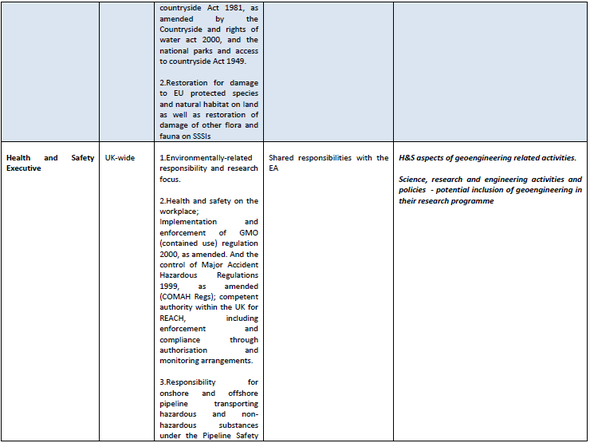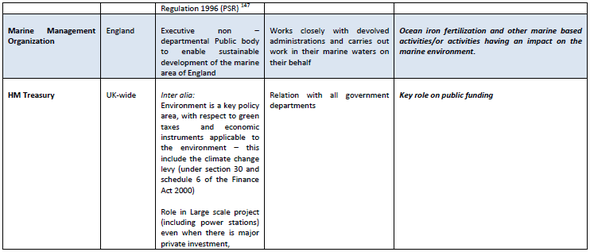 References
1 The research for this working paper was substantially completed by February 2014.
2 These are: Anguilla; Bermuda; British Antarctic Territory; British Indian Ocean Territory; Cayman Islands; Sovereign Base Areas of Akrotiri and Dhekelia in Cyprus; Falkland Islands; Gibraltar; Montserrat; Pitcairn, Henderson, Ducie and Oeno Islands (commonly known as the Pitcairn Islands); St Helena, Ascension and Tristan da Cunha; South Georgia & the South Sandwich Islands; Turks and Caicos Islands; and Virgin Islands (commonly known as the British Virgin Islands).
3 United Nations Convention on the Law of the Sea, (Montego Bay) 21 ILM (1982) 1261. In force 16 November 1994. The UK acceded to LOSC on 25 July 1997.
4 Sovereignty is subject to the right of innocent passage (art 18 LOSC).
5 Arts 56(1) and 77 (1) LOSC. These rights do not depend on occupation or declaration but are inherent to the coastal state. These include: the right to lay pipelines and submarine cables, the right to construct and authorise the use of artificial islands and installations and structures; authorise drilling of the CS. The UK Continental Shelf Act 1964 (United Kingdom) section 1(1) refers to 'any rights exercisable by the United Kingdom […] with respect to the sea bed and subsoil and their natural resources'.
6 Marine and Coastal Access Act 2009, ('MCAA'), Part 2 section 41.
7 The rights of the coastal state in the EEZ recognised under Art 56 (1) LOSC, and which, unlike CS rights, must be expressly proclaimed, are: (a) sovereign rights for the purpose of exploring and exploiting, conserving and managing the natural resources, whether living or non-living, of the waters superjacent to the seabed and of the seabed and its subsoil, and with regard to other activities for the economic exploitation and exploration of the zone, such as the production of energy from the water, currents and winds; (b) jurisdiction as provided for in the relevant provisions of this Convention with regard to:(i) the establishment and use of artificial islands, installations and structures;(ii) marine scientific research;(iii) the protection and preservation of the marine environment; and (c) other rights and duties provided for in this Convention.
8 MCAA 2009 Explanatory Notes. Available at <http://www.legislation.gov.uk/ukpga/2009/23/notes/contents>.
9 See Fishery Limits Act 1976, Section 1
10 Energy Act 2004, Section 84
11 The Merchant Shipping (Prevention of Pollution) (Law of the Sea Convention) Order 1996, article 2)
12 Energy Act 2008, Section 1
13 Scotland Act 1998, Section 126; Northern Ireland Act 1998, Section 98; Government of Wales Act 2006, Section 158.
14 C.Armeni and C.Redgwell, International legal and regulatory issues of climate geoengineering governance: rethinking the approach. CGG Working Paper no. 21. March 2015
15 Others examples of un-codified constitutions are New Zealand and Israel. Conventions of the constitution are 'non-legal constitutional rules established by custom and practice, precedent, and prescription' used to fill gaps, regulate discretion, direct the application of law and govern the relationship between constitutional actors (e. the Queen and the government, cabinet and the Prime Minister, the government and Parliament, the two houses of Parliament, ministers and the judiciary, and ministers and the civil service). See P. Cane and J. Conaghan (eds), New Oxford Companion of Law (OUP, 2008) at 224. Royal prerogatives refer to 'every act which the executive government can lawfully do without the authority of [an] Act of the Parliament'. See Dicey, Introduction to the study of the law of the constitution (London: MacMillan 10th edition 1959), 425. Examples of royal prerogatives are: 'the power to declare war or to commit troops to serve overseas without any formal need of parliamentary approval, or the basis of powers such as the giving of the royal assent to legislation' (See Cane and Conaghan, above, at 1206). The former has been the subject of controversy following the 2003 invasion of Iraq with discussion of a more formal role for Parliament: see, for example, Waging War: Parliament' Role and Responsibilities, Report of the House of Lords Select Committee on Constitution Fifteenth Report, available at 
http://www.publications.parliament.uk/pa/ld200506/ldselect/ldconst/236/23603.ht
16 In relation to an Act of Parliament a Court's power is limited to declaring the Act inconsistent with the Human Rights Act 1998. It would then be up to Parliament to decide whether to repeal it or not. However, with respect to secondary legislation (regulations etc.), Courts can declare them void if inconsistent with the Human Rights Act. On the disapplication of Acts of Parliament found to be inconsistent with EU law, see further n 48 below.
17 On the scope of Parliamentary sovereignty, see R(Jackson v Attorney General (2006). See discussion in J.Jowell and D.Oliver (eds), The Changing constitution, 7th ed. (OUP, 2011), at 43.
18 These acts contain procedures with regard to the powers of the House of Commons in its relationship with the House of Lords (e.g. cases where the House of Commons can pass legislation without the consent of the House of Lords.)
19 Select Committees website http://www.parliament.uk/business/committees/. The powers of the Select Committees are set out in House of Commons Standing Orders, principally SO No 152.
20 The Environment Audit committee is an unusual example in the Commons of a cross-cutting committee.
21 M. Benton, M. Russell, 'Assessing the Impact of Parliamentary Oversight Committees: The Select Committees in the British House of Commons, Parliamentary Affairs (2012) 1-26.
22 See e.g., HC Science and Technology Committee (STC), Too little too late? Government Investment in Nanotechnology, 5th Report Session 2003-04 (HC 56 I), 2 April 2004; HC STC, Meeting the UK Energy and Climate Needs: The Role of Carbon Capture and Storage, First Report of the Session 2005-06 (HC 578-II), 9 February 2006; HC STC, Scientific Advisory System: Genetically Modified Foods, 1 report, Session 1998-99 (18 May 1999); HC Innovation, Universities, Science and Skills Committee (Former HC STC), Putting Science and Engineering at the Heart of Government Policy, 8th Report of Sessions 2009-09 (HC 168-I), 23 June 2009; HC Energy and Climate Change Committee Building New Nuclear: The Challenges Ahead, 6th Report of Session 2012-13 (HC 117), 4 March 2013; HC Energy and Climate Change, Low carbon technologies in a green economy, 4th Report of Session 2009-10, (HC 193-I) 28 March 2010
23 As already noted, so far only the HC Science and Technology Committee has addressed Geoengineering. These techniques are not on the radar of the Energy and Climate Change Committee, despite its framing as a climate change mitigation option.
24 Scottish Act 1998 establishes the Scottish parliament and the Scottish executive. Sections 28-30 provide power to legislate including on environmental matters. Northern Ireland act 1998, ( section 4(1) provides the northern Ireland assembly with power over environmental matters); Government of Wales Act 2006 schedule 2 extended powers to ask for legislative power in the areas including: agriculture, forestry, fisheries and food, […] the environment, health and health services, highways and town and country planning, inter alia.
25 However, a referendum in May 2011 expanded the Assembly's legislative powers, to include primary lawmaking powers on the 20 devolved areas under the Government of Wales Act 2006. See Government of Wales Act 2006 and the Government of Wales Act 2006 (Commencement of Assembly Act Provisions, Transitional and Saving Provisions and Modifications) Order 2011.
26 Devolution cases can reach the Supreme Court through: a) a reference from someone who can exercise relevant statutory powers such as the Attorney General, whether or not the issue is the subject of litigation; b) an appeal from certain higher courts in England and Wales, Scotland and Northern Ireland, or c) a reference from certain appellate courts.
27 See Y. Rydin, Urban and Environmental Planning in the UK (Planning, Environment, Cities), 2nd ed. (Palgrave Macmillan, 2003).
28 I.e. for these matters, legislative authority rests with Westminster, but the Northern Ireland Assembly can legislate with the consent of the Secretary of State.
29 See UK Foreign and Commonwealth Office, The Overseas Territories – Security, Success and sustainability, (June 2012)
30 The Scottish System can be considered a hybrid as a combination of civil and common law features. On transposition in Scotland. See A. Ross, Hazel Nash and Colin T Reid, 'The implementation of EU environmental law in Scotland', Edinburg Law Review (2009) 224.
31 Cane and Canoghan n 15 above, at 10.
32 For a discussion of these principles as affording protection to the environment, see J.Lowry and R. Edmunds, Environmental Protection and the Common Law (Oxford and Portland: Hart Publishing, 2000).
33 Monsanto v Stauffer [1985] RPC 515; and Auchinloss v Agricultural & Veterinary Suppies Ltd [1999] RPC
397. For a discussion of IP rights issues on GMO, see M.Lee, EU regulation of GMOs – Law and Decision for a New Technology (Edward Elgar, 2008), chapter 5.
34 On interpreting international law, see e.g. A. Roberts, 'Comparing International law? The role of national courts in creating and enforcing international law', International and Comparative Law Quarterly, vol 60, January 2011 pp 57–92.
35 Under the Legislative and Regulatory Act 2011 section 16, the negative resolution procedure requires that a statutory instrument is laid before Parliament after having been adopted and will be annulled if, within 40 days, either the House of Commons or the Lords make a resolution to this effect. Most regulatory instrument will follow this procedure. Converserly, the affirmative resolution procedures requires an approval from Parliament to enable its adoption.
36 Section 2(1) of the European Community Act 1972. For a critique, J.H.Jans, R. Macrory, A.M.Moreno Molina, National Courts and EU Environmental Law (Europa Law Publishing, 2013), 379-398.
37 Other types of secondary legislation are: Orders in Council, , directive and orders; Special procedures Orders, Local authority Orders, and By-Laws.
38 White papers are 'documents produced by the Government setting out details of future policy on a particular subject. A White Paper will often be the basis for a Bill to be put before Parliament. The White Paper allows the Government an opportunity to gather feedback before it formally presents the policies as a Bill.' See http://www.parliament.uk/site-information/glossary/white-paper/)
39 Cane and Conaghan n 15 above, at 721.
40 'The constitutional Reform Act 2005 made extensive changes in the judicial system, creating the supreme court of the UK in place of the appellate jurisdiction of the House of Lords, providing new procedures for appointment of judges and placing new responsibilities on the Lord Chief Justice of England and Wales.' (Jowell and Oliver, n 17 above at 36).
41 See R. Macrory , 'Reforming Regulatory Sanctions', in Oliver, Rawlings and Prosser (eds) The Regulatory State, (OUP, 2010).
42 M.Lee and J. Holder, Environmental Protection, Law and Policy 2nd ed.(Cambridge; CUP, 2008)
43 European Communities Act 1972
44 Consolidated Version of the Treaty on the Functioning of the European Union, [2012], OJ C 326/49 ('TFEU').
45 Id. s. 2(1)
46 Id. section 2(2)
47 For an analysis of the cases and doctrinal arguments, P.Craig, 'Britain in the European Union', in Jowell and Oliver (eds.), n 17 above.
48 Jowell and Oliver, n 17 above, at 35
49 Paul Craig has argued '[…] the direct effect allows the supremacy doctrine to be applied at national level, and thereby makes it far more potent than it would otherwise have been (Id, at 126-127). But it has limitations - See eg case C-236/92 Comitato di Coordinamento per la difesa della cava v, Regione Lombardia [1994] ECR I-483.
50 TFEU, art 3.
51 TFEU, art 4
52 TFEU, art 6
53 See Council Decision 2006/944/EC of 14 December concerning the conclusions of the United Nations Framework Convention on Climate Change [1993] OJ L 33/11; Council Decision 2002/358/EC of 25 April 2002 concerning the approval on behalf of the European Community, of the Kyoto Protocol to the United Nations Framework Convention on Climate Change [20002] OJ L130/1.
54 TFEU, art 288
55 Ibid.
56 There are limits however to the extent to which EU law can be implemented by 'mere administrative practice' rather than national laws, as the former might change over time, and 'may not be considered as constituting the proper fulfilment of the obligation deriving from that directive'. See Case 96/81 Commission v. Netherlands [1982] ECR 1791, para 12.
57 See, for example, s 28(7) and s 57(1) Scotland Act 1998. For a recent review of actual practice, see A Ross, C Reid C and N Nash 'The Implementation of EU Environmental Law in Scotland' (2009) Edinburgh Law Review vol 13, pp 224-251.
58 See 'Devolution: Memorandum of Understanding and Supplementary Agreements between the United Kingdom Government, the Scottish Ministers, the Welsh Ministers, and the Northern Ireland Executive Committee' (March 2010) Concordat on Coordination of European Union Policy Issues. However, under s 48 seq Localism Act UK can recover fines from local government or agency responsible for breach. See also Scottish Government, Handling EU Obligations - A Guide for Scottish Government Officials (2009), available at www.scotland.gov.uk/Publications/2009
59 TFEU, art 355(3).
60 See e.g. Case C-337/89 Commission v UK [1992] ECR I-6103.
61 See discussion in I. Havercroft R.Macrory and R.Stewart (eds), Carbon Capture and Storage – Emerging Legal and Regulatory Issues (Hart Publishing, 2011); N.Markusson, S. Shackley and B. Evar (eds), The Social Dynamics of Carbon Capture and Storage- Understanding CCS Representations, Governance and Innovation, (Routhledge, 2012).
62 See R. Harrabin, 'Fracking: RSPB objects to Cuadrilla plans for two sites', (17 August 2013), BBC available at http://www.bbc.co.uk/news/science-environment-23730308; Hardman, 'Fracking faces a little local difficulty', the Telegraph 21 August 2013, available at http://www.telegraph.co.uk/earth/energy/gas/10257249/Fracking-faces-a-little-local-difficulty.html . Cft with other jurisdictional responses: L.C. Paddock and J.A. Wentz, 'Emerging Regulatory Frameworks for Hydraulic Fracturing in the United States', in DN. Zillman, A. McHarg, A.Bradbrook and L.Barrera-Hernandez (eds), Law of Energy Underground, (OUP, 2014).
63 IMO, Resolution LC/P 4(8) on the amendment to the London Protocol to regulate the placement of matter for ocean fertilization and other marine geoengineering activities (18 October 2013)
64 Convention on the Prevention of Marine Pollution by Dumping of Wastes and other Matter (London), 11 ILM (1972) 1294; Protocol to the London Dumping Convention (London),36 ILM (1996).
65 Under part 2 of the Constitutional Reform and Governance Act 2010, draft treaties must be laid before both Houses which can vote against and block ratification.
66 Convention on the Law of Treaties (Vienna) 8 ILM (1969) 689. In force 26 January 1980 ('VCLT'), art 27. The 1972 UNESCO World Heritage Convention (UNESCO Convention Concerning the Protection of the World Cultural And Natural Heritage, 11 ILM, (1972), art 34) has a special federalism clause that requires federal governments to discharge their obligations and to ensure that their constituent parts do so when implementing the convention.
67 See discussion below.
68 Scotland Act 1998 section 35 (1) (a); 58 (1) and (2); 106 (5) and (6); Government of Wales Act 2006 sections 82; 106 (1) (d) and 114; Northern Ireland Act 1998 section 26.
69 See McKenna v British Aluminium Ltd [2002] Env LR 20 'the court ruled that the rules relating to who can bring a private law action in nuisance might need to be modified so that the human rights of these people were adequately protected' under convention…' See also Marcis v Thames Water Utilities Ltd [2004] Env LR 25 'the court ruled that the rules relating to who can bring a private law action in nuisance might need to be modified so that the human rights of these people were adequately protection under convention…'.
70 Convention on Access to Information, Public Participation in Decision-Making and Access to Justice in Environmental Matters (Aarhus), 38 ILM (1999) 517. In force 29 October 2001.
71 R v Secretary of State for trade and industry, ex parte Greenpeace (No2)[2000] ENV LR 221 – in this case it was the EC Habitat Directive to be interpreted, but the court also looked at international agreements on marine conservation, in its interpretation of the EC Habitat Directive.
72 See HM Government, A better quality of life: A strategy for Sustainable Development for the United Kingdom, Cm 4354 (1999) , and its update, HM Government, Securing the Future: Delivering UK Sustainable Development Strategy, (2005) . The principle of sustainable development was also incorporated in legislation, starting from the
Environment Act 1995 (s.4).
73 HC Environmental Audit Committee, 2nd Report - Outcomes of the UN Rio+20 Earth Summit; 2nd Report - Outcomes of the UN Rio+20 Earth Summit - Volume II. See also HC 1st Report - Embedding sustainable development: An update HC 202 (14 June 2013).
74 See for example, climate change and fisheries negotiations where the UK has been included in the EU negotiating position, as opposed to negotiations in LC/LP where there is no uniform EU position, and the UK delegation is active.
75 TFEU, arts 3, 4 and 6.
76 C. Armeni and C.Redgwell, Geoengineering Under National Law: A Case Study of Germany, CGG Working Paper no. 24 March 2015. C. Armeni and C.Redgwell, Geoengineering Under National Law: A Case Study of United States, CGG Working Paper no. 25March 2015.
77 HC Innovation, Universities, Science and Skills (IUSS) Committee, Engineering: turning Ideas into Reality, Fourth Report of session 2008-2009, Vol. I (HC 50-I [Incorporating HC 470-i-iii, 640-i-iii, 599-i-iii, 1064-i, 1202- i, 1194-i, Session 2007-08] Published on 27 March 2009.
78 In particular the Committee indicated the Tyndall Centre, a multidisciplinary centre for climate change-related research, as a suitable hub to coordinate Geoengineering research in the UK.
79 HC IUSS, n 77 above, para 187
80 Id, para 185
81 Id. para 24
82 Id. p. 70
83 Id. P. 12-14.
84 HC Science and Technology Committee (STC), The Regulation of Geoengineering, Fifth Report of Session 2009-2010, [HC 221] Published on 18 March 2010, p 9
85 Id. p 34-35.
86 In its Report on Scientific Advice, Risk and Evidence Based Policy Making, the HC ST Committee noted that, it was best to use the term precautionary approach, but with a consistent explanation of the degree and nature of the risks, benefits and uncertainty and an explanation of the concept of proportionality. It should never be considered a substitute for thorough risk analysis which is always required when the science is uncertain and the risks are serious' ( HC STC, Scientific Advice, Risk and Evidence Based Policy Making,Seventh Report of Session 2005- 06, HC 900-I Published on 8 November 2006, p. 85). See on this debate, E. Fisher, Risk regulation and administrative law, (OUP, 2007).
87 The report defines 'small testing' as 'subscale', which means 'feasibility testing of SRM deployment technologies at levels posing 'demonstrably negligible' environmental and transboundary risks. (See HC STC, n 84 above, para 88).
88Id. para 95
89 Id. para 98
90 Id. para 103
91 Royal Society, Geoengineering the Climate – Science, governance and uncertainty (2009), para 5.4
92 UK Government Response to the House of Commons Science and Technology Committee 5th Report of Session 2009-10: The Regulation of Geoengineering, p.1-2.
93 Id. p 4.
94 Id. p 10.
95 Id. para 19.
96 Royal Society n 91 above, ix
97 Rayner S, Redgwell C, Savulescu J, Pidgeon N, Kruger T (2009) Memorandum on draft principles for the conduct of geoengineering research. Preamble (Available at http://www.geoengineering.ox.ac.uk/oxfordprinciples/history/). For an academic analysis, Rayner et al, 'The Oxford Principles, Climatic Change Volume 121 , Issue 3 (2013) pp 499-512.
98 HC STC n 84 above, and UK government n 92 above
99 Witnesses in HC STC n 84 above.
100 Rayner at al. n 97 above.
101 SRM-GI, Solar Radiation Management: The governance of Research, (2011) available at
http://www.srmgi.org/files/2012/01/DES2391_SRMGI-report_web_11112.pdf
102 Consortium between University of Leeds and other scientific institutions (Lancaster University, University of East Anglia, Cambridge University, Cardiff University and the Hadley Centre at the UK MET.
103 Project objectives available at http://www.iagp.ac.uk/objectives
104 University of Bristol, Cambridge University, Oxford University and the Hadley Centre at UK MET office.
105 SPICE website http://www2.eng.cam.ac.uk/~hemh/climate/Geoengineering_RoySoc.htm
106 See further K.A. Parkhill, N. Pidgeon N. Public Engagement on Geoengineering research: preliminary report on the SPICE deliberative workshops, Technical report (Understanding the Risks Groups Working Paper, 11-01) (2011) Cardiff University School of Psychology.
107 The present working paper is the interim outcome of the latter.
108 NERC, Experiment Earth? Report on a Public Dialogues on Geoengineering (August 2010), available at http://www.nerc.ac.uk/about/consult/geoengineering-dialogue-final-report.pdf
109 E.g. GM Nation? The findings of the public debate. Report of the Steering Board of the Public Debate on GM (Genetic Modification) and GM Crops (2003).
110 As discussed above, policy considerations have mainly been addressed by non-legal bodies, such as the Royal Society, Research Councils and the HC STS Committee.
111 See Armeni and Redgwell, n 76 above; and T Hester, 'Remaking the World to Save It: Applying U.S
Environmental Laws to Climate Engineering Projects' in W.C.G. Burns, and A.L. Strauss (eds), Climate Change Geoengineering: Philosophical Perspectives, Legal Issues, and Governance Frameworks (CUP, 2013).
112 HC IUSS committee, n 77 above, p. 53.
113 Id., evidence 646 by Royal Academy of Engineering
114 HC STC, n 84 above, p 5.
115 It covers such a wide range of technologies and techniques that 'any regulatory framework for Geoengineering cannot be uniform' – to formulate an overarching governance framework covering all Geoengineering research and deployment "will be challenging". In our view, it is neither practicable nor desirable.' ( HC STC n 84 above, p 17.)
116 HC STC n 84 above, p17-18
117 Exclusively in relation to climate change – so no analysis of e.g. dual use.
118 An isolated example is SPICE.
119 See Rayner et al, n 97 above, Preamble to the Oxford Principles.
120 HC STC, n 84 above, para 49 p 23.
121 Ibid.
122 Assuming its climate change rationale as the only one relevant at this stage of development.
123TFEU, art 192(2) (EU competence for planning subject to the unanimous vote of the Member States).
124 See Lee, n 33 above.
125 Section 66 MCAA
126 Marine Scotland is competent for the Scottish inshore area.
127 The Offshore Marine Conservation (Natural Habitats, &c.) Regulations 2007 as amended by The Offshore Marine Conservation (Natural Habitats, &c.) (Amendment) Regulations 2012 transpose the Habitats Directive and the Birds Directive into national law. These Regulations apply to the UKs offshore marine area (outside the 12nm territorial limit) and English/Welsh territorial waters. The Conservation of Habitats and Species Regulations (2010) as amended by The Conservation of Habitats and Species (Amendment) Regulations 2012 replaces the Conservation (Natural Habitats & c.) Regulations 1994 (the 1994 regulations) and all subsequent amendments as the principal means by which the Habitats Directive is transposed in England and Wales. These regulations apply in the terrestrial environment and the territorial waters out to 12nm limit. The 2012 amendment came into force on 16 August 2012 and applies to England and Wales. They also apply to Scotland and Northern Ireland to a limited degree. They amend the 2010 Regulations by placing new duties on public bodies to take measures to preserve, maintain and re-establish habitat for wild birds.
128 The Marine Works (environmental Impact Assessment) Regulation 2007, as amended in 2011 to reflect and implement the EIA of the MCAA.
129 EC directive 60/2000 art 1, Implemented in the UK by the Water Environment (Water Framework Directive) (England and Wales) Regulations 2003 and The Water Environment (Water Framework Directive) Regulations (Northern Ireland) 2003. The Regulation defines coastal water as surface water on the landward side of a line, every point of which is at a distance of one nautical mile on the seaward side from the nearest point of the baseline from which the breadth of territorial waters is measured, extending where appropriate up to the outer limit of transitional waters.
130 However pollution is not defined under the Act.
131 TCPA, Sections 57(1) and 55
132 See UK Communities and Local Government, National Planning Policy Framework, March 2012 (available at
https://www.gov.uk/government/uploads/system/uploads/attachment_data/file/6077/2116950.pdf);
133 See Greenpeace seeking judicial review of an order granting Seaward Production Licence to Faroe Oil on 4th October 2010. See press release at http://www.greenpeace.org.uk/media/press-releases/high-court-judge-greenlights- legal-challenge-over-deep-sea-oil-drilling-20110224
134 Convention on Long-Range Transboundary Air Pollution (Geneva), 18 ILM (1979) 1442, In force 16 March 1983; Convention on the Protection of the Ozone Layer, (Vienna) 26 ILM (1985), 1529, In force 22 September 1988; Protocol on Substance that Deplete the Ozone Layer (Montreal), 26 ILM (1987) , in force 1 January 1989.
135 See a Summary of relevant legislation at: http://www.caa.co.uk/default.aspx?catid=503
136 The Air Navigation (Environmental Standards for Non-EASA Aircraft) Order 2008A database with information on emissions from aviation was hosted by the UK CAA on behalf of ICAO until January 2012. However responsibility for it has now been transferred to the European Aviation Safety Agency (EASA).
137 The UK Control of Pesticides Regulations (COPR) requires an Experimental Permit for the use of a nonagricultural pesticidal substance, preparation or organism for the purpose of research and development or in experimental trials. With respect to GMOs, there are two sets of legislation, one covering contained use (e.g. work in laboratories and similar buildings) and other covering deliberate release into the environment. Experimental work, which consists of or contain GMOs could fall under either set of legislation. For contained use all premises must be notified to HSE from where further advice about the legislation can be obtained. In certain cases notification to HSE and formal consent may be required before work can proceed. See details on legislation and permitting at http://www.hse.gov.uk/biocides/copr/research.htm.
138 International Energy Agency, Carbon Capture and Storage – Model Regulatory Framework, Information Paper November 2010; International Energy Agency , Golden Rules for a Golden Age of Gas – World Energy Outlook Special Report on Unconventional Gas, November 2012.
139 Armeni and Redgwell, n 14 above
140 Armeni and Redgwell, n 76 above.
141 C. Armeni and C. Redgwell, 'UK (potentially) competent authorities/regulators and their powers with respect to geoengineering activities (Annex to CGG Working Paper no 2 March 2015)
144 Created by the environment act 1995 s.4) 145 The following industries are regulated by the EA: power stations, nuclear installation, chemical industry, food and drink manufacturers, Metal processing, 
water industry, farms, and Waste management sites.
146 Established under the Natural Environment And Rural communities Act 2006
147 Environmental aspects of laying pipelines are also competenceof the Environment Agency and
SEPA.
Quelle: 
http://geoengineering-governance-research.org/perch/resources/workingpaper23armeniredgwelltheukcombine.pdf