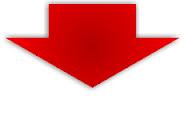 THE PROJECT
The Marine Cloud Brightening Project is an open, international collaboration of atmospheric scientists and other experts to advance understanding of cloud responses to aerosol particles - a critical part of understanding the climate, and a critical area in which human activities are thought to cause significant effects.
We seek to advance scientific understanding in this area by developing a framework and associated technology that will allow the scientific community to conduct experiments to understand cloud processes with a much greater degree of control than has previously been possible.
To do this we propose to:
1 - develop spray technology that will generate controlled volumes and sizes of tiny sub-micrometer seawater particles in sufficient numbers to increase the local brightness of low clouds in a marine environment
2 - conduct limited area (small-scale) field experiments with the spray technology to provide new understanding of the interactions between aerosols and clouds, very similar in nature to the highly regarded VOCALS observational study, but with the ability to control and accurately model and measure aerosol particle inputs and their effects
3 - develop new models and improve existing models of aerosol-cloud interactions needed for accurate modeling of climate and climate change
CLOUDS, CLIMATE IMPACTS AND CLIMATE INTERVENTION
Clouds reflect solar radiation (sunlight) back to space, producing cooling effects locally, and on the planet. The reflectivity of clouds increases as the number of water droplets inside the cloud increases and their size decreases, making the clouds brighter and longer lasting, reflecting sunlight and increasing cooling.
Aerosol particles in the atmosphere are ubiquitous and arise from many sources, both natural (wind blown dust, biological emissions, sea spray) and human (combustion engines, fossil fuel power plants). As these particles mix into low clouds, particularly those over the ocean, they alter the properties of clouds by adding droplet nuclei, catalyzing more small droplets to form and brightening the clouds. The large quantities of man-made particles produced by industrial activity are likely to be cooling the planet enough to significantly off-set warming caused by greenhouse gases, but this effect is not well quantified. The impact of aerosol particles on clouds remains one of the major sources of uncertainty hindering projections of climate change over this century.
In 1990, cloud physicist John Latham proposed the idea that the amount of solar radiation reflected by clouds might be deliberately increased by augmenting the existing population of aerosol particles with salt particles created from seawater. Marine cloud brightening, as it is now termed, has been suggested as a possible approach to intentionally modifying the Earth's climate ("climate intervention" or "climate engineering") in order to counteract anthropogenic global warming. Marine cloud brightening is receiving increasing attention from the scientific community, and is now considered one of the potentially feasible approaches to climate intervention.
THE IMPORTANCE OF CONTROLLED FIELD STUDIES OF CLOUDS & AEROSOLS
Our current lack of knowledge about how aerosols interact with clouds is hindering progress both in quantifying the amount of greenhouse warming being counter-balanced by aerosol increases, and in understanding the potential efficacy of marine cloud brightening.
Significant gaps in our basic understanding of the physical processes that control clouds, and the degree to which clouds are sensitive to anthropogenic emissions are exacerbated by a lack of controlled experiments. Although we have developed and now use increasingly sophisticated technology to observe cloud properties, our focus to date has been observing clouds as they occur in nature. Consequently, we lack control of experimental conditions that is a fundamental component of the scientific method.
When studying cloud processes, we are unable to perform an experiment in which we know the exact quantities and properties of particles mixing with clouds, and thus cannot make robust estimates of their relationships. Furthermore, we cannot test our findings by performing the same experiment repeatedly, because we cannot reproduce the particle inputs. This lack of control is especially problematic when trying to study interactions between aerosol particles and clouds because not only the particle concentrations, but the chemistry (type of particles) and cloud processes are experimentally uncontrolled.
Our marine cloud brightening project is a series of small-scale experiments in which particle number and chemistry are controlled over limited areas. By injecting known quantities of particles into the marine boundary layer, we will be able to observe the impact of the particles on cloud properties and contrast those properties with the properties of clouds formed in the natural background.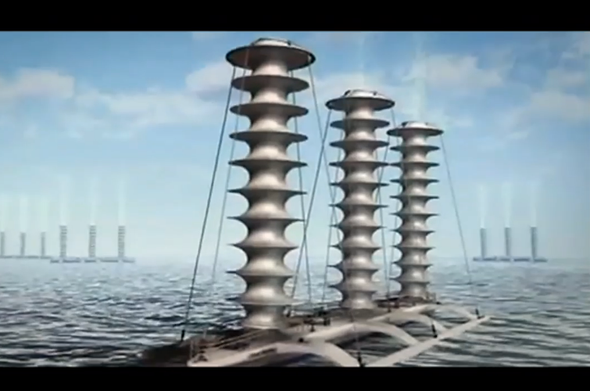 1. Introduction
Marine cloud brightening (MCB), one of several solar radiation management (SRM) geoengineering ideas involving the production of a global cooling to compensate for the warming associated with continuing fossil fuel burning, was first postulated by Latham [1,2]. The ideas, engineering requirements and some climate impacts associated with MCB have been significantly explored by more recent studies [3–11].
The basic principle behind the idea is to seed marine stratocumulus clouds with sea water aerosol generated at or near the ocean surface. These particles would have sufficiently large salt mass to ensure their activation and subsequent growth within the clouds, without being so large as to encourage precipitation formation. Moreover, they would be sufficiently numerous to enhance the cloud droplet number concentration (CDNC) to values substantially higher than the natural ones, thereby enhancing the cloud albedo [12]. Increasing the CDNC is likely also to affect macrophysical properties such as cloud cover, longevity, liquid water content and thickness, as a consequence of inhibiting precipitation formation [13], and the time scale for the evaporation and sedimentation of cloud droplets. These feedbacks on the cloud properties can result in secondary aerosol indirect effects that are poorly understood and represent a major challenge in the general problem of understanding and quantifying how aerosols impact the climate system [14,15].
General circulation model (GCM) simulations suggest that, if the droplet number concentration in marine stratocumulus could be increased to several hundred per cubic centimetre in a significant fraction of the stratocumulus sheets, then—subject to satisfactory resolution of various problems mentioned later— a negative forcing could be produced, sufficient to balance approximately the warming associated with carbon dioxide doubling, and maintain the polar sea-ice coverage at roughly current values. However, the computations of Rasch et al. [6] indicated that the negative forcing required to hold the Earth's average surface temperature at the current value would be different from that required for average sea-ice coverage maintenance (which would in fact be different at the two poles). Latham et al. [5] outlined observational studies that give some support for the viability of MCB, but it cannot be regarded as definitive.
Current major problems regarding MCB, which may or may not be capable of resolution, are
we do not yet have a spraying system capable of producing sea water 

particles of the size and in the copious quantities required;

even if we succeeded in producing such a system, we would still need 

to ensure that it would function satisfactorily at sea for long periods 

(we envisage several months) in the face of problems such as bad weather, possible orifice clogging, etc.;

we need to ascertain whether we could produce sea water cloudcondensation nuclei (CCN) at a sufficient rate, overa wide enough area, for enough of them to enter the marine stratocumulus clouds and be activated to produce cloud droplets, thereby enhancing the CDNC N and the associated cloud albedo A sufficiently to produce the required degree of cooling (the work of Korhonen et al. [9] and Wang et al. [16]—and others—illustrates how the cloud and sub-cloud characteristics are much more complex than assumed in our GCM modelling); and

if the earlier mentioned problems were satisfactorily resolved, and a

 

limited-area field investigation of MCB demonstrated its quantitative viability, there would be no case for its deployment unless (i) comprehensive examination demonstrated that there would be no unacceptable ramifications and (ii) a not yet established international body, representing all countries, concluded—after major investigation of all evidence available—that deployment was needed and safe.
This is not a conventional study. It is essentially a description and assessment of 'work in progress', with an accompanying look ahead to our future studies. It focuses attention on all elements of the research we (the authors of this study) have conducted since the publication of our three papers, Salter et al. [4], Latham et al. [5]—which constituted a review of all work on MCB up to that point—and Rasch et al. [6], a fully coupled GCM study that concentrated on the possibility of maintaining or restoring, via MCB, global average surface temperature, rainfall and polar sea-ice coverage, to roughly current values. For reasons of space, we do not reproduce herein, except cursorily, results from those studies: we simply refer to them. The content of this study embraces both scientific and technological work and covers about six separate topics. It is therefore difficult to provide a fully comprehensive analysis of each individual component of our overall research programme—or, indeed, of papers by other authors, on or related to MCB.
A well-recognized crucial question pertaining to all SRM techniques concerns the unintended, possibly deleterious, consequences that might result from their deployment, which should never occur before full international approval is granted (as mentioned earlier), and a fully comprehensive assessment of all ramifications of deployment have been openly published and debated. A full discussion and analysis of all possible socio-political impacts of deployment of MCB would be far too lengthy to be incorporated into this study, and should, in any event, be undertaken by experts in that important area, which we are not, and so we confine ourselves—except in §6, concerned with field testing of MCB—to underlining the
critical need for such an assessment to be made, and making brief references to it at appropriate points. This study is essentially restricted to the science and technology of our work on MCB.
One issue that affects, directly or indirectly, virtually all of the separate components of our MCB research programme concerns the size and number concentration of the droplets naturally occurring in all marine stratocumulus clouds that might be candidates for seeding, in all seasons and in all locations over the globe. The change in cloud albedo resulting from seeding the clouds with sea water particles large enough to be activated is roughly proportional to ln(N/N0) [12], where N0 and N are, respectively, the background droplet number concentration (prior to seeding) and the post-seeding value. N0 is therefore a critical parameter in determining the albedo enhancement resulting from seeding; so it is crucial to obtain accurate values of N0, over the oceans. Recent observational work [17,18], based on data from the NASA MODIS satellite instrument and airborne measurements in the VOCALS field experiment, are beginning to provide more reliable global distributions of N0 values than have been available hitherto. These findings are illustrated in figure 1. The preferred regions for seeding
are those with lower values of N0, which will change with the seasons. More detailed descriptions of the choice of seeding regions are presented in our earlier papers [4–6].
This study is organized as follows: (i) introduction; (ii) GCM modelling of MCB, with emphasis on rainfall and sea-ice amounts and distributions; (iii) high-resolution cloud modelling; (iv) parcel modelling and its application to our spray technology; (v) spray-production techniques and modelling of Flettner rotor instabilities by computational fluid dynamics (CFD); (vi) planning of a limited-area field research experiment to test MCB and enhance our fundamental knowledge of marine stratocumulus clouds; and (vii) discussion.
A rough outline description of the linkages between these somewhat disparate sections is as follows. The GCM computations (§2) provide estimates of the changes made by prescribed cloud seeding to the values and global distributions of salient parameters such as cloud albedo, top of atmosphere (TOA) forcing, surface temperature (detailed in Latham et al. [5]; so not duplicated herein), rainfall, sea-ice cover (see Rasch et al. [6]) and sea-ice thickness. These studies are all based on a much-simplified picture of cloud properties, and do not take account of the complexities of the upward transport into cloud base of some fraction of the sea water aerosol, generated close to the ocean surface. The high-resolution cloud modelling (§3) follows the work of Korhonen et al. [9] and Wang et al. [16], which take much more detailed account of these complexities. The parcel modelling (§4) examines the sensitivity of cloud–albedo change to the numbers and salt masses ms of sea water aerosol entering the clouds, as a function of values of N0, updraught speed and other cloud parameters. This work provides the estimates of the ranges of sea water droplet size that are required of the spray system, i.e. values that will produce droplets of salt masses ms sufficient to be activated on entry to the clouds, but small enough not to promote unwanted drizzle development. The current stages of the development of two types of spray system (electrohydrodynamic spray fabrication and microfabrication lithography) are described comprehensively in §5 and in Salter et al. [4], respectively. This earlier work also presents, in detail, the further development of (and case for) utilization of unmanned, wind-powered Flettnerrotor vessels as vehicles from which the sea water particles could be sprayed. Section 5 of this study gives an account of a CFD study of Flettner rotors, designed to help optimize their performance. Section 6 presents an outline of a three-stage, limited-area field research experiment that may be performed at some future point if approved (as discussed earlier) and if vindicated by information available after completion of the work described in this paragraph, as well as by the research of others. The geoengineering objective of the field experiment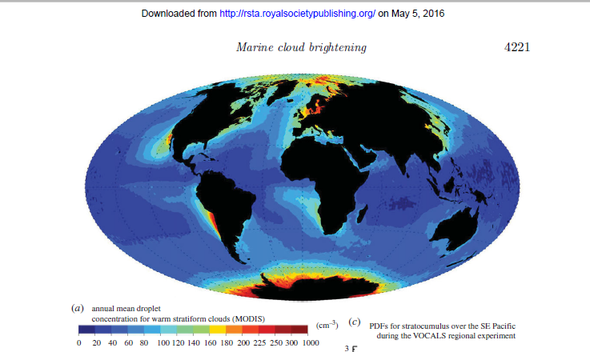 Figure 1. (a) Map of MODIS-derived annual mean cloud droplet concentration, N0, for stratiform marine warm clouds. To be included in the annual mean, the daily warm cloud fraction in 1 × 1◦ boxes must exceed 50% to capture primarily marine stratocumulus clouds. (b) Cumulative distribution of daily 1 × 1◦ droplet number, N0, from MODIS for all ocean points. (c) A comparison of MODIS and C-130 aircraft-measured cloud droplet concentration estimates from the VOCALS regional experiment during October/November 2008 off the Chilean coast [18], for longitudes 70–77.5◦W (more polluted) and 77.5–85◦W (more pristine). There is good agreement between in situ and satellite-derived values that lends weight to the use of these data over the global oceans.
would be to conduct a quantitative study—for a variety of situations—of the extent to which maritime clouds can be made more reflective by seeding them with sea water aerosol. The field experiment, probably conducted on a spatial scale of about 100 × 100 km, is not designed to examine any associated climate changes. Section 7 presents a discussion of the recent work on MCB described in earlier sections, and attempts to define the research questions most in need of early resolution.
2. Global climate modelling: precipitation and ice cover
This section describes research conducted using the UK Met Office climate model—the Hadley Centre global environmental model (HadGEM1)—to study some climatological impacts of changing the CCN concentration in defined maritime oceanic regions that have significant stratocumulus sheets. We present the studies of the influence of this seeding on global precipitation and polar seaice extent and thickness. In §2a, changes in precipitation resulting from MCB seeding are discussed; in §2b, new results are presented on the MCB impacts on ice thickness and ice extent.
The HadGEM1 model used in our current studies is based on version 6.1 of the UK Met Office's unified model (UM), with an atmospheric resolution of 1.25 × 1.875◦ with 38 vertical levels, an upper lid at 39km and a coupled ocean model of variable grid size from 1◦ squares at the poles to one-third of a degree at the Equator and to a depth of 5.3 km, using 40 levels. An emphasis in these models is on the improvement in the stratocumulus cloud mixing parametrizations, and this has been particularly useful in MCB studies, enabling improved calculations to be made of cloud droplet effective radius, radiative forcing and liquid water path [19]. They have also provided the ability to focus on precipitation, surface temperature, cloud and sea surface temperatures (SSTs), ice fraction and depth [20].
There have been several GCM studies of MCB since the first atmosphere-only simulations [5]. HadGAM, an atmosphere-only climate model, has the advantage of an immediate response to greenhouse gas forcing, and can provide an immediate change in the TOA radiative forcing. It is limited by having no component of ocean meridional heat flux and circulation. Slab GCMs have the advantage that short-time-scale thermocline changes are simulated. This can be suitable for numerical weather prediction purposes, but is of limited value in climate studies. Fully coupled ocean–atmosphere GCMs include the large-scale oceanic meridional heat transport, but the long-time-constant ocean circulations provide the challenge of large-scale hysteresis for the climate system. Climate models are typically used to simulate time scales of decades to centuries. It is necessary to allow for significant spin-up time, permitting slow response processes within the climate system to fully react to the new environment, with only the later, stable years used for analysis. Deep ocean circulations and sea-ice changes are examples of important long-time-coefficient processes. These same climate models are used to investigate the long-term effects of geoengineering scenarios.
Jones et al. [7,8] investigated the impacts of stratocumulus seeding over three regions using HadGAM and HadGEM models of the UK Met Office. They assumed that, following seeding, the CDNC (n) was maintained at n =375 cm−3 throughout the seeding regions. Bala et al. [10] and Rasch et al. [6] used the National Center for Atmospheric Research's community climate system model. Rasch et al. [6] investigated the effects of seeding the most susceptible 20 per cent, 40 per cent and 70 per cent of marine stratocumulus clouds. This work sets n =1000 cm−3 and has a changing seeding pattern. Bala et al. [10]
simulated seeding by reducing the effective radius of cloud droplets in all suitable marine clouds. Results from these four studies show a significant increase in albedo, equivalent to compensating for an approximate doubling of pre-industrial planetary atmospheric carbon dioxide. For the atmosphereonly HadGAM computations, the equivalent TOA negative forcing is about −3.7Wm−2.
Korhonen et al. [9] used the GLOMAP-bin model, which contains explicit aerosol microphysics in an offline transport mode to estimate the cloud drop number response to a wind-speed-dependent emission function. They found that if they used spray-droplet production rates similar to those estimated by earlier studies [2,4] the n values resulting from seeding were substantially less than 375 cm−3, with concomitant reduced values of negative forcing F being well below those emanating from the GCM studies cited earlier. Their study indicates that higher emission rates would be required to achieve substantial forcing, and that seeding could actually decrease CDNC in some regions. Another possible explanation for the disparity between the F-values obtained by other workers and Korhonen et al. [9] is that the values of ambient (pre-seeding) droplet concentration used in the latter study are appreciably higher than those used in the GCM computations that are based on the values shown in figure 1. Additionally, H. Korhonen (2011, personal communication) suggests that the vertical velocity field distribution used in their simulations could have been too small, and this may be the reason why their background (no seeding) stratocumulus cloud droplet concentrations (N0) are higher than the observations (figure 1) and the GCM fields.
Both classes of global model studies are gross simplifications of the real world. The former assumes that it is straightforward to change CDNC but allow a response in meteorological features (e.g. boundary layer stability, cloud cover, turbulence) and climate (e.g. surface temperature and precipitation). The latter treats aerosol cloud drop formation more accurately but neglects the meteorological and climate response. Each class of study provides useful but incomplete information about this geoengineering strategy. In our study, three simulations were completed, each for 70 years from 2020 to 2090, with the last 20 years analysed: a control run with static carbon dioxide levels at 2020 levels (440 ppm); a continued global warming simulation (2CO2) based on the control run plus 1 per cent CO2 increase per annum until double the pre-industrial level is reached (560 ppm) in 2045 and thereafter held constant; the MCB case, which is the same as the preceding but with droplet number increased to n =375 cm−3 in three regions. These are off the western coasts of California, Peru and Namibia, which Jones et al. [7] highlighted as being particularly effective, owing to their propensity for stratocumulus cloud fields in our current climatology. These three regions were also seeded in GCM studies by Latham et al. [5].
(a) Precipitation
There is no doubt that, if any SRM geoengineering technique were deployed, it would produce changes in rainfall patterns and amounts. A crucial question surrounding all SRM techniques is whether such deployment would produce a reduction in rainfall, in any cultivated regions, which would result in a significant reduction in agricultural yield. If so, this SRM technique should be abandoned, unless some safe way is found of modifying the technique or operational procedures to redress the situation in this same region.
There have been several published studies of the effect of MCB on global rainfall ([6–8,10], using the models outlined earlier). Further work, using the same model as Jones et al., is described herein. In the important and influential paper by Jones et al. [7], the three-patch seeding procedure described earlier was used, with the imposed CDNC n =375 cm−3. Their most noteworthy finding was asignificant reduction in precipitation for the whole-averaged Amazon basin. This finding has been confirmed in our recent studies. Rasch et al. [6], on the other hand, who seeded over significantly larger cloudy areas, ranging from 20 to 70 per cent of the total area covered by suitable clouds, found no reduction in rainfall in this region, whereas Bala et al. [10], who seeded all suitable clouds, found a smaller but discernible rainfall reduction over a small fraction of this Amazonian region. When Jones et al. [8] repeated their earlier studies, except that they did not seed the Southern Atlantic patch of stratocumulus cloud, they found that there was no reduction in rainfall in the Amazonian region.
There is no definitive understanding of the reasons for the variations in results described in the preceding paragraph. It seems likely, however, that the locations and relative amounts of seeding are important factors in governing the rainfall changes. If this proves to be true, then in principle, if MCB was ever safely capable of functioning in the manner assumed in our GCM computations (please note the various caveats regarding MCB made in §1 and in later parts of this study), there would be some latitude to vary the location of seeding in order—hopefully—to eliminate specified adverse effects. This possible flexibility would be highest in the early years or decades of a deployment programme, when the fraction of clouds seeded would be low.
The study of Bala et al. [10] indicates—again, subject to the earlier mentioned caveats—that MCB seeding sufficient to produce a global cooling that would roughly balance the warming resulting from carbon dioxide doubling would cause a globally averaged rainfall reduction of 1.3 per cent. However, this study also shows a global land-based moistening, with an average increase in precipitation over land of 3.5 per cent. Bala et al. attribute this enhancement of precipitation over land to the flow of moist air from ocean to land, created by the cooling resulting from cloud albedo enhancement.
Precipitation is not well described in climate models. The Climate Prediction Center Merged Analysis of Precipitation (CMAP) dataset provided by the National Oceanic and Atmospheric Administration [21] for 1979–2000 was compared with a 10 year simulation using current static carbon dioxide levels. Figure 2a shows the difference between the precipitation rate in HadGEM1 and the CMAP dataset. The globally averaged difference in precipitation rates over land is an increase of 0.17mm per day. The current globally averaged global precipitation for the control run (CON) minus the observations (CMAP) is 0.44mm per day, corresponding to figure 2a. The global difference in precipitation for 2CO2–CON simulations is 0.0035mm per day (figure 2b) and for the MCB– CON simulation is 0.0068mm per day (figure 2c). Across most of the northern land masses, the precipitation difference is less than 1mm per day. However, in some regions, this still results in a doubling of precipitation. In the tropical regions, the model does not reproduce well measured values downwind of particularly the Southeast Asian and South American mountain ranges; this may also be consistent with a small increase in precipitation in the stratocumulus regions in the southern hemisphere. Across the globe, the model is the weakest in the presence of steep mountain ranges, on the west of a continental region. The increased precipitation on the upwind steep slopes produces an impact on the availability of water vapour in the lee of the mountains, and this has been specifically discussed earlier for the Amazonian region.
Figure 2. A comparison between model and observed precipitation, and investigation into the impacts of MCB on model precipitation (mm per day). (a) Comparison of the CMAP precipitation dataset with a current CO2 level simulation in HadGEM1. (b) The effect of increasing carbon dioxide from 440 to 560 ppm within the model. (c) The difference between a geoengineered simulation, 2CO2 and a control simulation. (Online version in colour.)
Figure 2b shows the difference between the control case and the 2CO2 case. In the double carbon dioxide atmosphere, there appears to be an increase in precipitation over the Southeast Asian rainforests and the southern extent of Brazil, where there is an increase of less that 10 per cent of the original rainfall. Furthermore, India is subject to between 1 and 2.5mm per day increase. However, this is closer to a 50 per cent increase in regional precipitation. Figure 2c is the comparison between the MCB and the CON simulations. Figure 2c is similar to fig. 4b in Jones et al. [7], fig. 3b in Rasch et al. [6] and fig. 7 in Bala et al. [10]. Although each model has used a different seeding strategy, there is some degree of overlap. The reduction of precipitation in figure 2c for the whole-averaged Amazon basin is consistent with that of Jones et al. [7,8]. This amounts to an over 50 per cent reduction in precipitation over the most easterly point of South America.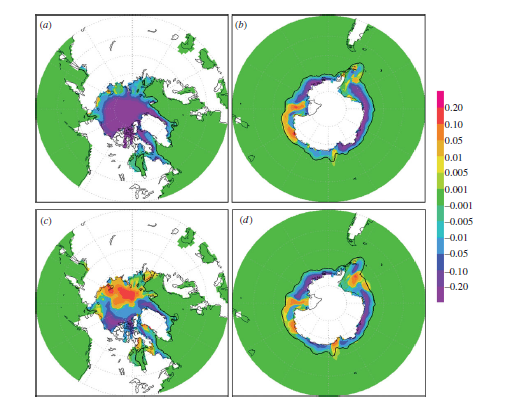 Figure 3. A comparison of the north and south polar sea-ice fraction averaged over the summer minimum for the final 20 years of the 70 year simulations. Sea-ice fraction can be interpreted as the fraction of time that ice is present at that location. The northern minimum is taken as September, and the southern minimum is taken as March. (a,b) The difference in north and south polar sea-ice fraction between 2CO2 and CON. (c,d) The difference in north and south polar sea-ice fraction between MCB and CON. The black contour shows the ice limit in CON. (Online version in colour.)
Thus, our results and those of Jones et al. [8] should be treated with caution in this region. Excess precipitation on the upwind steep slopes of the Andes removes downwind available atmospheric water vapour. This reduction is not present in Rasch et al. [6], but they seed a much larger portion of the ocean. In the African subcontinent, our results produce a band of increased precipitation over the Sahel, and so, as already mentioned, we need to treat all these results with caution. African and Indonesian precipitation increases are also present in Rasch et al. [6].
To summarize, one of the most difficult challenges in climate modelling is to predict more accurately global precipitation patterns [20]. Our results contribute to this discussion. They show a small increase in precipitation in the drier regions of Africa, as indicated in figure 2b,c, with up to 5mm per day average decrease in the Amazon region in the two scenarios of a 2CO2 and a MCB climate. These results from our model simulations indicate that there are changes in precipitation produced in the seeding cases, but that the variations are within the bounds of current model precision and uncertainties. Higher resolution and more accurate simulations are clearly required for future work on this.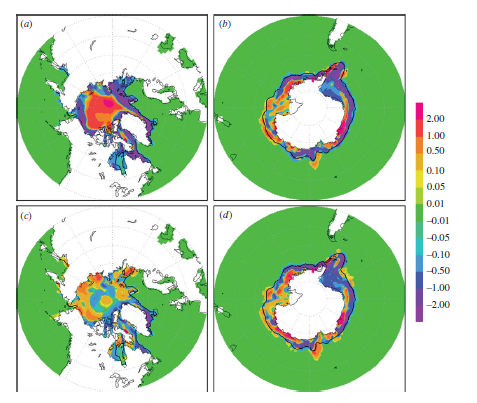 Figure 4. A comparison of the north and south polar sea-ice thickness (m) averaged over the summer minimum for the final 20 years of 70 year simulations. The northern minimum is taken as September, and the southern minimum is taken as March. (a, b) The difference in the north and south polar sea-ice thickness between 2CO2 and CON. (c, d) The difference in the north and south polar sea-ice thickness between MCB and CON. The black contour shows the ice limit in CON. (Online version in colour.)
(b) Sea-ice extent and thickness
Figures 3 and 4 show the change in the summer minimum sea-ice fraction and sea-ice thickness, respectively. The Arctic ice minimum has been taken to occur in September and the Antarctic minimum in March. Similar to precipitation, sea ice is not well represented in climate models. Winston [22] argues that the ice cover is more sensitive than climate models suggest. Even though our results are therefore likely to be underestimated, they do show significant changes, and further analysis seems merited.
Figure 3a,c shows the difference between the 2CO2 and CON simulations and indicates a significant reduction in sea-ice fraction under a doubling of preindustrial carbon dioxide atmosphere. There is a general and significant loss of sea ice in polar regions under double carbon dioxide levels. In the Southern Hemisphere (figure 3b,d), the reduction in sea ice is non-uniform, with the most significant reduction to be found east of the Antarctic Peninsula. The Arctic ice minimum in the double carbon dioxide scenario (figure 3a, 2CO2–CON) is a 76 per cent reduction from the 2020 ice extent, but with seeding switched on (figure 3b), MCB–CON, the reduction is only 3 per cent. In the Southern Hemisphere (figure 3c,d), the equivalent reductions are 30 per cent and 17 per cent, respectively. These relative changes in sea-ice fraction match the SST fields, where, in the Northern Hemisphere, 2CO2 increase over CON is 1.4 K, and the Southern Hemisphere results in an increase of 0.4 K. In the MCB case, these increases are reduced to −0.2 and 0.3 K, respectively.
In contrast to what has been stated earlier, the sea-ice depth increases close to the North Pole (figure 4a,b), creating a small central region of thicker ice in the 2CO2 scenario, and to a much lesser extent in the MCB scenario. This increase in sea-ice thickness in the 2CO2 case corresponds to an increase in north polar precipitation. In the Southern Ocean, the changes are non-uniform and, in some existing ice regions, there is an increase in the south polar minima sea-ice thickness.
In a 2CO2 atmosphere, there are several major regions where the sea-ice thickness is reduced by more than 2m (figure 4c), and again to a lesser extent in the MCB case (figure 4d). It is therefore likely that the loss of ice may occur at a greater rate than current model predictions—30 per cent (as cited earlier) for the double carbon dioxide scenario, consistent with Winston [22]. With MCB seeding switched on, there remains an increase in sea-ice thickness at the North Pole, but a marginal change at the South Pole.
In summarysummary, taking both the ice fraction and depth characteristics together, seeding significantly reduces the sea-ice fraction loss during the summer months. The southern minima reduction in sea-ice fraction is smaller than in the Northern Hemisphere. The increase in sea-ice thickness near the pole in the geoengineered scenario does not alter the albedo of that region. In the Northern Hemisphere MCB run, there is an increase in sea-ice fraction to the north of Siberia, which increases the albedo relative to the control. The changes in ice cover fraction are consistent with those of Rasch et al. [6], but the reduction of the Southern Hemisphere ice fraction is significantly smaller in our calculations. The simulations indicate that our seeding with n =375 cm−3 increases ice extent in the double carbon dioxide scenario. Results from seeding all the suitable oceanic areas, not presented here, produce a further enhancement of planetary albedo and growth of polar ice cover compared with the control scenario.
3. High-resolution cloud modelling
(a) Why is high-resolution cloud modelling essential for marine cloud brightening?
Despite considerable improvements over the last decade (especially in forecast models, e.g. Abel et al. [23]), marine boundary layer (MBL) clouds remain poorly represented in global models [24] and as such are a critical bottleneck in improved estimation of climate sensitivity in global models [25]. The difficulty in representing MBL clouds in global models is that many of the processes that control these clouds (e.g. turbulence, entrainment, heat and moisture transports, and precipitation) are not explicitly resolved owing to poor model resolutions, and, instead, need to be parametrized.
Additional aerosols injected into the MBL modify clouds through aerosol indirect effects that lie at the heart of the cloud-brightening scheme. The first indirect effect—the increase in cloud top reflectivity to incoming solar radiation— was proposed by Twomey [26]. It describes how the cloud albedo increases owing to an increase in aerosol number in the absence of any macroscale changes in clouds (i.e. changes in cloud cover, thickness, liquid water content, etc.). However, it is now known that a number of changes in the macrophysical properties can occur as a result of changes in cloud microphysical properties. Reduction in droplet size as a result of increasing droplet number may suppress precipitation [13], which may lead to a further enhancement of cloud albedo by increasing boundary layer moisture or a reduction of cloud albedo through increasing entrainment of dry free-tropospheric air [27–29]. Recent in situ and satellite remote-sensing observations indicated that precipitation in MBL clouds seems to be the rule rather than the exception [30–32]. Changes in precipitation induced by aerosols can drive mesoscale circulations that determine cloud structures [33–35]. When considering the deployment of cloud brightening over large tracts of the world's oceans, it will therefore be essential to better understand how precipitating clouds respond to increases in CCN.
Other secondary effects may occur as a result of cloud microphysical changessuch as changes to the evaporation and condensation rates in cloud [36] and changes in entrainment driven by reduced sedimentation rates of cloud droplets near cloud top [37]. The ultimate cloud albedo response is a result of an interaction among numerous complex processes (see the review by Stevens & Feingold [15]). All these associated effects and processes make the parametrization of MBL clouds in global models a real challenge.
High-resolution cloud modelling, including large-eddy simulation (LES; with tens of metres horizontal grid spacing) and cloud-resolving modelling (CRM; with hundreds of metres of horizontal grid spacing), can explicitly resolve processes that control clouds and aerosol–cloud interactions at different levels of detail, which are essential for the idea of cloud brightening. It provides a useful tool that can help improve process-level understanding and evaluation of the MCB scheme. It can also provide a necessary and critical test of the efficiency of cloudbrightening strategies.
(b) The current state of high-resolution cloud modelling for marine cloud brightening
Ship tracks (i.e. bright cloud lines formed around ship-emitted aerosol particles in the MBL as seen in visible satellite imagery) have served as striking examples of aerosol effects on brightening MBL clouds and as inadvertent experiments for understanding aerosol–cloud processes relevant to MCB. They are brighter than adjacent clouds owing to more numerous but, on average, smaller cloud droplets and possibly more cloud water. Inspired by the formation and evolution of ship tracks, Rosenfeld et al. [38] proposed to enhance MBL cloud albedo by switching open-cell marine stratocumulus clouds (i.e. dark cellular regions ringed by bright cloud edges) to closed cells (i.e. bright cloud cells ringed by darker edges). The two distinct cloud cellular patterns occur very often over oceans but have very different overall albedo. It has been shown that aerosols can modify the formation/transition of the two cloud patterns. Therefore, putting the study of ship tracks in the context of open- and closed-cell MBL clouds is of particular interest from the perspective of MCB.
LES and CRM have long been devoted to studying MBL clouds and aerosol– cloud interactions. To date, however, only a very few LES and/or CRM studies have explicitly attempted to simulate the effects of seeding low marine clouds from a moving point source (e.g. ship emission), as proposed by the MCB scheme. Using high-resolution cloud simulations, Wang & Feingold [33] demonstrated that the concentration of CCN in the boundary layer can help determine whether marine stratocumulus clouds adopt open- or closed-cellular structures, with significant implications for overall albedo. More relevant to cloud brightening, however, is that, once the cloud cellular structures are established, they tend to resist change and do not necessarily follow conventional aerosol indirect effect responses [34,35]. The numerical model they used is the weather research and forecasting (WRF) model with a new treatment of aerosol–cloud interactions. Simulations were performed over rather large domains (60 × 60km2 and 60 × 180km2) with a grid spacing of 300m (horizontal) and 30m (vertical). The simulations fall into a realm between traditional LES and CRM. Nevertheless, useful and realistic results on cellular cloud formation and resolved aerosol–cloud processes have been produced [33,34].
Meteorological conditions and cloud properties measured over the northeast Pacific off the coast of California were used to initialize and constrain the model simulations. In addition, the initial CCN number concentrations can be varied to modify rain production in the modelled clouds, through which the aerosol can determine cloud cellular structures. Additional ship-emitted aerosols can further modify existing clouds. For example, figure 5 shows the impact of ship emissions on clouds in both clean/precipitating and polluted/nonprecipitating environments. An open-cell structure forms in the precipitating case. A ship track is clearly visible in the cloud albedo field (figure 5a) for the clean/precipitating case as would be expected even with Twomey's argument. However, there are subtle changes in the cellular structure along the track from the plume head to tail, indicating that the interactions among ship-emitted CCN, clouds and precipitation vary with time. As revealed by Wang & Feingold [34], precipitation is suppressed most in the central section of the track, whereas new and sometimes stronger precipitation develops some distance behind the plume head, resulting in restoration of the open-cell structure. This, together with the less reflective dark regions close to the lateral boundaries of the ship track, is caused by a mesoscale circulation owing to dynamical feedbacks associated with the initial suppression of precipitation along the ship track. Convergent branches of the local circulation, located in the lower boundary layer over the track, pump moisture from the regions adjacent to the track and divergence in clouds helps dilute the ship-emitted CCN. Quantitatively, cloud albedo along the ship track was enhanced by 0.08 (averaged over 10 hours; [34]), while the domain average albedo was only 0.015 higher than that of un-seeded clouds. The dark edges (figure 5a) partly cancelled out albedo enhancement along the ship track.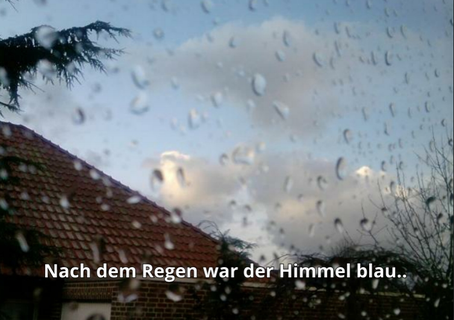 Figure 5. Snapshots of the cloud albedo field when ships pass through the domain once from x =0 to 180 km, about 7 hours after the start of the simulations. The background aerosol number concentration varies linearly from a lower bound at x =0 to an upper bound at x =180 km; (a) clean case 60–150 mg−1 and (b) the polluted case 210–300 mg−1. Arrows indicate the direction of
movement of the ships and the band of ship plumes emitted near the surface. Details on the model and experimental set-up can be found in Wang & Feingold [33,34].
Although ship emissions are the same in the polluted/non-precipitating case, the ship track in figure 5b is nearly invisible because the relatively small enhancement in cloud albedo (an average of 0.02; 4.3% relative to the domain average) is masked by the highly reflective cloud background. In addition, there is no dynamical feedback associated with the interaction between the CCN perturbation and precipitation because the polluted cloud is non-precipitating. When averaged over the entire domain, the albedo enhancement in the polluted case becomes even smaller, 0.005.
Formed in a sufficiently polluted environment, closed cells as shown in figure 5b are over two times brighter than open cells in figure 5a. The most ideal outcome of cloud seeding/brightening would be turning open cells into closed ones, as suggested by Rosenfeld et al. [38]. Can an influx of aerosols close open cells? There is no clear and firm answer yet. Numerical experiments conducted by Wang & Feingold [34] suggest that, once the open-cell structure is formed, simply adding more aerosol particles, even in large quantities, does not necessarily transform it to a closed-cellular structure.
These high-resolution modelling studies suggest that seeding marine stratocumulus clouds, especially those that are precipitating, is more complicated than that predicated by the conventional aerosol indirect effects. The albedo response depends on meteorological conditions, background aerosol concentrations and seeding strategy, which together determine the spatial distribution of injected aerosols and cloud properties, whether the clouds precipitate and therefore whether precipitation–suppression feedbacks can operate. Using the same numerical model (WRF) and similar model settings, Wang et al. [16] describe more details of different meteorological and microphysical scenarios in this context, providing implications for experimental strategies to adopt in the field.
(c) Future of high-resolution cloud modelling in marine cloud brightening The inability of global models to adequately represent MBL clouds and the unresolved complexities of aerosol–cloud–precipitation interactions in such clouds are major limitations in the assessment of the Earth system response to future changes in climate, regardless of whether the change was caused inadvertently or was deliberately engineered. Improving our knowledge of such processes should therefore be a major research goal, which relies much on highresolution cloud modelling (e.g. LES and/or CRM). We suggest that any future research programme on cloud brightening should include a high-resolution cloudmodelling component. More work is necessary to understand how ship tracks such as those shown earlier form in response to idealized seeding strategies under different meteorological conditions and with different aerosol background states [16]. Beyond this, high-resolution modelling should be used to assess the interaction of plumes from multiple seeding platforms such as those that would be necessary to deploy cloud brightening as a geoengineering scheme, regionally or globally. We currently have little idea on how clouds would respond to multiple aerosol plumes beyond what Wang et al. [16] have shown, and yet figure 5a and Wang et al. [16] suggest that there are regions where the induced mesoscale flows in the boundary layer act constructively and other regions where they destroy clouds, producing unintended consequences that reduce expected albedo response. In their 1 day simulations, Wang et al. [16] found that the injection strategy is critical in determining the spatial distribution of the injected aerosols and there is a case-dependent effective timing of injection during the
diurnal cycle of marine stratocumulus. Longer time and more comprehensive highresolution cloud modelling can be used to examine how rapidly induced aerosol perturbations from seeding are removed by coalescence scavenging and dilution from entrainment of free-tropospheric air, providing guidance on the timing and duration of injection. These issues will be particularly pertinent when designing field experiments to test critical aspects of cloud brightening.
4. Detailed modelling of the effects of sodium chloride spray on cloud–albedo change
The purpose of this section is to explore the range of dry salt masses and concentrations that are most effective for altering the albedo of MBL clouds.
(a) Explanation of model and set-up of run
We have used a new cloud parcel model with size-resolved or bin microphysics that has been developed at Manchester, UK, and is called the aerosol–cloud and precipitation interactions model (ACPIM) [39]. The work we have carried out here builds on that previously reported in Bower et al. [3]. In their work, the composition of the background aerosol size distributions and that of the added aerosol particles was prescribed to be sodium chloride. The added particles also had a single monomodal size. In this work, the size distributions of the background aerosol distributions are the same as in Bower et al. [3] but are composed of ammonium sulphate to which sodium chloride particles are added in a mode of finite width to replicate more realistically the size distributions of particles that can be generated by the spray-production techniques described in §5b. The lower limit of added salt particle mass in Bower et al. [3] was 10−18 kg, sufficient to cover the range of dry particle sizes under consideration by Salter et al. [4]. However, the range of the mass of added salt particles has now been extended to smaller sizes, to encompass the size range that can be produced using the Taylor cone technique (described later), which produces dry salt particles in the mass range of approximately from 3 × 10−20 to 5 × 10−19 kg. Note that in the atmosphere it is well known that the dry salt particles would take on water and swell to larger physical sizes as a result of the Raoult effect.
The parcel model version of the ACPIM used here activates aerosols in a sectional way. The ACPIM also uses a more thorough description of the thermodynamics of the aerosol [40] than was present in the NEATCHEM model used in the Bower et al. study. Three sets of model runs were performed with ACPIM; in each set of the runs, the control corresponded to running the model with a 'background' aerosol size distribution measured in three different air masses (the 'clean', 'medium' and 'dirty' distributions used in Bower et al. [3]). Clean corresponds to a total number concentration of approximately 10 cm−3; medium approximately 260 cm−3; and dirty approximately 1000 cm−3.
Koehler theory was used to determine the equilibrium vapour pressure of the aerosols [40] in the background size distribution of particles (composed of (NH4)2SO4). The initial relative humidity, pressure and temperature in the model were set to 95 per cent, 950 hPa and 283.15 K, respectively, and the model was run until the parcel was lifted to a total height of 250 m. These conditions are typical of stratocumulus clouds observed in the southeast Pacific Ocean that have large spatial coverage (figure 1). Typically, this generated a cloud base (i.e. saturation level) approximately 75m above the starting level and hence a cloud approximately 175m deep, allowing comparison with the results of Bower et al. [3]. Future work will look at the sensitivity of the addition of aerosols to deeper (i.e. more optically thick) clouds, although (as in the studies of Bower et al. [3]) the trends in albedo differences produced are expected to be similar. These simulations were repeated for different prescribed vertical wind speeds of 0.2, 0.5 and 1.0ms−1 to represent the typical range of updraught speeds found in marine stratocumulus. Sensitivity tests were then performed investigating the effect of adding a lognormal mode of aerosol to the background ammonium sulphate aerosol distributions to simulate the spread in sizes expected from the droplet spray technique. The composition of the particles in the added
aerosol mode was NaCl, and their equilibrium vapour pressure was obtained from Koehler's theory.
The parameters varied in these tests were the total number of added aerosol particles, nadd, and their dry salt mass ms . The parameter values used were nadd = 0, 30, 300 and 1000 cm−3 and ms =1 × 10−20, 3 × 10−20, 7 × 10−20, 1 × 10−19, 3 × 10−19, 7× 10−19, 1× 10−18, 1× 10−17, 1× 10−16, 3× 10−16, 1× 10−15 kg (or 1.06 × 10−2, 1.53 × 10−2, 2.03 × 10−2, 2.29 × 10−2, 3.30 × 10−2, 4.37 × 10−2,
4.92 × 10−2, 1.06 × 10−1, 2.29 × 10−1, 3.30 × 10−1, 4.92 × 10−1 mm dry aerosol diameter, respectively). This range was chosen not necessarily because it spans the range capable of being produced by the current spray generators (see §6), but because we wanted to determine where the main sensitivities lie. Addressing this will inform future spray generator development. The added lognormal mode was specified to have a median diameter equal to that of the added dry salt particles, that is

parameter values listed totalled 41 runs per prescribed updraught value, a grand total of 369 runs (including runs with w =1.0ms−1, which lead to smaller particles becoming activated; however, the results are essentially similar to the lower updraught cases, so they are not presented here). In principle, each of the spray techniques will probably yield its own unique size distribution of NaCl particles, but it is not clear yet what these are. Preliminary results show some sensitivity to the mode width; so it is intended to further investigate this in order to inform spray technology engineers as to what tolerance is acceptable vis-à-vis this parameter.
In order to calculate the albedo for the simulation, we first calculated the volume extinction coefficient, b(z), by integrating the product of the total crosssectional area of the particles by their scattering efficiency (approximated as 2 in this size regime, which is a reasonable approximation—see fig. 9.21 of Jacobson [41]),